This Hearty Pumpkin Ginger Soup Recipe Is Perfect for Fall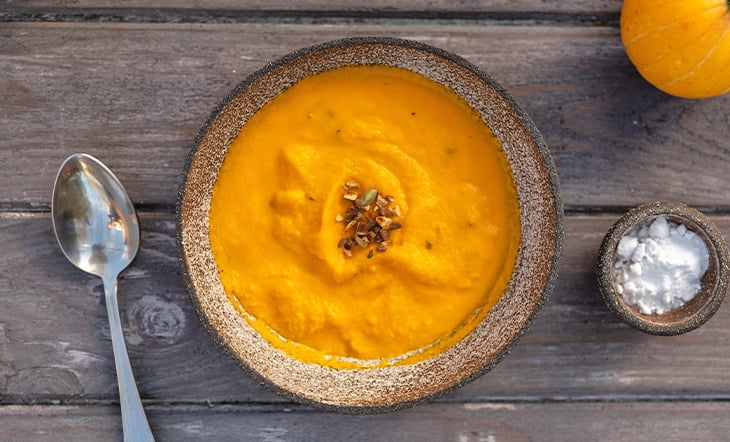 This hearty pumpkin ginger soup recipe will warm you up from the inside out and fill you up with all of its' good-for-you ingredients.
This delicious soup packs an immunity punch with turmeric, which is also anti-inflammatory. It delivers a healthy dose of ginger and of course pumpkin, everyone's fall favorite ingredient (more information on the many health benefits below). Plus this hearty soup recipe is gluten-free and vegan, so it can feed everyone on your list.
As the weather gets even cooler, it's the perfect time to make a batch of this soup to hold you over for a few meals. You can even share it with friends, if you're feeling generous! Eating warm and spicy foods like this soup, or chili, when the weather is cool is in alignment with Ayurvedic teachings.
According to Ayurveda and Traditional Chinese Medicine, it is important for our digestive health and overall wellness to eat warm, cooked foods in the colder seasons. This is in order to preserve the body's internal energy supplies and maintain optimal wellness.
Read on to learn how to make your own healthy, warming and delicious pumpkin ginger soup.


Try This Hearty Pumpkin Ginger Soup Recipe:
Makes 4-5 Servings | Difficulty: Moderate


Ingredients
1 Medium-sized cooking pumpkin (not a big carving pumpkin)
2 large carrots
1 yam
1 in. ginger root
3 cloves garlic
1 cup raw cashews
1 32 oz. box vegetable broth
1 tsp. salt and pepper, to taste
2 Tbsp curry powder
1 Tbsp turmeric
Preparation
Note: You'll need a food processor or high-powered blender for this recipe.
Using a vegetable peeler, remove the skin of your yam. Carefully using a sharp knife, cut the top and bottom off of your pumpkin, and remove the skin. Use a spoon to remove the fibers and seeds from the center of your pumpkin. (You can season and toast these in the oven if you like!)




Chop your pumpkin, yam, carrots, and ginger into relatively small pieces. This will help reduce the time you have to boil them!




In a large pot, boil your pumpkin, carrots, yam, ginger, garlic, and cashews for about 30 minutes, or until you can easily slice them with the side of a spoon.




Drain your veggies and add them to your food processor with about a cup of vegetable broth. Just enough broth to blend it all up!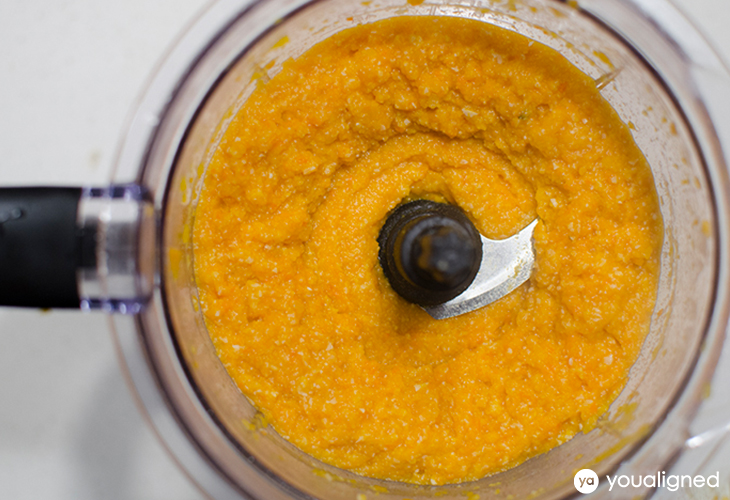 Return your blended veggies to your large pot, and add the remainder of your vegetable broth. Stir in your salt, pepper, curry powder, and turmeric. Bring to a simmer for about 10 minutes, then serve hot!


The Many Health Benefits of Pumpkin and Ginger
First, a few fun facts about pumpkin. Did you know that since it has seeds, pumpkin is technically a fruit?! But based on the health benefits of eating pumpkin, its' nutrition facts more closely resemble a vegetable's. While the West has an infatuation with pumpkin-themed activities and meals in the Autumn season, pumpkins are grown around the world.
There are also many types of pumpkins, from the larger variety that are commonly used for carving, to the smaller and sweeter pie pumpkins, and the variety of sizes from giant to miniature. In terms of nutrition, pumpkins are a nutrient-dense food.
Pumpkin is chock full of antioxidants, which metabolizes as Vitamin A in your body and boosts your immunity. The beta carotene supports eyesight, and promotes healthy skin and hair. Pumpkin also contains potassium and fiber which supports heart health and keeps you feeling satiated (which is key for soup!).
Ginger, the other main ingredient, is great for settling your stomach with its anti-nausea properties.
Ginger is well-known for its digestive-aiding properties. It encourages healthy digestion, reduces bloating and gas, and can ease morning sickness. It contains powerful antioxidants and is also considered a natural anti-inflammatory.
In conclusion, this pumpkin ginger soup recipe is as nutritious as it is delicious!
You'll also like: Savory Sweet Potato Breakfast Bowl With Turmeric Granola (Recipe)


Enjoy Your Pumpkin Ginger Soup!
From its delicious flavor to its addicting heartiness, no wonder this soup recipe is a crowd pleaser! And with its long list of nutritious health benefits, this is a great recipe to keep in rotation during the colder months.
A few serving tips: Once the soup is complete and ready to enjoy, consider a few garnishes to round out the dish. Parsley, diced peppers, nutritional yeast, or seeds are a wonderful gluten-free and vegan addition.
If you are not adhering to a gluten-free or vegan diet, croutons or a dollop of Greek yogurt would be another good addition.
This pumpkin ginger soup is relatively mild, and extremely satisfying. That being said, if you enjoy soups with a kick of spice, have fun experimenting with different spices, peppers, or other additions to make this dish your own.
This recipe will last for several days in the refrigerator, so make a few extra servings because you'll be craving more! 🙂
Did you make this recipe at home? Do you have another delicious soup recipe to share? Please tell us in the comments below – we love hearing from you!
This article has been read 477 times. Share it and spread the love!