Boost Your Immune System With These 4 Simple and Delicious Recipes
Raise your hand if your immune system is on your mind a little more than usual these days. And one of the best ways to keep your immune system well is through eating immune boosting foods.
While there's certainly no miracle cure or magical supplement to pop, it only makes sense to do everything in our power to give our immune systems a boost as they work overtime to keep us healthy.
One of our favorite ways? Loading up on these immune boosting foods, of course.
For other science-backed ways to boost your immune system, read: 6 Simple, Science-Backed Ways to Strengthen Your Immune System
Not only will you be filling your body with goodness, we've included recipes that are inherently comforting for the soul too – which we'd argue is just as important.


Here Are 4 Delicious Immune Boosting Foods to Try:
1. Golden Milk Latte
There's nothing quite as comforting as curling up to a steaming mug of something warm and frothy, and this golden milk latte hits the spot.
It gets its golden hue from turmeric, one of the superstar foods for lowering inflammation, boosting immunity, and aiding in mental and cognitive function.
You can use your choice of plant-milk in this recipe and customize the sweetness to your liking.
Got some left over turmeric? Here are 12 Diverse Beauty + Health Uses for Turmeric You Want to Know About


2. Strawberry Echinacea and Elderberry Pops
A handful of Mother Nature's most powerful immune boosting foods, all in the form of a refreshing DIY popsicle? Yes please!
The creators of SorBabes, a female-founded, plant-based sorbet company created this genius DIY pop recipe made with shelf-stable ingredients like frozen berries, tea bags, and lemon juice.
These pops are packed with elderberries (known to shorten duration of common colds and flus) and strawberries. They're also bursting with Vitamin C and echinacea (a known anti-inflammatory, antiviral, and antioxidant).
We'll be cooling off with this treat all summer!

3. Cauliflower Mushroom Risotto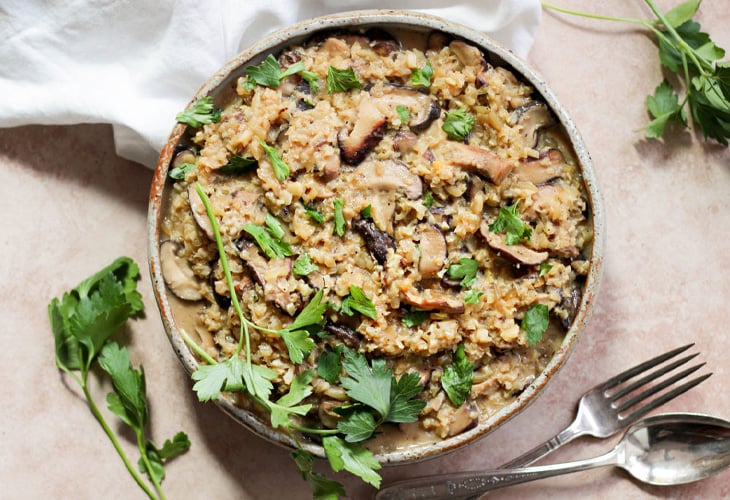 Mushrooms have long been studied for their powerful immune boosting properties. They've enjoyed a bit of a second wind lately in the form of trendy mushroom lattes and adaptogenic teas, but don't discount the mushroom in its cooked form.
Curious about adaptogens? Manage Your Stress + Improve Digestion With These 5 Adaptogenic Plants
We're especially partial to this nutty, creamy mushroom risotto (made with cauliflower, not rice!). It's perfect for dinner when your soul craves something soothing and comforting.
You can use any mushroom you like but shitake and white button mushrooms are our pick.


4. Ginger Garlic Noodle Soup With Bok Choy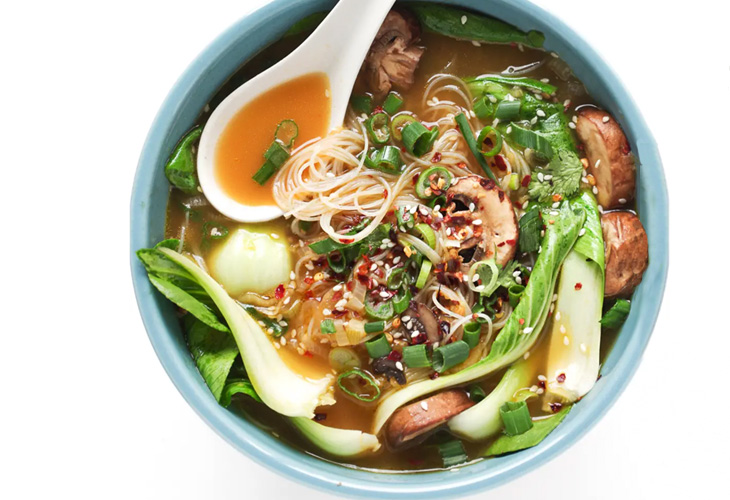 Not just good for warding off vampires, garlic also packs a powerful punch when it comes to bolstering immunity.
This soup gets an additional boost from the extra mushrooms and leafy greens, two of the most nutrient-dense foods across the board.
It can be made vegan or not – it's up to you. And comes together in 20 minutes flat for the perfect lunch or dinner.


Enjoy Your Menu of Immune Boosting Foods!
Why not spend this extra time cooking at home to give your health a boost in the most delicious way imaginable? Cooking and enjoying homemade meals has always been one of our favorite ways to destress and lower anxiety, which we all could use more now than ever.
Pick and choose or whip up the whole list for a full spread of dishes starring immune boosting foods. Please let us know in the comments which immune-boosting recipe was your favorite!
All included information is not intended to treat or diagnose. The views expressed are those of the author and should be attributed solely to the author. For medical questions, please consult your healthcare provider.
This article has been read 703 times. Share it and spread the love!