This Simple Apple Cobbler Recipe Is So Good You Won't Know It's Also Vegan and Gluten-Free!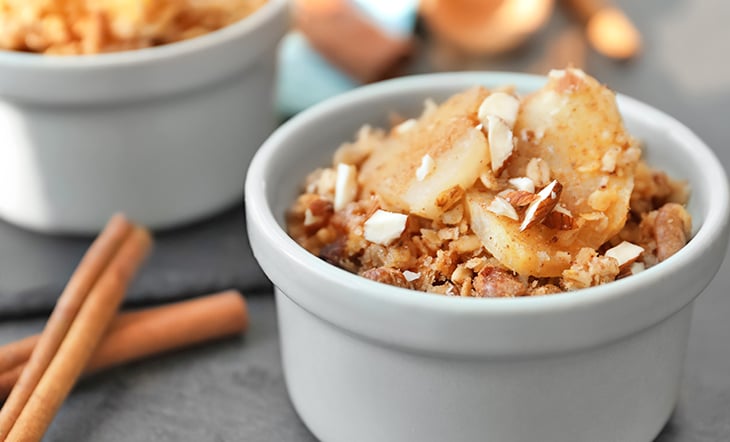 Just hearing "apple cobbler" conjures the aroma of warm, baked apples and cinnamon and crispy, gooey oats on top. Are you salivating yet?! There's something about sweet baked apples with cinnamon and topped with crunchy oats that makes our taste buds jump for joy.
Whether it's because apple cobbler is on the beloved list of comfort foods, or because you grew up treasuring that sweet smell wafting through your kitchen, there are many reasons to love – and look forward to – this dish.
This apple cobbler recipe has all the proper elements of a traditional cobbler, but with the added benefits of healthier ingredients that are also gluten-free and vegan-friendly (but we bet you can't tell!).
Improve Your Mood With Food By Asking These 3 Questions


The Immense Health Benefits of Apples
You know that old adage, "An apple a day keeps the doctor away?" While eating an apple every day is by no means a cure-all, there really is some truth to the saying from the standpoint of apples' long list of health benefits!
Among many health benefits, apples offer considerable digestion support thanks to pectin, the fiber found in their skin that breaks down in your gut. This makes apples the perfect between-meal snack since the fiber keeps you feeling fuller longer. (Hint: leave the skin on when you eat an apple so you are sure to receive all of the health benefits!)
Fiber-rich foods in general help control symptoms of acid reflux, and the pectin fiber found in apples can also help with diarrhea and constipation. If you've ever heard of psyllium husk for regularity, that's actually blended with apple pectin for its soluble fiber!
Apples are linked to good gut health, and are also linked to immune system support and even protecting your cells' DNA from the oxidative damage that can lead to cancer, thanks to the plant chemical flavonoid. They are also a good source of Vitamin C, can help lower cholesterol, and are low in sodium and fat.
On average, one medium-size apple contains:
100 calories
25 grams of carbohydrates
4 grams of fiber
19 grams of sugar
Here's Your Apple Cobbler Recipe
Now that we've covered the immense health benefits of eating apples, are you ready to cook with them?! Let's bake apple cobbler!
Be sure to read the end of the article for a few fun tips to spice up your apple cobbler recipe, experiment with different garnishes, and have fun baking this delicious dish.
Serves 2 | Difficulty: Easy

Apple Cobbler Ingredients:
(For the filling)
2 Gala apples
2 Tbsp sugar in the raw
2 tsp ground cinnamon
1 tsp almond milk
Ingredients for the Cobbler Topping:
1 cup raw oats
1 Tbsp maple syrup
1 tsp hemp seeds
1 tsp ground cinnamon
1/4 tsp vanilla extract
Preparation
Preheat your oven to 350 degrees.
Wash and dry your apples, and then chop them into small cubes (compost the core).




In an oven-safe dish, combine chopped apples, sugar, cinnamon, and almond milk. Stir until apples are coated well.


In a separate bowl, combine oats, maple syrup, hemp seeds, cinnamon, and vanilla. Make sure your oats are coated with the maple syrup, as this is what will caramelize and give your topping that nice crunch.




Sprinkle this topping over your apple mixture.




Bake for 35-45 minutes, until the oats are browned and your apples are syrupy.


Time to Indulge Your Senses With This Delicious and Nutritious Apple Cobbler Recipe!
A few final tips to make this cobbler recipe your own. First, consider topping it with a scoop of ice cream – or nice cream to keep it vegan and dairy free. You can also try a dollop of whipped cream (we suggest the dairy-free coconut milk version!) on top.
If you are an apple lover and just can't get enough, consider slicing up a third apple to garnish your cobbler with! This apple can be raw or baked, plain or dusted with cinnamon.
You can also swap out the apples on top for a different fruit, like blueberries, blackberries, figs, or pears (or a deliciously flavorful and colorful combination of the above!).
The best part about baking at home is that your options are only limited by what you've got in the fridge or pantry! Have fun getting creative and trying new flavor combinations.
This apple cobbler recipe is great for any time of year, but may sound particularly tempting as the temperatures drop in the fall, made as part of your Thanksgiving or other holiday spread, or as a dessert that everyone will love at your next dinner function.
Enjoy! And let us know how it came out in the comments below! We love hearing from you.
This article has been read 413 times. Share it and spread the love!