7 Perfect Pre-Workout Snacks for Long-Lasting, Healthy Fuel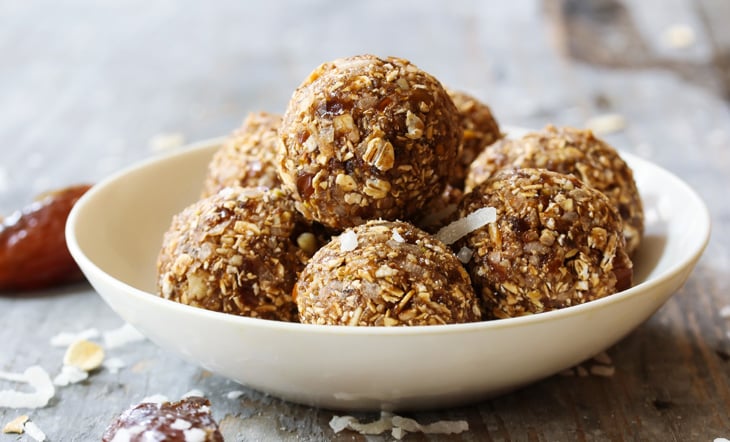 Are you paying attention to what you're fueling your body with pre-workout? If not, now's the time to start focusing on your pre-workout fuel. As much as you think about cardio vs. legs, you also need to think about your pre-workout snack ideas.
What you choose to snack on before your workout (whether that looks like lifting, yoga, cardio, you name it) matters – a lot! In fact, your pre-workout food can be the difference between a workout you smash with energy to spare, or one that feels like torture (and life's too short for those!).
Just like you wouldn't expect to make it very far with a gas tank on empty, trying to work out on an empty stomach (especially for intense workouts) just doesn't make a ton of sense. Read on as we explain WHY you should be eating before your workouts and share our favorite healthy and delicious pre-workout snacks.


Warm Up and Cool Down With These Online Classes:
Looking for a fun warm-up or yummy stretches to do before and after your workouts? Check out the amazing selection of online classes from YA Classes to help support you before and after your workout sessions! Not yet a member? Try it out for free for 14 days
First, Let's Address the Debate Between Pre-Workout Snacks vs. the Fasted Workout Hype
It's true, you've probably seen at least a few fitness influencers talking about working out on an empty stomach. Everyone's different, so certainly listen to your own body.

You wouldn't make it very far on an empty gas tank. Likewise, working out on an empty stomach doesn't make a ton of sense.

Generally speaking though, when our body doesn't have any glycogen stores to grab energy from, our strength and workout quality will suffer.
Ever felt like you're stalling out mid-way through or just can't get that last rep in? Try fueling your body with some pre-workout food next time, and see the difference for yourself!
In terms of how many calories your pre-workout food should contain, we all vary (you may not like to feel weighed down or you may find that you need that heartier pre-workout meal). What we all have in common though is that we need to have some Science confirms that we need fuel in the tank to perform our best!


Try These 7 Pre-Workout Snack Ideas:
If you're like us, you want something that's quick to whip up but will also give you plenty of sustained energy. We've got you covered!
Here are seven ideal pre-workout foods that will keep you full (but not too full), energized, and ready to get the most out of each and every workout.
(And all can be prepped ahead of time, so no more excuse of not having time to grab a pre-workout snack!)
Need help with the prepping? How to Meal Prep Like a Pro – Here's Everything You Need to Know

1. Fiber-Rich Chocolate Protein Smoothie
A smoothie is a no-brainer post-workout snack, but also the perfect thing to quickly whip up for pre-workout fuel. This protein-heavy smoothie (without any protein powder!) includes oats and banana for complex carbs (which give you lasting energy), plus healthy fats and protein.
Bonus tip: To really supercharge your pre-workout snack, you could totally add a splash of cold brew coffee to this! Starbucks, who?

2. Hearty, Maple Walnut Granola
Not just for breakfast, this nutty granola stars oats, maple, and wholesome ingredients you definitely already have in your pantry. Whip up a big batch, portion out, and then enjoy this pre-workout snack with a splash of your favorite plant-based milk.

3. Chocolate-Covered Collagen Energy Bites
Got a sweet tooth? Knock it out while you fuel your workout with these super yummy, healthy collagen bites that taste like cookie dough – but without the sugar-crash or empty calories (yes please). Packed with oats and almond butter, hemp seeds and cacao butter, this nutritious pre-workout snack is almost too good to be true!

4. Make-Ahead Yogurt Parfaits
Make these delicious layered yogurt parfaits a few at a time and have them ready to grab as the perfect pre-workout snack. You can totally customize the berries, seeds, and yogurt based on your preference and dietary style.
Looking for more articles to support your workouts? Check out our full library of Fitness articles here

5. Chickpea Salad on Toast
You'd never guess chickpeas could be this delicious, but this faux-chicken salad makes an awesome lunch or pre-workout snack. Spread onto toast or make into a sandwich for a hearty, fiber-rich snack that will keep you powered up.


6. Rice Cakes With Peanut Butter
If you like the idea of a sandwich but bread leaves you feeling a little heavy, try rice cakes as a lighter option that's still full of healthy carbs. They store great too, so keep a bag in your desk drawer or car and smear on some peanut butter (and jelly, if you want) for a lightened up PB&J.

7. Overnight Oats
When it comes to healthy carbs, oats are hard to beat, which is why good old-fashioned oatmeal is one of the best pre-workout snack ideas. Make these overnight oats for the whole week – they get better as they sit in the fridge!


Grab One of These Perfect Pre-Workout Snack Ideas and Get Sweating!
With any of these seven healthy, filling-but-not-heavy pre-workout snacks, you'll have the sustained energy you need to slay your next workout.
So whether it's a yoga session (like this awesome, free stress-melting class), a long run in the park, or hitting the weights, you'll know you're getting the very most from each and every workout.
Happy snacking!
Looking for more pre-workout food ideas? Fuel Your Workout With These 20 Healthy Pre- and Post-Workout Snack Ideas
This article has been read 2K+ times. Feelin' the love!