Fuel Your Body: This Is What to Eat Before a Workout or Yoga Practice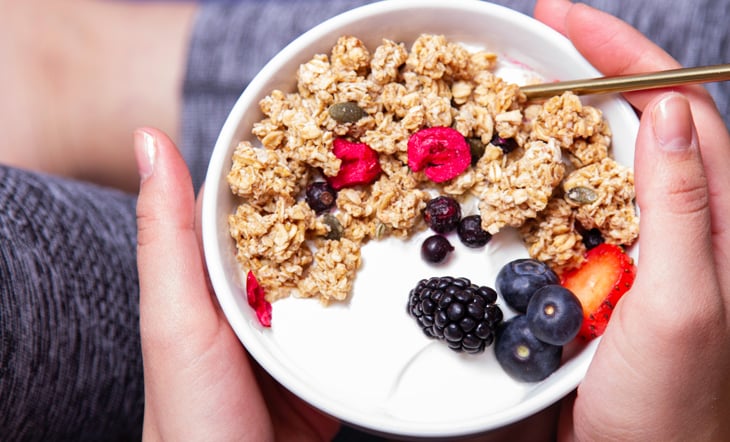 If you're wondering what to eat before a workout or yoga practice, or looking for inspiration on the best pre-workout snacks to eat, then you've come to the right place.
Choosing what to eat before you workout can be more challenging than you'd expect! That's because while there are endless options of what to eat to fuel your body, not all are ideal to eat directly before exercising.
Nutrition and exercise go hand in hand. In fact, studies show that diet or exercise alone is not enough for complete wellness. Both are required for you to feel your best.
Have you ever headed to the gym or a yoga class right after scarfing down a huge burrito? It's not great. Many foods will leave you feeling heavy, sluggish, or simply unmotivated to exercise if you eat them too close to working out.
Yoga – and any form of exercise – is about making a mind-body connection, so when it comes to what you're eating before – and after – exercise, it matters!
This article will share:
What to eat before a workout or yoga practice
What to eat after a workout or yoga practice
Best pre-workout snack ideas
Best post-workout snack ideas
The importance of mindful eating
What Should You Eat Before a Workout or Yoga Practice?
Of course, we want to avoid the obvious gassiness from the burrito incident, and we want to fuel up in a way that gives us strength and stamina throughout our practice. We also want to tend to our body's nutritional needs, especially after a HIIT workout or sweaty Power Yoga class.
Keep reading for meal and snacks ideas to eat before and after you exercise. Try a few of them that appeal to you and see how it goes!


Try These Pre-Workout Snack Ideas:
Pre-exercise foods need to be light and easy to digest, so they keep you fueled but not bogged down. Think smoothies, fruit, nut butter, etc.
Of course, some people prefer to practice first thing in the morning, on an empty stomach. But that doesn't work for everyone.
According to the University of Delaware's sports dietitian, Sharon Collison, the best pre-workout snack for you depends on several factors, including: what time you exercise, what your training goals are, the type and duration of exercise, and even how your body is specifically effected by certain foods (again revisiting that burrito analogy).
If you need a little something in your system before you hit the gym, check out this delicious pre-exercise smoothie recipe here or try one of the easy snack ideas below:
An apple or banana with almond butter
Protein shake
Hard boiled eggs
Carrots and hummus
A handful of almonds and fresh berries
Small cup of greek yogurt and blueberries
Cottage cheese with fruit on top
For those exercising or practicing yoga later in the day or evening, be sure that you wait an hour or so after a full meal so that the food has time to digest beforehand. This is particularly important for high-protein snacks.


What to Eat After Your Workout or Yoga Practice
Whether you power through a sweaty Vinyasa Yoga flow or enjoy a high intensity workout, you'll also need to refuel your body afterwards.
It's most important to rehydrate, so don't forget to keep your water bottle full . . . and bonus for adding electrolytes! Then grab a snack or meal that includes healthy complex carbs and protein.
Here are some fun post-workout snack ideas to try:
Grilled chicken with rice and veggies
Tofu scramble with spinach and avocado
Chia seed pudding with fresh berries
Protein shake
Egg and vegetable omelette with toast
Tuna and crackers or salmon with sweet potato
A simple veggie soup with lentils and quinoa like this one
Of course, this is not an exhaustive list by any means. For even more ideas of what to eat before or after you workout, read this!


Eating Mindfully as a Part of Your Fitness Routine
Establishing a mind-body connection is a crucial part of any form of exercise and empowers us to move through our day with mindfulness. How you eat is just as important as what you eat.
In our fast paced society, it's easy to eat in a rush or on the go.
Many of us are all too familiar with eating lunch on the go, or even worse – skipping a meal or substituting a meal for a quick but unhealthy snack. Yet slowing down and being intentional about meals and even snacks can have a profound effect on our relationship with food and our bodies.
Here are a few practical tips for taking a more mindful approach to eating:
Pause before you eat and take a deep breath of gratitude
Put away distractions like your phone or turn off the TV
Notice how you feel during and after the meal to better understand what foods are best for your body
Plan ahead so you're eating intentionally (and not just grabbing what's available at the gym vending machine)
Mindful Eating: Everything You Need to Know + How to Practice It


Best Pre-Workout Snacks: The Takeaway
Deciding on what to eat before and after your workout doesn't need to be complicated, so don't let it overwhelm you. It's simply another way to build a stronger mind-body connection through your fitness routine.
Sometimes the most challenging part of nutrition is overcoming perceptions of food that aren't in our best interest. When we shift from viewing food as pleasure and instead view it as the fuel our bodies need to thrive, then our entire relationship with food improves.
We exercise and move our bodies to strengthen them for years to come. And yet as we discussed in the introduction, exercise or nutrition alone is not enough. It is when we combine forces of regular exercise with a healthy diet that we can optimize our overall wellness.
Did any of these pre-workout snack ideas inspire you? What are your favorite foods to eat before and after your yoga practice? Please share with us in the comments below – we love hearing from you!

Ready for a Sweaty Workout Class?
Fitness Class
With McKenna Waitley
Grab your favorite pre-workout snacks and let's go! This short, sweet, and sweaty fitness class on YA Classes is designed to get your heart rate up and give you a full-body workout in a short amount of time.
This article has been read 1K+ times. Feelin' the love!