Product Review : Om Shanti Chakra Diamonds Performance Leggings
When it comes to product reviews, we don't mess around. All of the items we review are put through the ringer of everyday use. You can trust that our reviews are non-biased and completely honest. Full disclosure: we don't publish negative reviews. If a product doesn't live up to our standards, we simply won't promote it. Everyone has their own opinion – this is ours. Let's get started.

Om Shanti Clothing has appeared on the cover of Yoga Journal and is gaining notoriety for creating visually-pleasing, unique and vivid designs that are eco-friendly and made with quality. Their dyeing and printing process is done by hand, making each garment genuinely unique. Their designs are brightly diverse and colorful, all a tribute to the natural beauty of Florida where this company is located. From yoga leggings and activewear tops, to hoodies, fashionable tees, and more, Om Shanti clothing offers a vast range of clothing options for women, men, and children. Let's take a closer look at why Om Shanti Clothing is taking the yoga world by storm.

For this product review, we will focus on the Chakra Diamonds Eco-Friendly Printed Performance Leggings by Om Shanti Clothing.



1. Fabric
With "eco-friendly" included in the name of these leggings, it's important to know how these leggings are made sustainably, and that all has to do with the fabric and dyeing process. These performance leggings are made from 82% recycled yarn. Yes, you heard right: yarn! This highly durable yarn comes from recycled plastic bottles. 18% spandex comprises the rest of these legging's material, resulting in a high-performance fabric that is moisture wicking and anti-microbial (the key to long-term use). Om Shanti's custom "Ultra Fresh" antimicrobial finish will actually kill odor-causing bacteria and contains an added antimicrobial fabric blend in the gusset for added freshness. The result? Quality leggings that stand the test of time (and sweat), making these leggings great for your hot yoga, gym and cardio, and high intensity fitness regimen. Om Shanti uses manufacturing techniques that conserve water and energy to remain true to their eco-friendly name.


2. Style
A radiant, vibrant blend of colors and designs gives these leggings a POW on the style scale. Eye-catching and beautiful, these Chakra Diamond Leggings are wearable art. The mesmerizing mandala design will help you feel inspired – not to mention stylish – during your practice, and can follow you from the yoga studio to the mall with their versatile look. Pair them with a cute tee and sneakers for the mall, or match them with the featured adorable Chakra Diamonds Reversible Power Sports Bra for a full yoga/workout ensemble. Perhaps the best style feature of these leggings is their unique print. Not only is this Chakra Diamond print bold and bodacious, it is also dyed and printed by hand, making each pair truly one-of-a-kind. How cool is that?!

3. Functionality
Your yoga leggings can have the best style, but without functionality, you won't enjoy wearing them! How does a yogi know their leggings will be functional? Functionality is attributed to fit, durability, and performance. Let's start with the fit. Om Shanti has revamped the fit of their leggings for a precision fit that promise no bunching around the knees, longer length for taller yogis (shorter yogis have the option to bunch the fabric at the ankles or tuck it under their heels), and also forming the gusseted crotch for superior comfort. The results are in, and the fit is functional! Durability means that you can wear and wash these leggings again and again without worrying about them losing their fit, their color, or their quality. Just wash them on cold and dry on low, and they're good as new! Finally, performance. These leggings have "Performance" in the name! The spandex blend ensures the leggings move with you but stay in place – you won't have to worry about readjusting yourself during downward dog or on the stair master.


4. Value
As yogis, our biggest challenge is finding quality, affordable yoga wear that meets our diverse needs and standards. It's easy to spend more than $100 for one pair of yoga pants, but the question is, do you have to spend that much for quality? Om Shanti focuses their attention on performance. They strive to bring you the highest performing activewear that's stylish and also eco-friendly. At $85, you're making an investment in a unique and fashionable pair of performance leggings that will stand the test of time.

There are plenty of yoga legging options to choose from these days. With this ever-growing selection, it can be challenging to know what to look for, and to know which brands to trust. Finding a pair of yoga leggings that are comfortable, durable, reliable, and affordable is a must! Hold yourself to high standards in the name of your yoga practice and because you're worth it. Om Shanti Clothing holds these same high standards for their leggings, and because of this, they are 100% YouAligned™.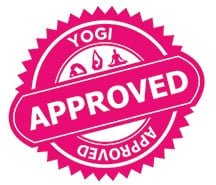 This article has been read 3K+ times. Feelin' the love!