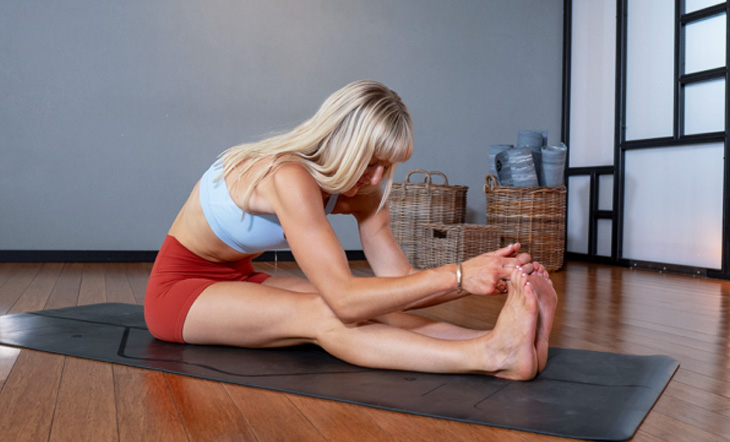 These 3 Online Yoga Classes Will Increase Your Full-Body Flexibility
Have you ever heard the saying, I bend so I don't break? That relatable sentiment wonderfully encapsulates the concept of yoga: create a consistent, dedicated practice to set the intention for a mind, body, and spirit that's both flexible and resilient.
There's a common misconception that you have to be flexible to practice yoga – and that couldn't be further from the truth! Chances are, even the most experienced yogis once walked into their first yoga class unable to touch their toes, while others who have practiced for years still face their own challenges like tight hips, hamstrings, or shoulders.
The idea is to feel comfortable in your own skin, while gently and safely challenging yourself to find your body's edge in each stretch. Even if you're a fraction of an inch further than you were the last time you tried a stretch, you're doing it right. After all, it is called a yoga practice, not yoga perfect. . .

There's a common misconception that you have to be flexible to practice yoga – and that couldn't be further from the truth!

The key to yoga for flexibility is consistency. And with a regular practice, you'd be surprised at how much you improve your flexibility over time.
In fact, according to a study published by the International Journal of Yoga, a focus group of male athletes that practiced specific yoga stretches bi-weekly showed significant improvements.
While the individuals in this study were college students, a different study observed similar results in a focus group of older adults with an average age of 68 after a 12-week Iyengar program.
The vast benefits of yoga are not just physical! Check out Here Are 5 Amazing Benefits of Yoga for Your Mind


Ready to Increase Your Full-Body Flexibility and Mobility? Yoga for Flexibility Is the Best Method!
If you don't feel 'flexible enough' for yoga, remember that yoga is how we get flexible! Try these 3 online yoga for flexibility classes on YA Classes.
Read on for two online yoga classes plus a full online yoga program all designed to help you increase flexibility. Yoga for flexibility is an incredibly effective way to gain full-body flexibility and mobility while decreasing chance of pain or injury.

Build the Foundation With This Beginner Flexibility Online Yoga Class
Yoga Class
With Alba Avella
In this beginner online yoga class led by YA Classes teacher Alba Avella, you'll be targeting the hamstrings and the shoulders – both common areas of tightness and tension in the body. This Beginner Flexibility class is a great way to get started into your journey of flexibility.
Throughout this online yoga class, you'll explore your range of movement and mobility in active stretches and beginner yoga poses designed to gently increase your flexibility. Throughout the class, you also have the option of integrating a yoga block and yoga strap.

Take Your Flexibility to the Next Level In This Flexibility Flow Online Yoga Class
Yoga Class
With Chelsea Ortega
In this all-levels yoga class led by YA Classes teacher Chelsea Ortega, you'll expand into the next level of your flexibility.
Many of us (raise your hand if this is you!) spend long hours sitting at a desk or in a car. The effects of these repetitive actions can lead to tension, soreness, stiffness and decreased mobility and flexibility.
Let's change that with this Flexibility Flow class on YA Classes!
You'll begin this yoga practice seated on your mat, taking a few gentle full body stretches to open and lengthen your side body. You'll glide into Table Top Pose, moving within this space and tuning into your breath and body to find Cat / Cow Pose.
You'll continue decompressing your spine in Pyramid Pose, Wide-Legged Forward Fold and Seated Forward Fold Pose variations as well as juicy Downward Dog Pose variations and more.

Integrate Yoga for Flexibility With This Full-Body Flexibility and Mobility Yoga Program
Yoga Program
With Kelly Pender
Immerse yourself in a six-video program, led by YA Classes teacher Kelly Pender, that targets stretching and mobility in specific parts of your body. Each video builds on a series of simple poses and stretches so you can identify where you need to improve your range of motion.
You'll begin with an introduction and quickly move onto the fundamental joints – the wrists – and learn how to warm them up and prepare for foundational poses. You'll move on to the next videos which each address flexibility and/or mobility for the hips, side-body, hamstrings, spine, shoulder, neck and upper back.


Practice With Us on YA Classes and Discover How Beneficial Yoga for Flexibility Can Be!
Try these online yoga for flexibility classes, and over time, you'll notice how your body can open, adapt, and gently stretch further safely.
Have you tried YA Classes by YouAligned yet? Did you know that we plant a tree for every class our members complete? We've planted over 100,000 trees and counting!! Explore our vast selection of hundreds of online yoga, fitness, and meditation classes. We add new classes every week!
If you're already a YA Classes member, thank you for practicing with us! If you haven't tried us yet, you can start your free 14-day trial to see what makes our classes so special.
This article has been read 2K+ times. Feelin' the love!