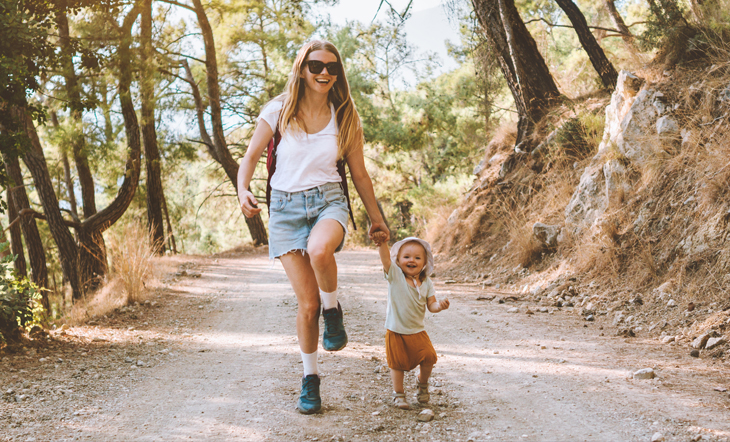 Moms: Here Are 11 Ways to Rediscover Yourself After Having a Baby
Motherhood is such a wonderful thing. Being a mother changes you. It shows you how capable you are of loving someone and how fierce you can get to protect them. It is a beautiful and empowering journey, but it comes with many challenges and you may feel the desire to rediscover yourself after motherhood.
Mama, you get so consumed with looking after your child's every little need that there is no essence of your own left. You may not remember the last time you had a good long nap or a proper meal. You probably cannot even list five fun facts about yourself!
New Moms: 7 Tips for a Healthy Fourth Trimester / Postpartum Phase
You obviously want to be there for every big or small moment in your child's life, but you cannot give your best to them if you keep losing yourself.
It is possible to be a full-time mom and still have a life outside of being a mother. We know exactly what you need to preserve yourself and share your best version with your child. And we are here to help you.


11 Ways to Rediscover Yourself After Motherhood:
We know it makes you anxious to have your baby out of your sight, but take a deep breath, ask someone to help you with babysitting, and take a well-deserved break for yourself. Try these wholesome ways to rediscover yourself.

1. Make a List of Fun Facts About Yourself
Start off with something simple. Jot down a random list of fun facts about yourself. Do you still relate to it? Does it need an update?
Evaluating your fun facts list will help you see how things have changed for you and help you rediscover yourself again. You can decide if you want to go back to that version of yourself or make new changes in your life.

2. Keep a Journal
Start recording your thoughts, feelings and plans about your life after motherhood. You can also keep track of the list of fun facts about yourself on it. Going back to these pages once in a while will give you a clear idea about how things are changing around you and what you can do about it.
Keeping a journal is also a great way to process all the tumultuous emotions you feel postpartum, as there are so many joys and challenges of motherhood.

3. Make Time for Meditative Activities
The main point of a journey of rediscovery is to relax and take things slow. You can do that by indulging in meditative activities like breathing exercises, park walks, gardening, knitting and yoga. These activities help you slow down and gather your thoughts when you are away from your baby.
Meditation for Moms: 3 Important Tips to Get You Started


4. Include Exercise in Your Daily Routine
Your body goes through a lot to grow and birth a baby. When you take a step back and look at yourself in the mirror, you will notice all the ways in which your body has provided for you and your child.
So, make time to incorporate postpartum exercise regularly to thank your body and preserve it in good health. You will be surprised by how just fifteen minutes of exercise a day can improve your mood for the rest of the day.
5 Postnatal Yoga Practices for New Moms

5. Pick up a New Hobby
You must have noticed in your list of fun facts about yourself that you no longer relate to a few things or simply cannot make time for everything. That's okay! It's time to discover something new about yourself, mama.
You can always try something new that interests you and make time for it as a hobby. You will love the feeling of empowerment that comes with getting better at something new. This will also give you a sense of purpose and accomplishment outside of your new role as a mother.

6. Socialize With Adults
Spending most of your time taking care of a baby means you rarely get the opportunity to talk to an adult who understands and validates you. While watching a baby babble away is rewarding, you need to have adult conversations to stay grounded in reality.
So, make sure you spend time expressing yourself around other adults more often. Take time out to set up video calls with your friends or go out for a meal with your siblings.

7. Doll Yourself Up
Rediscovering yourself after motherhood means taking a look at how you get dressed and take care of yourself. Your clothes have stains and holes in them right now. You have not dressed up in ages. Don't deny it!

While there is nothing wrong with plain clothes, you deserve to pamper yourself.

Put on your best dress and fish out those makeup brushes! Just because you are a mom does not mean you cannot look good anymore. Make an effort to wear clothes you feel good in, even if it's just for running errands. Seeing yourself in cute clothes will have a big impact on your self-confidence as well.

8. Go On a Date Night With Your Partner
You and your partner are probably spending all your time taking turns looking after the baby. All your conversations revolve around the baby and your relationship now sorely lacks romance. So, wear something sexy and take your partner out on a romantic date.
Appreciate each other for being there and celebrate parenthood together. And remember to talk about something besides your baby or parenting when you are out. This is also a good time to talk about your future plans for your careers.

9. Arrange a Fun Night Out With Your Friends
We are all our rawest selves when we are around friends. There is no one who is more accepting of your flaws and strengths than your close circle of friends. And it's safe to say they miss you as much as you miss them after having your baby, and they are a lifeline to help you rediscover yourself after motherhood.
So, call them up and plan a fun night of food, laughter and partying!

10. Re-evaluate Your List Of Fun Facts About Yourself
Everything feels so new after having a baby, doesn't it? Your life seems like it has been turned completely upside down.

There could be changes that you had never even anticipated.

It will all be reflected in how the list of fun facts about you from earlier seems like it had been written by someone else. Note these changes and draft a new list to find out who you are as a person now!

11. Embrace These New Changes
The initial days of rediscovery can be overwhelming. Just trying to process how much you have disconnected from your surroundings is a hard pill to swallow. Try not to dwell too much on it. You have a new person in your life! Such a change was inevitable to make room for them.
Appreciate yourself for bringing a new life into this world, and embrace how much stronger you are now.


Find Ways Rediscover Yourself After Motherhood
Just noting down facts about yourself can make you realize the extent of disconnect the arrival of a baby can cause. Your baby will eventually grow up and no longer need you the way they do now.
It is only fair that you remain tethered to your individuality so that your bond with your child can evolve beautifully as they grow older.
We hope this article helps you to set out on this journey of rediscovering yourself.
Did any of these ideas resonate with you? Or better yet, mama, did any of these empower and motivate you to rediscover yourself after motherhood? Please share with us in the comments below – we love hearing from you!
This article has been read 507 times. Share it and spread the love!