A Review of the December 2014 Yogi Surprise Subscription Box

Yogi Surprise is a monthly health and wellness subscription box that curates natural products for yogis and those that lead a natural lifestyle. Each month, you will receive a "retreat in a box" that includes six to eight full size products for your active lifestyle, including yoga accessories, natural beauty products, and organic treats.
Subscribers are also encouraged to take photographs of themselves in a creative manner with their Yogi Surprise box for a chance to win a yoga retreat. Users vote for their favorite images, and then Yogi Surprise gifts a retreat to one winner each month. The first two retreats of the month were Kalani Ocean Retreat in Kalani Hawaii and Peace Retreat in Playa Negra, Cost Rica. December's retreat of the month is a trip to Villa del Palmar Retreat at the Islands of Loreto, Baja.
Cost:       $44.95/month
Coupon: Use code LOVEYOURSELF for 20% off your subscription for life (now $35.96/month)
Shipping: Yogi Surprise ships between the 4th and 6th of each month and the box typically arrives within two to five business days.
The Yogi Surprise box comes in a very pretty purple and white box with the Yogi Surprise logo printed on each side. As the start of winter, the post card describes the curation of the December box as super-foods and treats to keep your body and mind in bliss, as well as a special, custom-made tool for your yoga practice.
Here are the items we received in the December 2014 Box: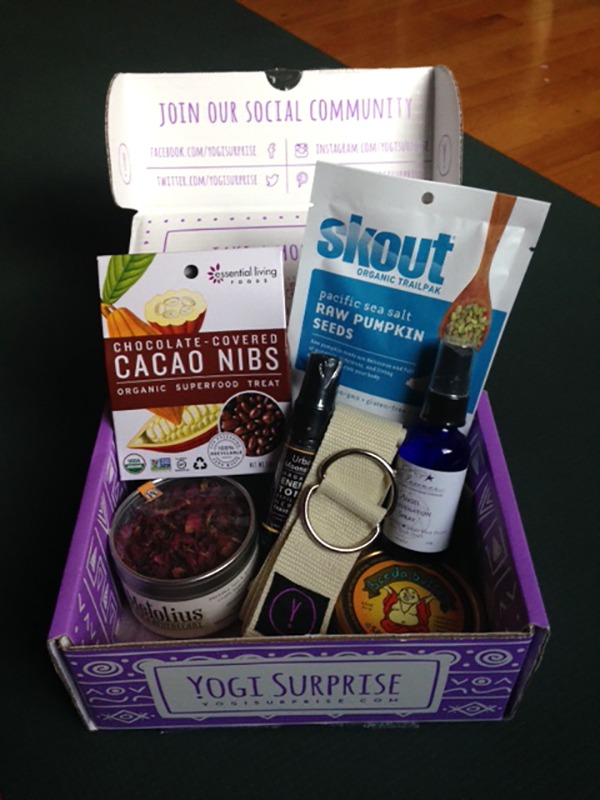 Booda Butter (Retail: $14)
The 2.3 oz tin of Booda Butter by Booda Organics is a 100% pure daily moisturizer that is also 100% vegan and completely natural. The body butter is made with organic shea butter, cocoa butter, coconut butter, jojoba oil and olive oil, and it is free of soy, bee, dairy and gluten. I love the happy Buddha on the cover of the tin, and the smell is so good that I am almost tempted to taste it.
Essential Living Foods Chocolate Covered Cacao Nibs (Retail: $5)
The Essential Living Foods Chocolate Covered Cacao Nibs are organic, kosher, gluten free, and non-GMO chocolate nibs that have antioxidants and mood boosting nutrients. The 3 oz. (3.5 servings) dairy free treat is made with crunchy raw cacao nibs in a layer of sweet dark chocolate – and the combination is fantastic! The information card gives a yoga tip to go with this chocolate treat, "Eat sparingly! Too much chocolate at once can aggravate Pitta and Vata."
Urban Moonshine Organic Energy Tonic Refillable Herbal Travel Spray (Retail: $8)
The Urban Moonshine Organic Energy Tonic is a stress-fighting daily tonic that fights fatigue and the negative effects of stress on your body. The gluten free tonic is made with organic alcohol, pure water, and other organic roots and extracts (a complete ingredient list can be found on the website).
The directions say to spritz directly onto the tongue or into a glass of water 14 times, to equal a half-teaspoon.  Be warned that I sprayed this one time onto my tongue and the alcohol burned my throat and made me cough. It was much easier for me to drink the tonic in a mixture of water. I can't speak to the stress relieving effects yet – the website says that the tonics build health over time and are not meant to provide instant relief of illness – but I'm always game for anything natural that can minimize my stress during the holidays.
Indian Tiger Eye Mala Beads (Retail: $18)
My beads were missing from my box, but I received a tin of tea instead. It is my understanding that Yogi Surprise ran out of the mala beads, and then substituted the tea in orders fulfilled after the mala beads ran out. The insert describes Tiger's Eye as representing empowerment, discipline, and commitment to yourself. You can use the mala beads to keep your mind focused while practicing meditation or reciting mantras.
Metolius Tea & Apothecary's Cardamom Rose Mate (Retail: $10)
Instead of the mala beads, I received a 2 oz. tin of Metolius Tea & Apothecary's Cardamom Rose Mate tea. I am a tea fanatic, so I'm always excited to try out a new brand. The tea is a beautiful, colorful mixture of mate, cardamom, rose petals, cinnamon, and pink peppercorn. The mixture looks very high quality, and once steeped, the tea is a nice floral mixture that surprisingly doesn't taste like soap like so many other floral teas.
Angel Rejuvenation Spray (Retail: $22)
The Angel Rejuvenation Spray by Star Essence is a 2 oz. facial mist and aura cleanser made with the essence of frankincense, lavender and geranium, blended in sacred healing water. I love the smell of lavender (see my article on holistic treatments for headaches), and this spray is both a refreshing and relaxing experience after a long and stressful day. The spray can be used to spray your face, pillow, and space. I will probably use this as a pillow spray so that I can breathe in the sweet aromas as I drift to sleep.
Skout Pacific Organic Triailpak Pacific Sea Salt Raw Pumpkin Seeds (Retail: $4.50)
The Pacific Sea Salt Raw Pumpkin Seeds by Skout Organic is a protein- and nutrient-rich snack to nourish your body. The organic, non-GMO, gluten-free seeds are a superfood with omega-3s that support your body's immune system and overall health. Who doesn't need an extra boost of immunity during the cold season? Best of all, the seeds are a nicely balanced salty and crunchy snack that is made with just three simple ingredients – organic raw pumpkin seeds, organic sunflower oil and sea salt.
Yogi Surprise Organic Cotton Yoga Strap (Retail: $10)
You can tell from holding the Yogi Surprise Organic Cotton Yoga Strap that it is a high-quality strap. The long strap can help yogis improve their stretching, balance training, and perfecting of body postures.
Do you want the box?
I calculated the retail value of this box to be $73.50, but subscribers who received the mala beads had a total value of $81.50. Even at the full price of $44.95, or $35.96 with the 20% off code "LOVEYOURSELF", this box is an excellent value for natural, organic, and yogi-inspired products.
YogiSurprise is Yogi Approved!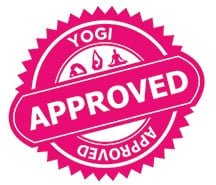 This article has been read 687 times. Share it and spread the love!