Fit Snack Subscription Box Review

Let's face it. Starting a healthy diet habit can be completely overwhelming. It's not just counting calories or watching serving sizes. There are so many more factors to consider: sugar intake, ingredient quality, organic vs. GMO, and other dietary modifications such as gluten free, dairy free, etc. With all of these things to think about, sometimes I wish I had someone to do the work for me and simply send me what I need to eat. But wait! I can have this luxury, and you can too! Allow me to introduce Fit Snack, your healthy eating made easy!!
Fit Snack is a company committed to helping people who are busy and on the go, but serious about their health. We all know how time consuming going to the grocery store can be, especially when you have a list of healthy criteria to meet. High protein, low sugar, GMO-free, organic, sustainable, clean, and raw are the criteria for every single item you'll find in this box.
I got my first Fit Snack box today, and it felt like Christmas! I couldn't wait to open it up and look at all the fun goodies I got! And what I found did not disappoint…

In addition to all the food and snacks pictured here, there is an adorable tank-top and also several money-saving coupons for the products included.
Your Fit Snack box will also include a product information page, which lists all the food products and provides a full description of each. There's even a custom work-out routine on the back of this info page! Here's a full inventory of what was in my box:
NoGii Whey & Quinoa Protein Powder
The Protein Bakery Walnut Brownie and Peanut Butter Cookies
Kays Naturals Mocha Espresso Cookie Bites
Simply 7 Snacks Lentil and Quinoa Chips
Oven Baked Organics Gluten Free Pancake Mix
Somersault Cinnamon Crunch Snacks
GoCoPod Individual Serving Coconut Oil
Fit Snack Raw Almond and Pumpkin Seed Mix
Fit Snack Veggie Chips
Since there's so much good stuff in here, I've picked a few to highlight:
1. Whey & Quinoa Protein powder: this individual packet is a single serving of gluten-free protein goodness! It's packed with probiotics (to support your immune system), has a healthy dose of fiber, and only 3 grams of sugar! And the best part? It tastes delicious! I blended mine with 4 ounces of almond milk.
2. Veggie Chips: if you're anything like me, it's the crunch that keeps me coming back to not-so-good-for-me foods. These super yummy Veggie Chips pack a satisfying crunch without any of the bad stuff. They are high in fiber, low in sodium, free of harmful fats, and a high source of Vitamin A. So in other words, eat up!!
3. Walnut Protein Brownie: yes, a brownie that's beneficial!! With 12 grams of muscle building protein, you can call this your post-workout brownie! But just because it is healthy doesn't mean you lose the flavor. This ooey gooey brownie is chewy and delicious.
Now I'm sure you're wondering what kind of a small fortune will afford you such a diverse, delicious, and nutritious goody box. The price is an absolute bargain, with boxes starting at just $15 per month! My box has nearly that amount in potential coupon savings alone! Not only did I receive a diverse assortment of health foods to cover meals, snacking, and post-workout needs, but I also got a "Fit is not a destination—it's a way of life" tank top!
Fit Snack boxes are ideal for busy parents, professionals, college students, and anyone interested in improving their diet. Fit Snack does a monthly giveaway that you can enter here.
Fit Snack is absolutely a big bang for your healthy buck, and that makes it certifiably Yogi Approved. Enjoy!!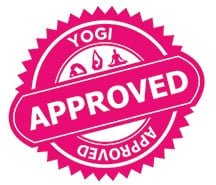 This article has been read 630 times. Share it and spread the love!