Goodebox Review and Giveaway
Goodebox is a monthly subscription box that provides curated healthy beauty products, non-toxic and natural cosmetics, personal care products, and health and wellness products. Subscribers can set up their personal profile, that outlines their age, skin type, hair type and other personal preferences. Boxes can also be tailored for men or teens.
Cost:
$18/month
$19/bimonthly
$102/6 months
$192/annual subscription
Shipping: Goodebox ships to the US only.
Within each box are individual product cards that provide information about the ingredients, formula and company behind the product that you will sample. Additionally, one card provides coupon codes so that you can purchase full size products at a discount, if you so choose.
For review consideration, Goodebox sent me both the November and December boxes.
November Box
Tatcha Polished Classic Rice Enzyme Powder – (Retail: $15)
The have wanted to try this product for ages, so I was so excited when I received a .35 oz. travel size of the Tatcha Polished Classic Rice Enzyme Powder. The water-activated rice enzyme powder is an exfoliator that is gentle on your skin, and is formulated without fragrances, sulfates, parabens, synthetic colors, and other harmful chemicals. The powder is easy to mix and apply, and it leaves my skin feeling clean and smooth. This is an excellent product that I would happily purchase again.
My Chelle Wrinkle Spot Treatment (Retail: $38.50)
The My Chelle Perfect Wrinkle Spot Treatment came in a full size .27 oz. container, so by the end of the tube, you will have a very good idea of how the product works with your skin. The treatment utilizes a rollerball to deliver the product, which is said to lift, smooth and firm your skin. The wrinkle treatment plumps troublesome areas, giving an instant boost in the appearance of your skin. Best, of all it applies smoothly and doesn't leave behind a fragrance.
Pelle Beauty ™ Luxe Beauty Oil (Retail: $8.50)
The Pelle Beauty Luxe Beauty Oil is a luxurious facial oil with a floral scent. The natural anti-aging oil contains 10 plant-based floral extracts and botanicals – including cucumber, Meadowfoam, jasmine & Neroli – to refine, restore and revitalize your complexion. The directions say to massage using upward strokes into clean skin. I love to add facial oils and serums to my daily moisturizer for some added oomph and extra power to my skincare routine. The scent is a little strong, but it quickly goes away and it makes my skin feel smooth and hydrated.
Zosimos Botanicals Facial Mask in Raspberry N Honey (Retail: $5)
The Zosimos Botanicals Facial Mask in Raspberry N Honey trial size is enough for two mask applications. The mask is formulated with a few simple ingredients, including honey, pink French clay, Moroccan lava clay, and raspberry fruit. The mask smells sweet in a subtle way that relaxed me when applied.
Blissoma Scentless Stick Solid Natural Deodorant (Retail: $1.05)
This .15 oz. sample of Blissoma Scentless Stick Solid Natural Deodorant is the perfect travel size to throw in your gym bag or carryon. The unscented deodorant is made with mango butter, clay zinc and baking soda, is free of toxic chemicals and antiperspirants and is 100% vegan. The scentless deodorant applies smoothly and is a little dry, but when I warmed it up with my hands for a few seconds, it applied nicely.
Everyone Yoga Bubble Bath (Retail: $0.64)
The 1.5 oz. sample of Everyone Yoga's Bubble Bath is just enough to a relaxing bath (or two) and see how you like the smell and feel of the bubble bath. The "Yoga" bubble bath is a mixture of rose geranium, lavender, marjoram orange and frankincense. Frankincense if one of my favorite scents, and I love that there are hints of it in this bubble bath.
December Box
Aila Nail Polish in #LikeABoss (Retail: $17)
This full size bottle of Aila Nail Polish came in a limited edition color called #LikeABoss. First of all, I just love the name! The gluten-free and vegan polish came in a pretty rose gold color that is simple enough to wear to work but sassy enough for yoga class or a night out. The five-free polish are formulated without formaldehyde, dibutyl phthalate (DBP), and toluene, formaldehyde resin, camphor, parabens and other icky chemicals.
Au Naturale Eye Shadow Cream Stick (Retail: $8)
The Au Naturale Eye Shadow Cream Stick sample came in the Palma shade that gives a hint of metallic and shimmer. The eye shadow nourishes the skin with organic oils and organic ingredients that are free of preservatives, parabens, fragrances, additives, and other nasty chemicals. Best of all, the shadow provides lasting color and applies with ease.
Ecojot Pen on Wood Mini Notepad (Retail: $5)
This mini flip notebook has a wood-like cover and unlined page within, both of which are made from 100% post-consumer waste. The notebook measures just 3 by 4 inches so it can fit in your purse without too much bulk or weight. I also love the cute pen on the cover, so this is a win for me.
Balanced Guru Scrub Me: Nice and Gritty Body Scrub (Retail: $2.87)
Balanced Guru's Scrub Me Nice and Gritty Body Scrub is an organic body scrub that is gentle enough for your face. The 1 oz. sample organic scrub is enriched with raw sugar, organic coffee, coconut oil, Babassu oil, cocoa butter, ginger and spearmint. The coffee scent is light and uplifting, but I also smell a good amount of mint. I love the combination of scents and is a great pick me up for your morning shower.
Sheaterra Organics Shea Butter Extreme Body Crème in Bourbon Vanilla (Retail: $2)
The Sheaterra Organics Shea Butter Extreme Body Crème in Bourbon Vanilla came in a perfect 1 oz. sample size that won't weigh down my already heavy purse. The 99.7% natural crème is also 90% organic creamy moisturizer that can keep your skin hydrated all day. The crème has a subtle sweet and almost intoxicating scent.
Should you get the box?
The retail value of the November box about $69, and the December box had a retail value of about $35. Both boxes are an excellent value considering the $18 subscription cost. This box is an excellent way to try out new natural and organic beauty and cosmetic products without committing to the full size cost or bottle.
Giveaway Time!
Goodebox would like to give away a Goodebox to three YouAligned.com readers. Visit this link to enter to win, comment below letting us know that you entered, and tell us what is your favorite product from the reviewed boxes. Good luck!
Goodebox is Yogi Approved!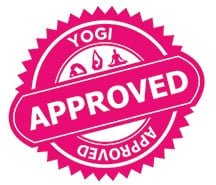 This article has been read 1K+ times. Feelin' the love!