Review of the LifeStraw Personal Water Filter
When it comes to product reviews, we don't mess around. All of the items we review are put through the ringer of everyday use. You can trust that our reviews are non-biased and completely honest. Full disclosure: we don't publish negative reviews. If a product doesn't live up to our standards, we simply won't promote it. Everyone has their own opinion – this is ours. Let's get started.

Did you know that more than 1 billion people do not have access to clean drinking water worldwide?
Sure, you can boil water, but that requires fuel, and even then, it does not remove dirt and other contaminants.

While you may empathize with those people, how does that directly relate to you and your life? Well, what would you do if all hell breaks loose and The Walking Dead TV show becomes your reality? You may be forced to drink from questionable rivers, streams and puddles that can cause infections and serious illnesses.

Or on a more realistic note, if you travel to a foreign country or if you are an outdoorsy type who likes to hike, backpack, camp, travel and be at one with nature, how do you ensure that you have access to clean drinking water?

You can carry gallons of water in your backpack, or you can use the innovative water-filtration devices by Lifestraw®. Winner of Time Magazine's Best Invention of 2005, LifeStraw filters virtually all water sources to create drinking water without using chemicals, batteries or any moving parts.

For the purpose of this review, we will take a look at three of LifeStraw's portable water filtration devices that are perfect for traveling or adventurous yogis: LifeStraw Go, LifeStraw Personal Water Filter and LifeStraw Steel Personal Water Filter.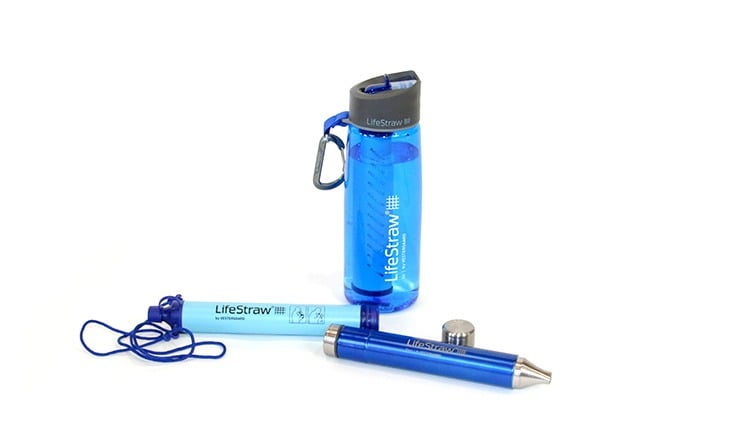 What Makes LifeStraw So Amazing?
The LifeStraw Personal Water Filter is an economical and easy-to-use drinking straw that filters your water straight from most water sources. Each straw uses a hollow fiber membrane to turn up to 1,000 liters (264 gallons) of contaminated water into clean drinking water, which is enough to keep one person hydrated for an entire year!






The LifeStraw Personal Water Filter removes 99.9999% of waterborne bacteria (including e-coli) and 99.9% of waterborne protozoan parasites. Simply dunk your straw directly into a water source – river, lake, stream, puddle, and any other "found" water – and drink as you typically would through a straw.
This simple product makes drinking clean water accessible to all!
The LifeStraw Go utilizes the same technology as the Personal Water Filter but it also includes a convenient, refillable 23 oz. sports water bottle. The Steel version is a more durable and sleek straw that uses a 2-stage filtration process with activated carbon to remove bacteria and parasites, as well as chemicals such as chlorine, pesticides and herbicides.


Uses and Functionality
As a yogi, you can use LifeStraw to filter water from public water fountains or even a nearby stream when taking your practice outdoors.

Lightweight supplies are essential for people who backpack, hike or camp. For the more rugged adventurer, the LifeStraw Personal Water Filters (in traditional and steel models) have a compact size that offers easy, convenient access to water. By using the LifeStraw, outdoor adventurers have an ultra-lightweight water filtration device that eliminates the need to carry gallons of water or ration a single bottle during their excursions. The LifeStraw allows outdoorsy types to minimize cargo and stay adequately hydrated.




All three products are perfect to keep on-hand in your vehicle or in your home for emergency preparation kits in the event of natural disasters, survival situations and even municipal water contamination notifications.

And, if you are a world traveler, LifeStraw is an ideal travel companion to take with you to ensure that you have 24/7 access to safe drinking water everywhere you go, even third world and undeveloped countries. It is TSA compliant, so you can transport it when empty through airport security, and simply refill once inside the airport while waiting for your flight.


Design
LifeStraw's products are high-quality and very convenient. They are all lightweight (weighing just a few ounces each) and compact in size, so you can take them with you everywhere you go.


The LifeStraw Go is made of a durable BPA-free plastic. The silicone straw seals at the opening to prevent leaks in your bag. The straw is connected to a detachable LifeStraw within the bottle that filters your water.

The LifeStraw Personal Water Filters are slim and compact, and just small enough to transport, but not small enough to get lost easily during travel. The traditional model is made of plastic and has a wider form, while the Steel version is made of food-grade stainless steel and has a slimmer profile.


Giving Back
When you purchase a LifeStraw, you are not just ensuring that you have access to clean drinking water. Through the company's Follow the Liters program, for every product sold, LifeStraw provides a child in a developing country with clean, safe drinking water for an entire school year! LifeStraw's Community water purifiers have been distributed to people in need in more than 64 countries and counting worldwide, including Haiti after the 2010 earthquake, Pakistan after the 2010 floods, and to Rwanda in 2015.


Value
The average cost of a liter of water in a plastic water bottle is $1. Instead of purchasing bottles of water that end up in landfills after use, refillable water bottles and portable filtration devices are the economical and ecological alternative.




The LifeStraw line of products are unlike any water filtration device that you have tried before. They filter out nearly 100% of waterborne bacteria and parasites, so you can stay safely hydrated with confidence. The LifeStraw Personal Water Filter ($19.95), LifeStraw Go ($29.95) and LifeStraw Steel Personal Water Filter ($54.95) are a great value and prevent you from purchasing bottles of water that add up overtime in both dollars and waste. Even more than that, these straws grant access to safe drinking water for people all over the world! Each piece is made of high-quality materials and feels sturdy and durable.



If you are a traveler, adventurer or just an average Joe who wants to ensure that your drinking water is pure and uncontaminated, LifeStraw should be on your shopping list. These products are well made, convenient and can literally save your life! For these reasons, these LifeStraw products are 100% YouAligned™.


This article has been read 1K+ times. Feelin' the love!