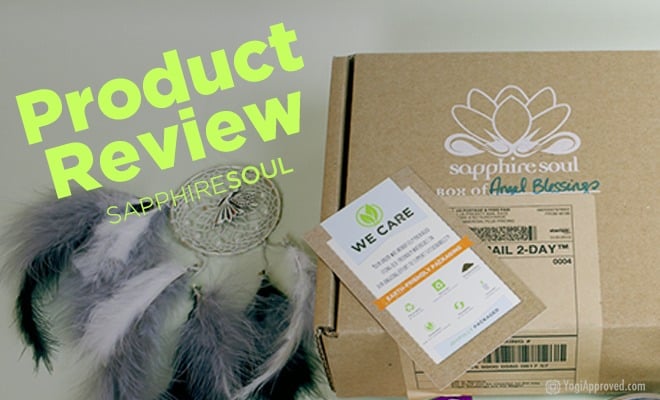 Product Review – Sapphire Soul Subscription Box
Today's yogi is often in touch with their body and their spiritual self and soul. If you want a monthly gift of love and soul inspiration for yourself, a friend or your Valentine, the Sapphire Soul Balance Box is the subscription box for you. Every month, the Balance Box delivers products that strengthen and nourish your body-mind-soul connection, including crystals, jewelry, candles, teas and sweet treats, essential oils and products made with essential oils, such as body scrubs and bath soaks. This box helps you balance your mind, body and soul on so many levels.
I have been subscribing to this box since early fall 2014, and each month, this box has amazed me more than the last with its thoughtful curation. The February box's theme was angel blessings, and I received the Happy Large Lotus Balance Box, which included eight angel-themed items:
Blue Lace Agate Stone: Aligned with the throat chakra, the pale blue crystal healing stone is said to bring about calming, uplifting feelings. This stone is also great for connecting and communicating with your angels, so it fits perfectly with this month's theme. I have added this stone to my small purse collection of stones, as it promotes peace and happiness.
Blue Lace Agate Bracelet with Angel Wing Charm: This delicate bracelet with the angel wing was custom-made for subscribers of the box. I love that now I have a wearable piece of blue lace agate jewelry to bring about peace and serenity in times of stress.
Angel Pendant: On a delicate fabric cord, this angel pendant is made with the translucent-like stone Opalite, which is said to enhance psychic abilities and induce visions when placed on the Crown Chakra (crown of the head).
Angel Blessings Dream Catcher: These handmade dream catchers were custom made just for this box. My purple and white dream catcher is gorgeous, and it will look great on the wall in my yoga/meditation room to bring blessings and protection.
Reiki Infused Angel's Influence Candle by Crystal Journeys: The beautiful blue soy votive candle has a light floral scent and is great to create ambiance during my yoga practice and meditation.
Angel Affirmation Card: My Angel Answers card by Doreen Virtue is full of bright, vibrant colors and the positive affirmation, "Remain Positive."
Angel Altar Cards: I downloaded the angel alter deck and learned about the seven magnificent archangels. The cards were beautiful and made a great addition to my yoga/meditation room and sacred space.
Elizabeth Harper's Connecting with Your Rainbow Angels Meditation: This downloadable meditation from Elizabeth Harper, a clairvoyant specializing in color, helps you zoom in on your true colors and their meanings. The meditation helps you see which colors are missing from your Soul Rainbow, to help you heal from the inside out.
The box pictured above that features an amazing assortment of eight products all for just $52 plus shipping; the medium box without the bracelet costs $33. Try out a medium or large Balance Box for yourself and use the code YOGILOVESOUL for a free "Love" pillar candle by Crystal Journeys, a candle made with essential oils and infused with reiki healing energy, along with an intention/affirmation prayer. If you sign up for a 12-month medium or large box subscription, use the code 12MONTHSHIP to receive free shipping all year (value $84).
With this box, you will receive items that will nourish your soul and make you feel good and loved, and you will be able to surround yourself with items for your home that make you feel happy and spiritually enriched. The Sapphire Soul Balance Box sends you love in a box each month and would make a great Valentine's Day or anytime gift for that special someone in your life. It is great for college students, busy moms and working professionals, and anyone who needs a little boost of happiness and encouragement, and for this reason, this box is Yogi Approved.
This article has been read 921 times. Share it and spread the love!