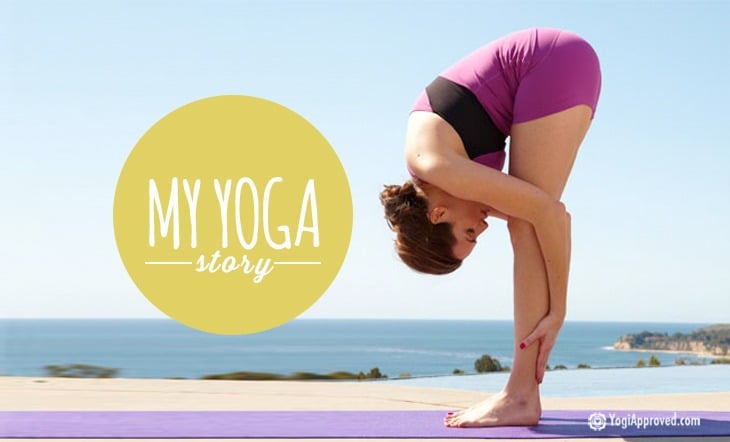 My Yoga Story – What Uttanasana Standing Forward Fold Taught Me About Myself

My laptop is on my nightstand and my desk chair is moved out of the way. With my closet door open I have just enough room for my yoga practice. It's day 29 of Yoga With Adriene's 30-day challenge on Youtube. This is the longest streak of yoga I've ever completed.
I mean it's only been a year since I started, but these past 30 days have helped me find a love of yoga and helped me "find what feels good," as Adriene often says.
What feels great, though, is the fact that I can touch the ground in standing forward fold. I think it was the moment when my fingertips touched the blue carpet of my student flat that I realized just how much yoga could do for me.


Confession: I've Never Liked The Forward Fold
I was a chunky kid. I did ballet and played sports from before kindergarten up through high school. I was never spectacular, and I was never comfortable with my body. I was never more self-conscious than during the fitness test.
Of course there was stuff that other kids couldn't do too – pull-ups and the rope climb marked out only the toughest kids in the class.
My nemesis, however, was the forward reach. It entailed an inquisition-like device designed to keep your feet in place and measure how far you could stretch with little tic marks on the top of the box. I had a kid on either side of me holding my knees down and a third pushing on my back and I still couldn't even make it to the box.
Through middle school and high school I was never comfortable with my body despite playing basketball, volleyball, softball and running cross-country. I spent most of the time wishing I had a different body type, that I wasn't the "fat friend" and that I could be skinny.
Note the lack of the word "healthy" in the list of wishes; it had never once entered my mind.
Then there was college. The constant practices and open gyms and summer workouts suddenly came to a halt. College meant the "freshman fifteen" and a semester abroad in Rome (you can guess how well my clothes fit after four months of wine and pasta).
By senior year I was heavier than I'd ever been. I hated wearing pants because of the size on the tag. But something else happened during my senior year. I had a wonderful roommate and friend who was trying to be healthy too. We worked on it together. I finally stopped wishing and started working. (And it's always nice to have someone to complain with.)
I used apps to keep track of the food I ate. I changed my diet to encompass food that actually had nutrients for a start and eliminating lots of junk food. I also worked out EVERY DAY.


Showing Up For Myself
I was still frustrated with that number on my clothing tags, and also the one on the scale that always seemed far too large. It was around this time I discovered Yoga with Adriene on Youtube.
I tried a couple of the videos. Slowly, I started accepting where I was in my journey (including my longtime pal, the standing forward fold). I couldn't do everything Adriene did, but that was okay. I was finding what worked for me. I was finding what felt good.
That was about a year ago. In May of 2014 I graduated from St. Norbert College more comfortable in my own skin than ever before. I've since started working toward an MA in Edinburgh, Scotland.
My sporadic yoga practice became more regular and 28 days ago I started the 30-day yoga challenge. The moment when my hands could rest on the carpet of my room (I forgot my yoga mat back in Wisconsin) in standing forward fold was this amazing revelation at how far I had come – not by wishing – but by showing up and practicing.
Standing Forward Fold Taught Me So Much
In these past 30 days, yoga has become part of my daily life. Yes, I can touch the floor in a standing forward fold, and I am also learning to be content with myself. I am learning to be present in my journey – my weight loss journey, my journey to self-acceptance, my journey toward a master's degree and my literal journey so far from all my family and friends.
I am also learning to enjoy the process and the act of yoga. I'm learning to enjoy the physical aspect of yoga alongside the more mental elements of the practice.
I'm still working on an attitude of healthy-over-skinny, and I have days where I really hate my thighs – well, most days. But there are also times I actually like my body. I have days when I'm comfortable in my clothes and with myself. Days where I can plant my feet firmly on the ground, breathe out and allow my hands to find the Earth (or carpet).
Next on the agenda: Tree Pose without falling over. Balance has always been tricky for me. Stay tuned to follow my journey and gain inspiration of your own!! 🙂 Namaste
_____
Recommended read: Get To Know A Yogi – With Adriene Mishler