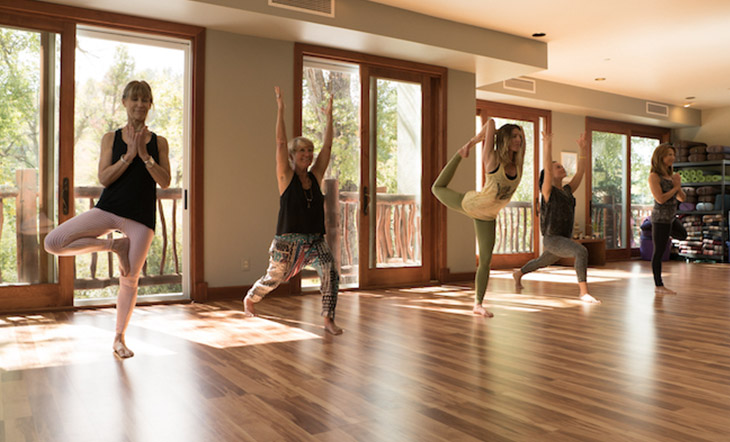 Yoga Center of Steamboat Springs
The Complete Yoga Guide to Steamboat Springs, Colorado (From a Local)
If you love yoga, hot springs, and mountains, you'll love Steamboat Springs, Colorado. Steamboat Springs is home to roughly 10,000 full-time residents, but grows to nearly double the size during high-tourist months (aka winter ski season and the beautiful summer months).
Why do yogis love Steamboat Springs?
For such a small town, there are a helluva lot of yoga studios in relation to how many permanent residents we have. Despite our town's size, each studio has something unique to offer with their devoted, experienced instructors.
Steamboat Springs is home to over a half dozen places to practice yoga, and, as a Steamboat local, I'm here to give you the lowdown on exactly where to practice yoga.

Steamboat Springs Yoga
Steamboat Springs is an athletic and active town with a thriving yoga community composed of a diverse mix of yoga practitioners. The studios in Steamboat offer practically every kind of yoga you could ever want: Vinyasa, Hot Yoga, Wall Yoga, Restorative, Yin, Iyengar, and that new hotness: Buti Yoga.

Local's Tip: Remember that, in Steamboat Springs, you're at 6,800 feet . . . which means there's less oxygen in the air and you will dehydrate more easily. So drink extra water, listen to your body, and know its ok to take an extra long Savasana.

Steamboat Has Its Own Yoga Festival – The Steamboat Movement Fest
An annual yoga festival held in Steamboat Springs, the Steamboat Movement Fest is a non-profit gathering that features local yoga teachers and studios as well as yoga teachers from around Colorado and the country.

Steamboat Movement Fest draws attendees from across the state and beyond. It combines music, yoga, dance, and panel discussions to create a weekend of fun and community in the late summer. If you plan on a summer trip to Steamboat, it's definitely worth planning around this yoga festival!

Where to Practice Yoga in Steamboat
There are many places to get on your mat in Steamboat, and here are a just few options that will help make your ski vacation into a yoga retreat too!

Rakta Hot Yoga and Wellness
One of Steamboat's newest studios, Rakta features a state of the art yoga studio complete with showers and a wellness room. Rakta offers a variety of Hot Yoga classes, Barre, Sculpt, Restorative, and Buti!

It's the only studio in Steamboat that offers Wall Yoga with ropes and straps. With a first time drop-in that is only $10, and a 5-class pass for $75, Rakta has some of the most competitive pricing in town.

Yoga Center of Steamboat
Located in historic downtown, the Yoga Center of Steamboat is one of the longest running studios in Steamboat. The studio faces west with floor to ceiling windows that look out onto the Yampa River, so you can enjoy the view as you practice.

The Yoga Center offers a variety of classes for all levels with an emphasis on Restorative and Therapeutic Yoga. Drop-ins are $17, or if you're in town for the week try a 3-class pass that's good for 7 days for $45.

Out Here Yoga
Located near the mountain, Out Here Yoga is a Baptiste Yoga style studio, which means hot classes – 95 degrees to be precise – and challenging sequences. Drop-ins are $20 and a 5-class pass is $90.

Libbie Mathes
Libbie Mathes is a treasure in the Steamboat yoga community. At any of her classes, you are likely to find at least a few of the local teachers on their mat. A direct student of both Krishnamacharya and B.K.S. Iyengar, a class with Libbie may change the way you think about yoga, as she commands the room with ease, grace, and humility. Find her twice a week for Intermediate level classes at the Steamboat Buddhist Center, where drop-ins are only $8.

Steamboat Pilates and Fitness
Located downtown, Steamboat Pilates and Fitness offers 1-2 Vinyasa style yoga classes each day, in addition to Pilates, Spin, Aerial Conditioning, and several other types of movement classes. Yoga classes as well as Barre, Mat Pilates, and Spin class are all $20 for a drop-in or $70 for 5-class pass.

Yoga Lila
Located on Steamboat's west end, Yoga Lila invites you to "find your way through play" on your mat. Yoga Lila offers daily classes throughout the week, and brewery classes and donation classes on the weekend. Drop-ins are $14 and a 3-class pass is only $30!

Old Town Hot Springs
In addition to being home to one of the two hot springs in Steamboat Springs, OTHS is also a great place to get on your yoga mat. They offer 1-2 yoga classes per day, as well as other exercise classes like Barre and Body Pump. Drop-ins are $16.50 or, my favorite deal, for $24 you get two of their three options: an exercise class, access to their fitness center, or a dip in the hot springs!

Sundance Studio
Located between town and the mountain, Sundance Studio offers yoga classes several days a week, Bella Barre, and Essentrics classes, as well as wellness and beauty services. Drop-ins for yoga and Essentrics are $15 and Barre is $18.


After Yoga, Unwind at the Hot Springs
Even though you may come to Steamboat Springs when it's cold and snowy, don't forget to bring your swimwear for Steamboat's two different natural hot springs! The hot springs are the perfect place to unwind after yoga – you can soak your sore muscles and enjoy total relaxation.

Local's Tip: If you can, go the springs while it's still light out. The scenery is gorgeous and it won't be as busy, which means more space and more privacy for you. Be sure to bring water, and take the plunge into the snow melt fed river pool – its cool waters are invigorating to the mind and exhilarating to the senses!

Old Town Hot Springs
Located downtown on the bus route, Old Town Hot Springs has fun for the whole family, with a workout facility, fitness classes, water slides, yoga, and several warm to hot pools fed by a natural hot spring.

Strawberry Hot Springs
Located about 25 minutes north of downtown, the Strawberry Hot Springs are the perfect way to relax and rejuvenate after any activity, especially air travel. In addition to the springs, you can also get a massage, or stay the night in one of the rustic cabins!

Yoga in Steamboat Springs, Colorado
There's no doubt that Steamboat Springs is a very special place. There is beauty everywhere you look and no shortage of great yoga classes.

And one more thing . . . the sunrises and sunsets over the high mountains will absolutely take your breath away. They'll give you a glimpse of the divine, and I highly recommend timing your morning or evening meditation to watch the spectacle while you're in town.

So grab your mat, get yo' booty in the car, and go have some fun in the mountains!

This article has been read 3K+ times. Feelin' the love!