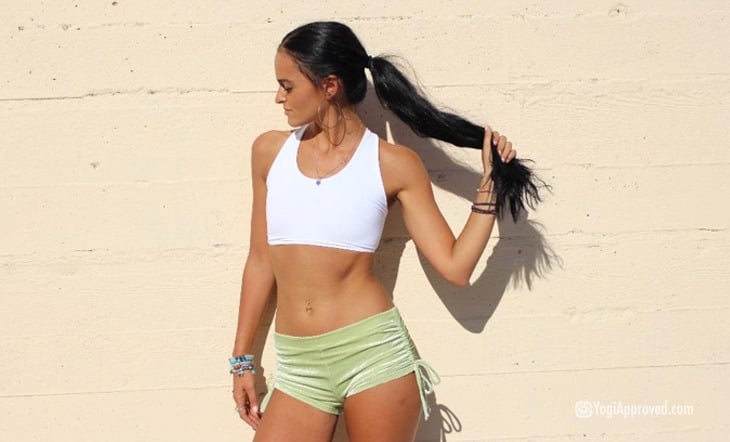 Sweaty After Yoga? Here's 7 Ways to Keep Your Hair Healthy & Happy
You love being a yoga (or hot yoga) junkie, but you don't love washing your hair within an inch of its life after every sweaty session.
Good news! You don't have to have hair like straw for the rest of your life just 'cuz you're a hot yoga fanatic! Science has your back. Take care of your locks while you're takin' care of your body 'n soul with some products and suggestions that provide the extra TLC you're looking for.

Check out these 7 ways to keep your hair healthy and happy:
1. Ditch or limit harsh sulfates and foaming ingredients
The foam from shampoo lather may make you feel like your hair is getting clean, but you don't really need it. A gentle, non-foaming and color-preserving cleansing conditioner that does not strip your hair of natural oils, Hair One will do the trick.

You can also opt to not shampoo every day. Just rinse and be sure to use a very light conditioner. Give your scalp a few weeks to adjust to a new 'poo schedule, as the natural oils tend to self-regulate when given the chance (isn't the human body an amazing thing?).

Heard of the No Poo method yet? If not, let's change that! Read this.


2. Dry shampoo: your new best friend
Combat the grease with these dry shampoo sprays that contain a light powder. Not Your Mother's Clean Freak Dry Shampoo smells lightly of fruit loops (seriously, it does!), and the scent dissipates quickly.

Less is more here – brunettes, beware of using too much, lest you look like you doused your hair in baby powder. You can also try spraying it into your hair at bedtime after your candlelight flow, so the product has time to work its magic and 'settle in' by morning.


3. Heat-activated conditioning treatments
There are some truly amazing products out there that give you a mini deep-conditioning treatment as you work out. The most noteworthy is Hair Warrior. You throw it on dry hair before you head into a sweaty workout (or the steam room), and you shampoo it out afterward. Plus it has no scent, so you won't get any sideways looks for being funky when you've applied it.

If you're more of a natural approach kinda gal, organic coconut oil and argan oil are both fantastic for their moisturizing benefits. Since they're heavier oils, the fine-haired bunch of us might wanna be more strategic on frequency of use so the hair doesn't get too weighed down.


4. Protein treatments
You would not believe how much stronger and healthier your hair can be with regular protein treatments. Olaplex is a protein treatment to strengthen, nourish, and protect your hair.

Protein treatments do wonders for anyone who bleaches their hair, but all hair types can benefit from a protein treatment. Consult a hair care professional on how to use a product like Olaplex, since these treatments typically cannot be used like a leave-in conditioner, and you don't want to overuse them.


5. Deep conditioning masques
These require a bit of thoughtfulness like the protein treatments, but they tend to be inexpensive and require zero prior knowledge to use. Try perusing the reviews on Amazon to see specific feedback for treatments you might want to purchase.

Sachajuan Hair Repair is a truly miraculous product. You can leave it on for 5-10 minutes after shampooing or even while you're relaxing at home doing laundry or resting. You can even use it overnight with good results too (consider wearing a shower cap to bed to avoid getting your pillows greasy).


6. Celebrate your 'au naturel'
Is this your opportunity to get a haircut that reflects your more natural state? Work with a stylist to find a way to make your hair flattering with just a simple blow dry vs. all the heated tools. Give the heat elements like your flat iron a break.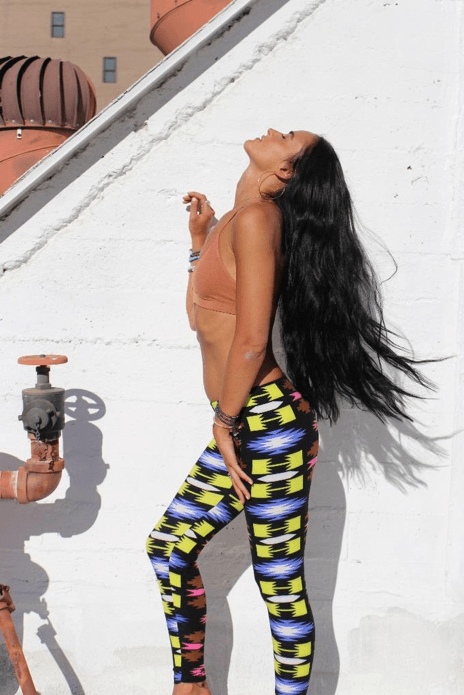 7. Beanies, buns, head scarves, braids: your 'lazy day' rescues
You slept in, you're running late or you know what? You just plain ol' don't feel like washing your hair but you DID feel like practicing yoga! It's cool, yo. Rock your beanie hat! Wrap a pretty floral head scarf around your head. Or let buns or braids be your BFF for the day.





Yoga, hot yoga, and anything that makes you sweat is great for you, but can wreak total havoc on your hair. When it comes to looking fly effortlessly with hair that's healthy and happy, you have options, dollface. You can still do all the things you love sans dry hair and itchy scalp. #WerkWerkWerk that BoHo Yogi look, don't let it work you!! Cheers to healthy, radiant hair, AND a solid yoga routine.

Photo Credit: Peggy Khoucasian, Model: Chloe Culhane
This article has been read 20K+ times. Bada bing!