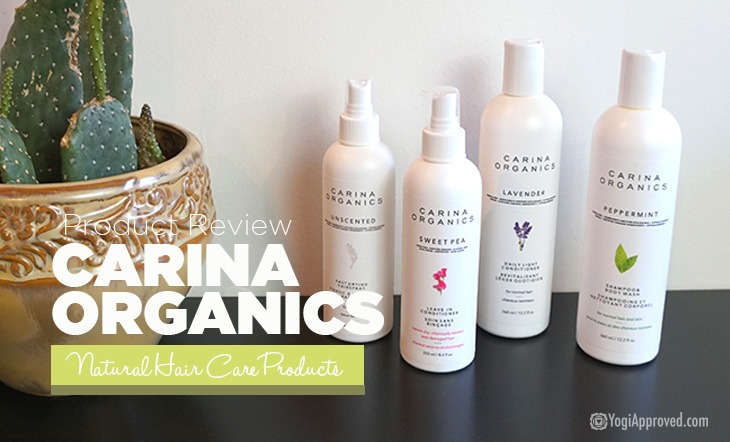 Review of Carina Organics – Natural Hair-Care Products That Actually Work
When it comes to product reviews, we don't mess around. All of the items we review are put through the ringer of everyday use. You can trust that our reviews are non-biased and completely honest. Full disclosure: we don't publish negative reviews. If a product doesn't live up to our standards, we simply won't promote it. Everyone has their own opinion – this is ours. Let's get started.


We all have a shampoo, conditioner, or hair spray that we love for how it makes our hair look and feel. Sadly, those amazing products are often filled with downright scary and not good for you ingredients. But let's be real – we still want products that work well and make our hair look great! So – have you found a natural hair-care product that you like?


Why it's important to buy organic hair products:
Avoid health-hazardous chemicals that can seep into your skin through your scalp
Avoid long-term damage caused by ingredients that dry and break hair
Actually know what's in the products you're putting on your hair and scalp
Support sustainably sourced and produced products
Live a toxin-free lifestyle

Carina Organics provides natural, organic products that are affordable and priced to compete with drugstore alternatives. They offer a full line of self-care products to cleanse and pamper your hair and skin (and even baby, too).


About Carina Organics products:
Vegan
100% Biodegradable (safe for rivers, lakes, and oceans)
Hypoallergenic
Cruelty Free (absolutely no animal testing)
Paraben, Soy, and Gluten Free

Instead of using chemical and synthetic ingredients that are found in traditional self-care products, Carina Organics uses the highest quality natural and organic extracts, essences and oils. All products are also free of DEA (diethanolamine), sulfates, sodium chloride, propylene glycol, aluminum, synthetic fragrances and dyes. You and your family can trust using these products each day without fear of future health complications such as cancer.

In fact, Carina Organics' products rate among the top hair and skincare lines on the Environmental Working Group (EWG), the North American organization dedicated to testing the purity and hazards present in beauty and skincare products.

A healthy hair-care regimen is simple when you're using high-quality, natural and organic products.

Over the last month We put Carina Organic's shampoo, conditioner, leave-in conditioner, and hairspray to the test. The results are in, and here's what we found:

Shampoo (and Body Wash)
Lather and rinse and even use it as your body wash too!
What we loved about this product: The Natural Peppermint Shampoo is made with a gentle peppermint formula that felt refreshing and gave our hair luster, volume, body and shine, without stripping it of essential oils. Using it as a body wash was gentle on our skin and didn't leave behind an overpowering fragrance (which is great for people who are sensitive to smells).

Issue with traditional shampoos and body washes: Traditional shampoos and body washes provide you with a rich lather and fragrant scents that waft throughout your bathroom. However, what you may not know is that the rich lather that you so covet is from sulfates that are inexpensive to use and only make a product appear richer in quality than it actually is. To top it off, chemicals such as these are now recognized as potentially cancer causing!


Daily Light Conditioner
Massage evenly into wet hair after shampooing, focusing on your ends. Rinse thoroughly and enjoy moisturized hair that is soft but not weighed down.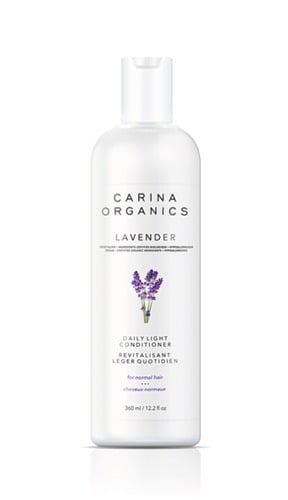 What we loved about this product: The Lavender Daily Light Conditioner pairs well with the peppermint shampoo and body wash. What we loved most is its added aromatherapy benefit that promotes feelings of calm and tranquility. The conditioner is light enough for daily use, but provides enough moisture to maintain soft, supple hair that shines.

Issue with traditional conditioners: Hair conditioners are intended to soften your hair and make it appear supple and full of life. However, some conventional hair conditioners are formulated with chemicals such as sulfates (a foaming agent that can dry out your hair and even cause allergic reactions), propylene glycol (can cause liver, kidney and brain damage or deformation), and formaldehyde (a dangerous carcinogen).


Leave-In Conditioner
When your hair needs a little extra dose of hydration, spray this formula onto damp or wet hair and comb through.
What we loved about this product: The Sweet Pea Leave-In Conditioner is a toxin-free detangling leave-in conditioner that can help tame unruly hair. We particularly appreciate its nutrient-rich formula that helps restore your hair's natural flexibility, shine and luster.

Issue with traditional leave-in conditioners: Just like hair conditioners, some traditional leave-in hair conditioners are made with harsh chemicals and fragrances that can cause cancer or other health issues.


Hairspray
Style your hair with confidence knowing it will stay in place without the harsh effects of chemicals found in traditional hairsprays. Just spray your hair to lock in your style all day long.
What we loved about this product: The Unscented Fast Drying Hairspray offers tremendous hold, even for thick and hard-to-tame locks. Our favorite aspect? This hairspray is truly unscented and offered in a spray bottle that allows precise application without injecting toxic chemicals into the air you breathe.

Issue with traditional products: Hairsprays bring a whole plethora of environmental and health complications. Conventional products are made with chemicals that can cause adverse health effects, including polymers, solvents, formaldehyde, artificial fragrances and even alcohol (a drying agent). Aerosol hairsprays also inject those harsh chemicals directly into the air, and they contribute to ozone layer depletion (among other environmental concerns).

Note that each product featured is offered in a variety of scents. If you are looking for a new, healthier alternative to conventional hair care products, check out Carina Organics. Their organic self-care products are affordable, high-quality and formulated with ingredients you can trust.


This article has been read 10K+ times. Bada bing!