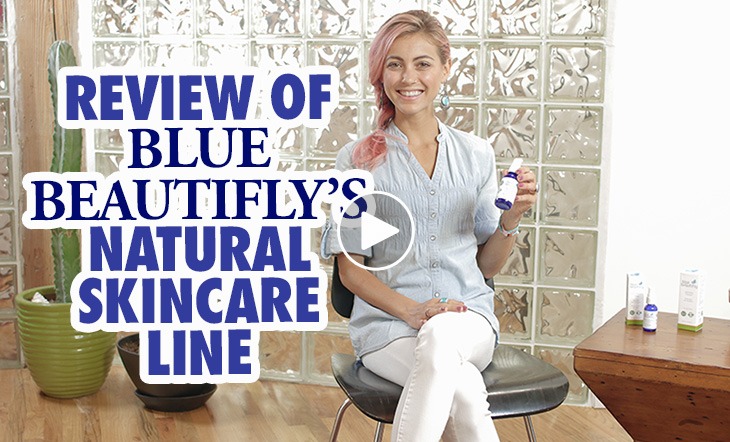 Review of Blue Beautifly's All-Natural Skincare Products (Video)
When it comes to product reviews, we don't mess around. All of the items we review are put through the ringer of everyday use. You can trust that our reviews are non-biased and completely honest. Full disclosure: we don't publish negative reviews. If a product doesn't live up to our standards, we simply won't promote it. Everyone has their own opinion – this is ours. Let's get started.

In today's society of chemicals, synthetic ingredients, and other harmful pollutants that we find in the air, in our food and water, and in the products we use every day, we're all quite familiar with the importance of buying organic and looking for that "Non-GMO" label.

But did you know it's just as important to look for organic and non-GMO in our beauty products too?

If you use skincare products that aren't natural and organic, you are probably exposing your body to potentially hazardous chemicals. It's scary and it's sad, but many companies sell products full of ingredients that contain skin irritants, carcinogens and endocrine disrupters.

The skin is the body's biggest organ, and it acts like a sponge, absorbing whatever you put on it. That means these harmful ingredients are absorbed into your skin each time you apply, and this repeat contamination can be harmful to your health. Here's a good rule of thumb: if you don't recognize the ingredients or can't pronounce them, they are probably not good for your body or your health.

But let's get real – even if you understand the importance of using natural products, what about the quality? Will an all-natural skincare product still work effectively and get the job done?

We totally get it. Here's where Blue Beautifly comes in. We respect this natural face and skincare company because they create fantastic products that work great and have quality ingredients you can trust.

Here are two handpicked products that we've tested, used for over a month, and would like to recommend for your skincare regimen. Watch the video and check 'em out!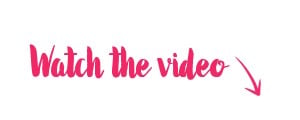 1. Hydrating Cleanser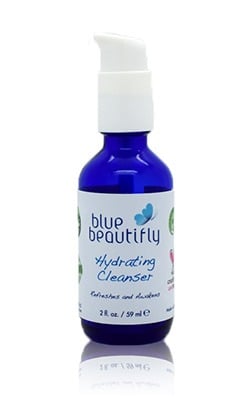 Sulfates, parabens, and artificial preservatives are not your friends! Remember that. This awesome Hydrating Cleanser is free of these nasty culprits and made with natural ingredients.

With the organic herbal extracts of Olive Leaf, Chamomile, Lavender, Peppermint and Rosemary, this cleanser smells – and feels – amazing and effectively rejuvenates your skin. It deeply hydrates your skin with Coconut, Oat, Sugar, Castor Oil, and Aloe Vera without an oily or greasy feeling.

If you're interested in learning more, the product description on their website explains why each of these ingredients are so great for your complexion and skin's overall feel and appearance.

Here's our personal experience: Using this cleanser is a sensory experience. It smells amazing – light, refreshing, and invigorating – so it's a great way to wake up, yet soothing to use before bed too. The hydrating cleanser made our skin feel soft, supple, and uber-clean with a perfect balance of hydration without feeling greasy. Our skin felt great all day long, and even our sensitive-skinned testers loved it, didn't break out, and saw great results.

2. Fruit Infusion Cream
Antioxidants, reducing inflammation, and regenerating cells, we know the amazing health benefits of superfoods like acai berry, goji berry, and elderberry.

Great news! These same benefits apply to your skin, and Blue Beautifly's Fruit Infusion Cream contains these superfood ingredients to regenerate the skin on a cellular level, in addition to Aloe Vera, Argan Oil, Jojoba Oil, and Shea Butter to reduce the effects of aging. The ingredients also contain a citrus essential oil blend to energize your skin for a radiant glow.

Here's our personal experience: This cream is so lightweight, we didn't believe it at first! It blends easily and smoothly, and quickly absorbs into the skin for a luxurious yet lightweight moisturizer. It's scent is rejuvenating and energizing, but also delicate and subtle – a great balance in scent as well as how it feels on the skin. Our testers don't like heavy moisturizers, so this cream met their strict standards and they absolutely loved using it.


The verdict
The Hydrating Cleanser and Fruit Infusion Cream by Blue Beautifly work together to create an excellent, easy breezy, and effective skincare regimen that you can use every day. The Hydrating Cleanser keeps your skin fresh, clean, and hydrated. Follow with the Fruit Infusion Cream for healthy, energized skin that looks and feels radiant all day long.

With the overwhelming amount of beauty and skincare products on the market, it's tough to sift through them all and find something that you love, that works for you, and also has high quality ingredients you can trust. We've found all these things in the Blue Beautifly line, which is why Blue Beautifly is 100% YouAligned™.

You can shop this line here.





This article and all included information is not intended as medical advice and does not treat or diagnose. Please consult your doctor for any health-related questions or concerns.