9 Natural Wonders of North America You Simply Must Visit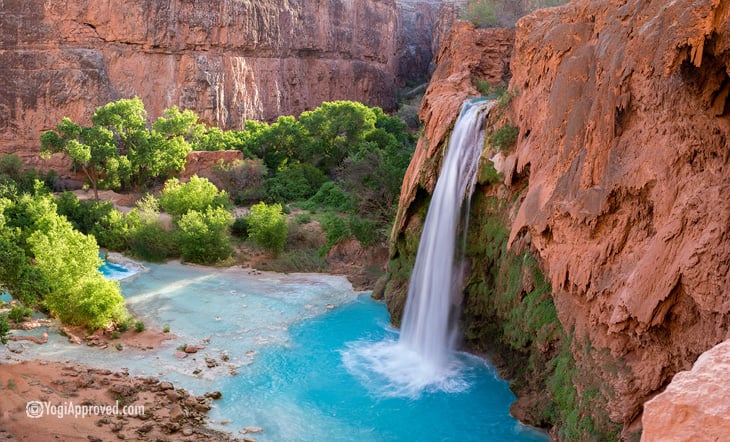 We've all heard of the Seven Wonders of the World, but what about the natural wonders in our own backyard?
While the United States has tons of beautiful sites and rare destinations, this article highlights a mix of 9 particularly unique, lesser known, or infamous wonders of the US . . .
From an ancient collapsed river-turned otherworldly natural pool in Austin to the world's largest natural amphitheater just outside of Denver, get ready for some serious eye candy (and adventure bucket list inspo).
YouAligned teamed up with Teakoe to gift you a free mixed tea sample pack so you can crack open a celebratory can of Teakoe Tea when you reach your destination! Claim your FREE Teakoe 4-pack here
Here Are 9 Natural Wonders of the US You've Simply Got to See:
In no particular order, read on for nature's eye candy and places across the country you'll probably be adding to your vacay wishlist.
1. Hamilton Pool Preserve, Texas
Thousands of years ago, an underground river collapsed from erosion and created this otherworldly natural pool in Austin, TX. Good news! Beyond the epic photo op, you can also swim in this gorgeously green pool.
2. Racetrack Playa in Death Valley, California
In a remote piece of Death Valley National Park in California, heavy stones mysteriously seem to move themselves across the cracked mud of what was once a lake bed. Scientists still do not know what causes the stones to move.
3. Old Faithful Geyser Yellowstone, Wyoming
Old Faithful is the infamous cone geyser in Yellowstone, Wyoming that has attracted countless tourists for its very predictable eruption 'schedule,' which erupts every 35-120 minutes. These eruptions can range between 90-184 feet tall.
4. Carlsbad Caverns, New Mexico
The Carlsbad Caverns formed 4-6 million years ago and contain over 100 caves, hundreds of thousands of bats, and other curiosities like the Bottomless Pit (which is actually 140-foot deep). You'll see surreal stalactites, stalagmites, soda straws and other mesmerizing cave formations.
5. Crater Lake, Oregon
Formed from a volcano that collapsed, Crater Lake is the country's deepest lake at 1,949 feet deep. Located in Oregon's beautiful Cascade Mountains, Crater Lake is a popular natural wonder of the US.
6. Havasupai Falls, Arizona
Located on the Havasupai Indian Reservation at the bottom of the Grand Canyon, the enchanting Havasupai Falls are comprised of five unique waterfalls (Mooney Falls being the tallest at 98 feet) – all have a token emerald green/blue hue that can only be accessed by a 10-mile hike (or helicopter ride) each way.
7. Mendenhall Ice Caves, Alaska
The shimmering blue ceilings and walls of the Mendenhall Ice Caves look like something out of the movie Frozen. Located in Juneau, Alaska, the ice caves feature stunningly vibrant blue ice from all sides.
8. Hyperion, Redwood Forest National Park
Hyperion is the world's largest living tree, standing tall at 379 feet. Hyperion and the rest of the national park's Redwood trees can live up to 2,000 years (making them some of the longest living organisms on earth) and grow up to over 300 feet tall.

9. Red Rocks Natural Amphitheater, Colorado
Taking 200 million years to form, the world's only naturally occurring and "acoustically-perfect" amphitheater was definitely worth the wait! Jutting rock formations frame this beautiful amphitheater overlooking the entire Colorado front range.
Natural Wonders Worth the Trip
Sometimes you've just got to see it to believe it, and in the case of these 9 natural wonders of the US, these are sights worth seeing!
Whether it's the history of how these natural wonders were first formed, the sights themselves, or the photos and memories you'll keep forever, whatever your motivation is, be sure to add these natural wonders to your travel bucket list.
YouAligned teamed up with Teakoe to gift you a free mixed tea sample pack so you can crack open a celebratory can of Teakoe Tea when you reach your destination! Claim your FREE Teakoe 4-pack here

What was your favorite natural wonder from the list? Have another natural wonder of the US you'd like to add? Please share in the comments below – we love hearing from you!
This article has been read 3K+ times. Feelin' the love!