Hikers: Add These 10 Incredible Utah Hikes to Your Bucket List
If you love outdoor adventures, it's time to add Utah to your bucket list! Not only does Utah have both mountains and desert, but it's also home to five national parks, all of which are very different from one another.

In this list of places to check out, I've included some of the most epic places within the Utah national parks, and a few places to visit outside of them. If you want to feel humbled by natures' beauty and resilience while exploring some truly unique landscapes, look no further!

Here Are 10 Places to Visit in Utah:
Let's travel!

1. Delicate Arch


Delicate Arch is on the Utah licence plates for a reason . . . it's epic. A hike on desert slickrock will lead you to this incredible arch. It's the largest free-standing arch in Arches National Park, which boasts over 2,000 arches!

The hike up to Delicate Arch is 3 miles roundtrip and, be warned, there is no shade. I recommend going early in the morning to beat the heat and the crowds.

2. Bryce Canyon Amphitheater


Bryce Canyon should not be missed. The sandstone cliffs at Bryce eroded from wind and water exposure over time, leaving the land full of red and orange pillars called "hoodoos."

After a short walk from the parking lot, you can be at the rim of this incredible amphitheater. Inspiration Point is one of my favorite spots along the rim. If you're looking for a longer day hike, take a trip down into the canyon.

The Queens Garden Trail and the Navajo Loop trail are some great options if you want to experience the hoodoos up close. Just remember that at the end of the hike you're going to have to get back up to the rim, so save energy and water for the accent!

3. Angels Landing


In my opinion, this is another classic Utah hike, but it's not for the faint of heart. Not only is this a steep hike, but you're surrounded by cliffs towards the end! There's a chain to hold onto as you climb up the last bit, but if you're afraid of heights consider yourself warned!

At the top, you'll get a 360-degree view of Zion Canyon in all it's red rock glory. The hike is 5.4 miles roundtrip. As always, be prepared and check the weather before you go – this is a very exposed hike.

There's a lot to see in Zion National Park and, if you want to stay the night, the park has three campgrounds. The nearby town of Springdale has even more lodging options depending on your style.

4. The Narrows


The Narrows is another popular hike in Zion National Park. Depending on the time of year you go, you might want to rent rubber boots for wading through the water. Trekking poles are also helpful on this watery canyon hike.

There are many shops in the town of Springdale that can help get you set up with the right gear.

On this hike you'll be wandering through a spectacular canyon with huge red rock walls towering over you that make most city buildings seem small. The hike begins at the Temple of Sinawava and it is the most popular hike in the park. Make sure to check the weather and conditions at the visitors center before you go.

5. Calf Creek Falls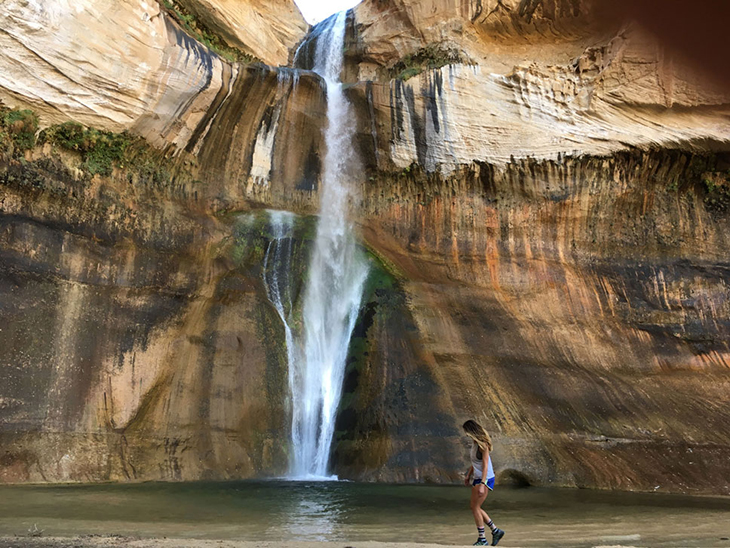 Waterfalls in the desert? Oh yes! This hike takes you through a canyon that has it all – beauty, pictographs (if you can find them), red rocks, and then a waterfall at the end! I recommend doing this hike in the Fall to see all the changing leaves along the way.

This hike is about 6 miles round trip and, if you want to stay the night, there's a campground at the trailhead.

Give yourself some extra time because there's a lot to explore in the surrounding area. If you need a coffee or lunch break, check out Kiva Koffeehouse nearby which has good food and amazing views.

6. Bonneville Salt Flats


The Utah Salt Flats are truly unique. You can go right onto them and walk around on the salt. As long as the salt flats are not wet, you can even drive onto them. The 30,000 acres of salt flats formed when ancient Lake Bonneville dried up. From a distance, the salt looks a lot like snow.

One of the best places to see the Salt Flats is just east of Wendover, about 1.5 hours from Salt Lake City. The photos for this article were taken on the Salt Flats. This is the perfect half-day trip if you're looking to escape the city for a bit. I recommend getting out there for sunrise!

7. Spooky and Peek-a-Boo Slot Canyons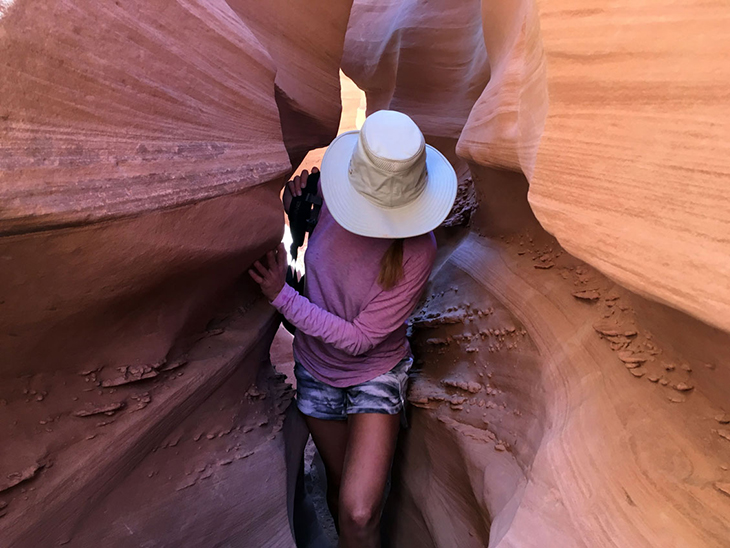 No list of Utah must-see places would be complete without a slot canyon, and this is a loop hike that has two! Slot canyons are one of the most unique and exciting things to explore in the desert.

They have a way of making you feel like a kid again as you climb up and over choke stones and wander through a red rock maze carved out by water over thousands of years.

This loop hike is about 3 miles long and located in the Grand Staircase-Escalante National Monument area. It's best to visit in the spring or fall. Flash floods are a real concern in slot canyons, so please be prepared and check the weather before you go! This hike is remote and requires planning.

8. Utah Pictographs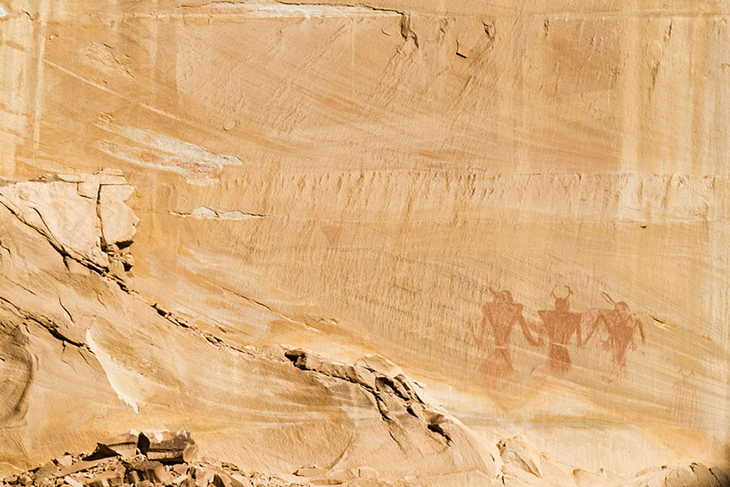 Utah is full of petroglyphs and pictographs from people who walked the land long ago. These drawings and carvings are hundreds, sometimes thousands, of years old. It's incredible that they have survived all this time.

There are many opportunities to see this art throughout Utah. Newspaper Rock in Canyonlands National Park is one of my favorite spots, but you can also see some along the Calf Creek Falls hike mentioned above, in Capitol Reef National Park and many other places throughout the state.

9. Goblin Valley


Goblin Valley is a small state park that's perfect if you want to pretend you're on another planet and explore weird mushroom shaped red rocks. Who wouldn't?

I would avoid going here in the summer because it gets very hot but, other than that, it's a fun place to explore for an afternoon. You can even rent a yurt here, so if you want to spend the night, but don't want to camp, they've got you covered!

Nearby, the San Rafael Swell is a great place to find dispersed camping and more slot canyons to explore. This area is far from any major town, so I would go prepared with food and a full tank of gas. However, the Goblin Valley Visitors' Center does have a place to fill up water.

10. Mesa Arch


Lastly, we have Mesa Arch in the Island in the Sky District of Canyonlands National Park. This is one of the most photographed arches, and you will probably find many photographers trying to capture the sunrise through the arch. It's beautiful and totally different than Delicate Arch that I mentioned above.

The Mesa Arch hike is about 0.5 miles roundtrip. There's plenty to explore nearby in Canyonlands, so be prepared to spend the whole day there. Other places to check out include Upheaval Dome and the Grand View Point. Maps are available at the visitors center.

With So Many Places to Visit In Utah, Where Will You Begin?
There you have it! These are some stunning places in Utah that I hope you'll get a chance to visit someday. I first saw the desert in my mid-twenties and it completely blew me away. I fell in love with the colors and grandness of these canyons, and I hope you will too.

Every time I go for a hike or explore a new place in the desert, I'm left feeling humbled and curious. From desert to salt flats to waterfalls to mountains, there's so much exploring to be done.

As always, respect the land, do your research, and leave no trace. Now, get out there in the sunshine, feel your feet on the ground, and take some deep deep breaths full of fresh air!

This article has been read 1K+ times. Feelin' the love!