8 Do's and Don'ts for #VanLife Living From a Solo Female Traveler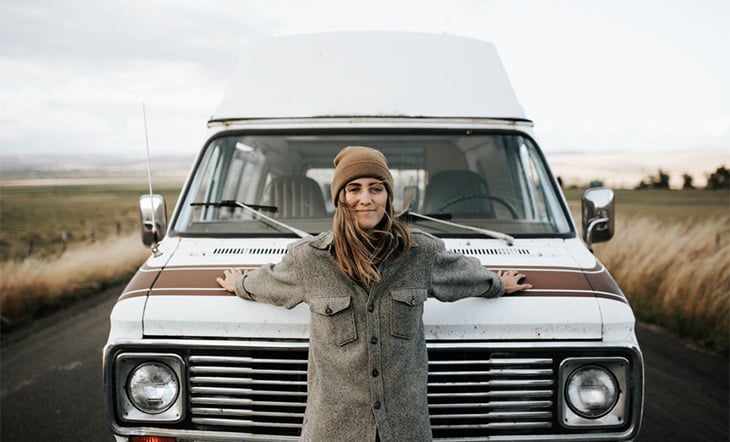 Does the van life call to you? Have you ever wanted to experience tiny living in an RV or just hit the open road? Are you dreaming about solo female travel?
Since as long as I can remember, I've dreamt of embarking on a cross-country trek. After finishing up my master's degree, I realized that if I didn't go for my dream then, when would I? So I began scanning Craigslist for an old RV, and my once-pipe dream started to become a reality.
I spent the summer ripping out old musty blue carpet in my 1995 Class C RV and replacing it with wood floors. I painted the walls, reupholstered, threw boho tapestries over the couch, hung positive mantras on the wall, and strung lights everywhere.

Does the van life call to you?

Honestly, I was in shock that I'd even bought an RV, much less that I would soon be rolling down the highway in her on the cross-country trip I'd dreamed about since I was little.
With not much more than a YouTube education of van life and a map of the USA marked up in Sharpie, off I went. With my cat as my companion, I traveled from Florida to Pennsylvania, out to Texas and up to Colorado and back in Francine, my RV.


Here Are All the Dos and Don'ts for Solo Female Travel and Van Life Living:
Is adventure calling to you? Here are a few of the lessons, dos, and don'ts that I learned along my journey. I hope you can use them too, should you decide to hit the open highway.

1. DO: Take Advantage of Friends' and Family's Driveways
It can be tempting to try to hack it on your own, especially if you're the fiercely independent type.
However, most of my greatest experiences and most joyful times on the road were not spent solo, but in the company of friends and family who offered me a stretch of their driveway.
Allow yourself to accept these offers of hospitality!
After being alone, often sans wifi, in a cramped space, I can't tell you how amazing a warm bath and dinner feels, or something as simple as strong wifi, or a cozy driveway space you didn't have to pay for. Don't try to do it all on your own. Life is better shared!
2. DON'T: Worry Too Much About Your Route
I had the most type-A route mapped out before I left. But by the end of the first week, it had basically faded into a distant memory.
I'm an advocate for having big "anchor points" you want to hit up. But allow the dots in between to be connected however your route unfolds.
One of the best parts of traveling solo is that you don't have to ask anyone else's opinion. Let the wind blow you around, so to speak. Relish in that freedom.

3. DON'T: Stay at Private Campgrounds (Much)
Many people assume that privately owned campgrounds are the obvious place to stay, but I suggest otherwise.
I always opted for national forests, state parks, or friends' or family's' driveways instead. I only stayed in private campgrounds as a luxurious splurge or if there was no other option.

It's crucial to listen to your gut, especially as a solo female traveler.

They're by far the most expensive option on the totem pole of van life lodging. I even took advantage of quite a few Walmart parking lots, since most allow overnight parking.
If you're looking to save money, a great resource to check out the reviews of places before you arrive is RVParky.com, or the accompanying app.

4. DO: Force Yourself to Get Uncomfortable
It's crucial to listen to your gut, especially as a solo female traveler. But don't sink too deep into your comfort zone either. Go to dinner solo! Hit up the local bar or dance hall or must-see place, all by yourself!
It can be super tempting, especially for an introvert, to lock your door and stay in your RV in the safety of your campsite. But many nights I forced myself to get a little uncomfortable and see new things, and I never regretted it once.

5. DON'T: Expect It to Be Glamorous
Instagram does a great job of painting a filtered picture of van life. But it's not the most accurate.
While your van life experience or RV travels will undoubtedly be peppered with jaw-dropping views and gorgeous moments, there's plenty of the unglamorous and downright filthy, too.
I went many days without showering, found myself eating cold beans out of a can, and not looking even a little bit cute because real travel doesn't come with a filter.
You have to dump your own waste and water out . . . so, enough said. Take the beautiful shots for the 'gram, but also expect your RV (and you!) to get dirty.

6. DO: Use YouTube for Help
Unless you encounter some otherworldly good luck, the odds are, if you're in a van or RV, you'll experience a breakdown or mechanical mishap or two. Thank god for YouTube!
If you're not a mechanic, YouTube is the next best thing. It saved me several times – teaching me how to pull out my awning, how to drain the black and grey water tanks, and to how to reinstall a new roof vent.

7. DON'T: Let People Know You're Traveling Solo
It's healthy to have a bit of a guard up when you're a solo female traveler. I could write a whole article on this topic, but the main thing I recommend is to not advertise the fact that you're alone.
When someone inquired (as they did, often), "Are you driving that RV!?," I would tell them yes, but I wouldn't elaborate. No need to let them know it was only me in there. When making campground reservations, I would use inclusive pronouns like "us" and "we," even though it was only me.

It's healthy to have a bit of a guard up when you're a solo female traveler.

My favorite "trick," which I picked up from a solo female travel group on Facebook, was to put a pair of men's boots outside my RV door each night along with my shoes, so any passersby would assume a big burly man was inside.
Thinking of trying out solo female travel? Here are 8 Solo Travel Tips for Women – Read This Before Your Next Adventure
8. DO: Appreciate the Beauty of Humanity
When it comes to solo female travel, it's easy to be jaded or fearful. (I can't tell you how many people told me I was crazy for going off on my own.) Instead, I chose to focus on the good.
And there was plenty of it to focus on. I firmly believe that because I was focused on the good, I ended up attracting more of it.

Life is too fleeting to stay in your little bubble.

You'll likely be overwhelmed by the amazing examples of humanity, love, and hospitality you encounter along your journey. I made friends I still have to this day and I realized how many good people are truly out there.
I expected to be moved to tears by the landscapes and nature I saw, but I didn't expect to cry happy tears from the human interactions I experienced.


The Takeaway on Solo Female Travel and Van Life
In a world where it's easy to get pessimistic about people, or to just get dragged down by your daily routine, I can't recommend getting out there and seeing the world enough.
Whether it's in an old RV like I did, a decked out van, or just a short car road-trip, life is too fleeting to stay in your little bubble.
If you opt for the van life like I did, I hope these tips help you make the most of your epic road trip! It's a beautiful world out there . . . go see it!
Want another in-depth view into van life? Check out: I Tried Living Out Of a Van For a Week – Here's What I Learned
This article has been read 40K+ times. Bada bing!