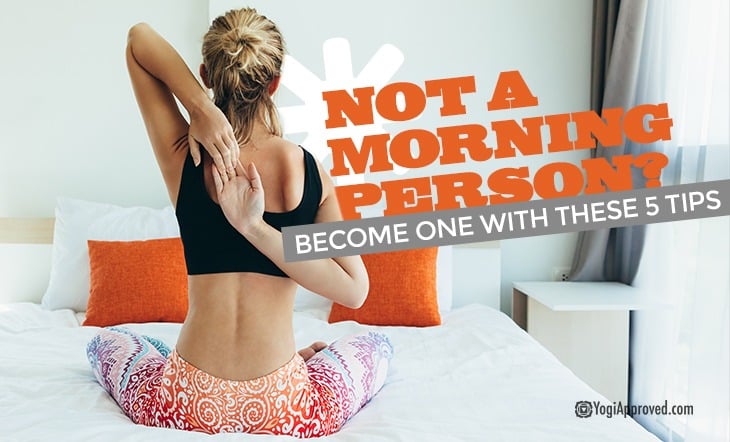 Not a Morning Person? Become One With These 5 Tips
Morning routines can be tricky. Often times we hit the snooze button, wake up late, rush to get ready, chug some coffee, and run out the door. But what if there was another way? What if instead of hurried mornings, you could have a proactive and enjoyable morning? What if yoga could help make that happen?

Even if you're not a morning person or don't have a morning routine, practicing yoga (along with other empowering wellness habits) in the morning has the power to transform your day, supercharge your energy, clear your mind, and help you handle everything that comes your way.

Try these 5 tips to transform your day with an empowering morning routine:
1. Roll Out of Bed and Onto the Mat
Ever notice how you have this natural urge to stretch upon waking? After sleeping (hopefully) all night, your body is ready to get moving. An active morning yoga sequence helps relieve any stiffness that built up overnight and will prepare your body to tackle the day.

Morning yoga can also help clear out the cobwebs that make your brain feel a little foggy. Studies show that 20 minutes of yoga can improve your ability to concentrate. Develop an intentional morning yoga routine to sustain your energy, mental clarity, and vitality throughout the day. An upbeat yoga practice serves as a morning jolt – without the caffeine.

Trying to quit caffeine or looking for natural alternatives? Read 5 Natural Alternatives to Caffeine That Will Get You Buzzing


2. Get Your Mind Right
Sometimes, the outlook of your day can make you feel exhausted before you even get out of bed! From the minute you wake up, you're already thinking about all the items on your to-do list.

Starting your day with an empowering meditation, visualization, or positive mantra puts you in the right frame of mind to tackle whatever life throws at you. Whether you meditate or simply spend a few moments thinking about, envisioning, or saying something positive, your mindstate will shift from feeling overwhelmed to feeling confident and motivated.

If you want to learn more about mantras and explore a few morning mantras to get you started, read 5 Morning Mantras For a Better Day


3. Remember – You Are What You Eat
Throughout the day, you come into contact with a lot of things that can make you sick or deplete your immune system. It's important that you honor your body with healthy, whole foods that fuel you and help you stay healthy.

Think of minor swaps you can make for a healthier breakfast. Trade in those empty carbs for a filling protein shake or acai bowl. Swap out your morning coffee with an occasional turmeric latte. Adding healthy eating to your morning routine is a great way to boost your immune system and support your body so it can perform at its best throughout the day.


4. Set Your Intention for the Day
When you wake up and are still buzzing with the magic of your dreams, take some time to check in with your body and mind. How are you feeling? What do you need? What are your priorities for the day?

Set an intention to keep these points fresh in your mind when you head into your day. Setting an intention (whether it's on your yoga mat or at the start or your day) can really hone in your focus and set you up for a productive day.

Learn more about the power of setting an intention to get your day going in the right direction.


5. Make Self-Care a Priority
Sometimes (or maybe most of the time . . . ) "me-time" gets put on the back burner as other things arise throughout the day and before we know it, time's up. Self-care should be a priority- not an afterthought. Something as simple as dry brushing, oil pulling, or taking a quick walk can help calibrate you for an amazing day.

Even just a few minutes of intentional self-care in the morning can transform the entire vibe of your day.

When you make caring for yourself and your needs a priority before anything else, you reinforce the love you have for yourself and carve a path to make it a habit and not a luxury to give yourself love.

Become a Morning Person
Yoga, intentional action, and self-care are powerful tools that you can use (and share with friends and family) to set a positive and loving tone for the day each morning. Give these tips a try tomorrow morning and watch your day unfold in a better way.

Now you can finally seize the day, instead of chase after it. Namaste.

This article has been read 6K+ times. Feelin' the love!