Erykah Badu's Top 10 Wellness Hacks You've Got to Try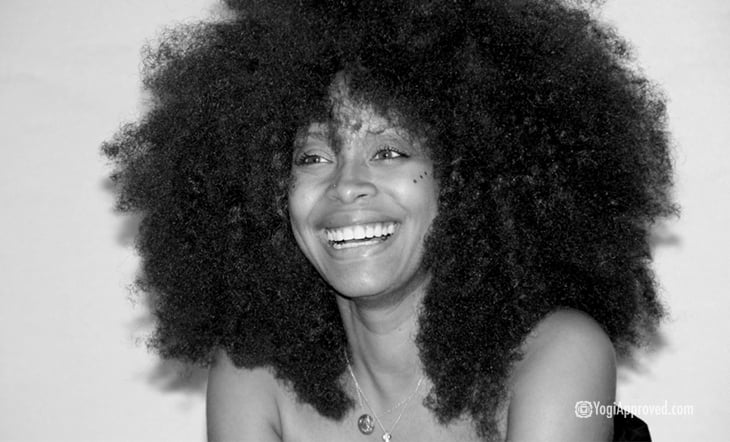 As a singer, dancer, mother and doula, Erykah Badu does it all. Her debut album Baduizm is a smooth mix of soul, hip-hop and jazz. Aside from releasing several albums, Badu has also acted in several films including The Cider House Rules and Say My Name.

Badu is a wealth of holistic knowledge. She has been eating "vegan-vegetarian" since 1997, and is also a holistic healer. Badu is an inspiration for all women who are looking to eat healthier, live a cleaner life, and simply find a great sense of peace and wellbeing.

Here Are Erykah Badu's Top 10 Wellness Tips For a Healthy Mind, Body, and Spirit:
1. Develop a Morning Routine
Badu is all about a healthy morning routine. It's a simple yet effective formula for wellness: water, wheatgrass, eat healthy. Erykah says that consistency is key:

"I do the same thing every day. I get up. Drink a lot of water. Have a wheatgrass shot. Drink some green juice. Eat as healthy as I can." It's easy to create a morning routine when it's realistic and within reach, and this is a routine that anyone can stick to!

Not a Morning Person? Become One With These 5 Tips!


2. Eat What's Best For Your Body
Badu explained her "vegan-vegetarianism" to PEOPLE Magazine, stating that she "wouldn't call myself a vegan because I don't subscribe to any type of organizations. It's just what's best for my body," Badu said.

"If I was a Lamborghini I would want to put the best gas in it." A plant-based diet is low in saturated fats, and is high in vitamins and minerals. Learning how to stay healthy on a plant-based diet is so important, and the benefits can go a long way.


3. Use Salt Crystal Deodorant
Erykah's take on salt crystal deodorant? "That shit works." She goes on to explain that it doesn't work like typical deodorant and instead neutralizes the skin. "It has to send a signal to the midbrain so neurologically you can stop being musty."

While she says the downside is that you have to apply it 100 times to each armpit, the benefit is that it lasts a long time – up to three days!

The deodorant is made from mineral salt that's fragrance free, invisible and also oil-free. It should be noted that the deodorant is not considered an antiperspirant, since the natural salt just prevents odor that your body gives off.


4. Cranberries . . . For Your Vagina
"Ladies . . . For a SWEET vagina I drink raw cranberries often. Now the secret's out." Cranberries help prevent infection-causing bacteria from sticking inside the bladder's walls, which causes annoying UTIs. Cranberries also promote a healthy bladder and womb. Lots of reasons to consume this powerful berry!


5. Don't Rely On Sex For Happiness
"I don't require sex for happiness – I need companionship. I need a partner I can depend on, that I can love and grow with."

Badu understands the importance of looking beyond the physical aspects of a relationship to truly find a satisfying relationship on all levels. When your romantic relationships are healthy, you feel empowered, safe, and supported.

I don't require sex for happiness – I need companionship.
6. Give Yourself a Grown-Up Time-Out
It's true. Erykah Badu actually has a teepee where she puts herself in time-out! That sounds like a great way to spend a time-out, right?! There are so many things in life that occupy our time as we get older.

Self-care and taking time for ourselves is the best way we can recharge our batteries, stay healthy and happy, and be our best possible selves. It's important to take a step back and reflect on ourselves and what we need, even if that means putting ourselves in a time-out.


7. Keep Your Vibes High With Crystals
Crystals provide healing on a mental, physical and spiritual level. Certain types of crystals can influence your mood, and have a wide and fascinating range of benefits, properties, and uses.

"Crystals are our friends. Crystals hold the memory of this planet. They're like computers." Need we say more?!

Want to learn a bit more about crystals? Check out this awesome Guide to Chakras and Crystal Healing Stones


8. Meditation For the Restless
"I practice walking meditation, meaning the breath – honing my breath at any moment. When I feel it getting shallow, that means I'm anxious about something and then I consciously slow it down and do some deep breathing."

Meditation does not have to mean sitting in complete stillness in Lotus Pose for hours on end. It can be practiced in many forms like Erykah's suggestion of walking meditation, or mindfulness meditation, etc.


9. Remain Present
"I'm at peace because I'm right here in the moment. This is here, we are here, this is now. And staying in the here gives me peace. When I am worried about the past or concerned about the future, you know, there's a little anxiety there."

Erykah goes on to explain that she simply stays out of her mind and in her body. She remains present, and from that place, she's able to let go of anxiety and focus on what matters – definitely a tip we all need to incorporate!

I'm at peace because I'm right here in the moment. This is here, we are here, this is now.
10. Apply a 3-Step Method
Erykah points out her three steps to success. The three steps are:

Identify: "Find out what negative beliefs, memories, or emotions you may be carrying around with you. What sparked their creation? Then find out how and why you are still holding onto them."

Cleanse: Drink plenty of water to help flush impurities out of the body. Erykah also recommends incorporating prayer into your daily routine because she believes it cleanses the spirit. She believes that cleansing mind and body is the direct path to healing.

Fast: Fasting in short increments helps you become more aware of your thoughts and the underlying feelings behind them. Erykah believes that fasting "can create an opportunity for you to listen to your spirit, evaluate your personal needs and execute accordingly."

Erykah Badu Is Officially a Health and Wellness Badass!
These 10 wellness tips are realistic, easy to implement, and provide a diverse range of benefits for a healthier life.

Erykah Badu's wellness tips are can help you reach your ultimate wellness goals. Whether it's finding a new way to meditate, or creating a morning routine that works, this woman has got you covered.

This article has been read 20K+ times. Bada bing!