4 Sneaky Ways to Get Your Daily Probiotics For Gut Health and Immune Support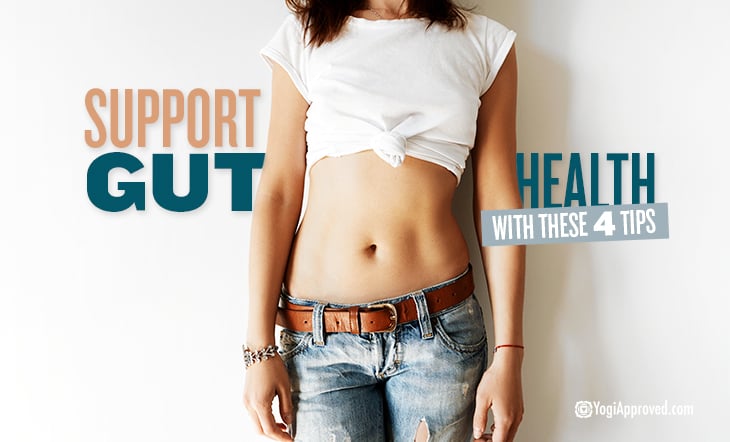 Growing up, I was always the kid that missed tons of school because I got sick so often. As I got older, I discovered the crucial role gut health – and the power of eating healthy, taking vitamins and probiotics – all play in staying healthy.
Don't worry – I'm not here to lecture you about eating healthier or taking your daily vitamins. Instead, let's focus on one of the easiest 'hacks' for optimal gut health – probiotics!

The Benefits of Probiotics and Gut Health
Probiotics balance the microorganisms in your intestinal tract called gut flora. That's why probiotics are so good for your gut health. Probiotics directly impact your gastrointestinal health, which is responsible for your digestion, metabolism, and therefore your health overall.

Everyone hears all the buzz about probiotics – the good bacteria that lives in our gut and supports digestion, metabolism, immunity and even energy levels.

The good bacteria in your gut also supports a strong and vital immune system. They help you break down food, absorb nutrients, support energy levels, and even lose weight.

Bottom line: there are many health benefits from taking probiotics on a regular basis and your gut health is the key to your overall health and wellness.

Here Are 4 Easy Ways to Incorporate Probiotics Into Your Daily Life
Let's check out a few easy ways to make sure you get your daily dose of probiotics. Probiotics come in a wide variety of forms, and while the most common is pill form, there are easier ways to get your daily probiotics.

1. Liquid Probiotic Form
Many brands offer liquid probiotics that you can find in health food stores like Sprouts, Natural Grocers, Whole Foods, etc. My favorite is the Fresh Coconut Water liquid probiotic from inner-eco. I love how convenient it is to keep in the fridge – right where I'm sure to see it each day!


2. Kombucha
The ever-popular fermented tea contains a high volume of probiotics that's made from black tea brewed with a SCOBY – the symbiotic combination of good bacteria and yeast. The reason I drink kombucha on a regular basis is that in addition to supporting gut health, it also boosts energy and detoxifies the liver.

You can brew your own kombucha at home! Learn How to Brew Kombucha Tea at Home – Here's Everything You Need to Know


3. Chocolate Lovers Rejoice!
I recently discovered an all-natural probiotic chocolate and if you love chocolate, you'll love these. Good Day Chocolates has an entire line of chocolates with health benefits – from Sleep (with melatonin), to Energy (with caffeine and B-vitamins), and Probiotic (with 1 billion probiotics per piece). Now that's a great way to get your probiotics!


4. Eat Your Probiotics
There are foods that naturally contain pre- and probiotics. Fermented foods like sauerkraut and kimchi are an easy way to get a good dose. Apple cider vinegar, kefir, and yogurt are also easy, great sources of probiotics.

Get Creative With Your Probiotics and Enjoy Great Gut Health
If you're anything like me, you don't always remember to take your wellness supplements. Life gets in the way, distraction happens, and suddenly you forgot to take your supplements for the past week!

Finding 'hacks' and easy ways to sneak probiotics into your day and diet is a surefire way to boost your immune system and support gut health.

This article has been read 1K+ times. Feelin' the love!