These 7 Foods Naturally Boost Your Immunity – Are You Eating Them Enough?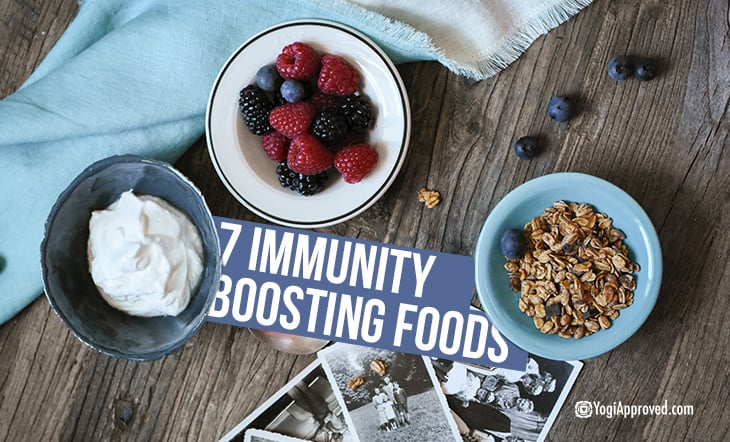 Gone are the days of "an apple a day keeps the doctor away." We now know that a balanced diet not only keeps the doctor away – it keeps your immune system on guard! Your immune system is your body's natural defense against infections and illnesses.
Boost your immunity with these healthy foods to protect your body from all sorts of bacteria. These foods, some considered "superfoods" are packed with good-for-you vitamins and minerals that work with your body to boost your immunity.

Here Are 7 Superfoods That Will Boost Your Immunity:
1. Yogurt
Yogurt is excellent for your immune system, and has great benefits that go well beyond calcium. It's full of probiotics, or live active cultures, which are healthy bacteria that stimulate your immune system and combat diseases.

These cultures also keep your intestinal tract and gut clean and free of germs that can give rise to various diseases.

Furthermore, a study conducted by the University of Vienna found that consuming just 7 ounces of yogurt daily is as effective for your immune system as taking immunity pills.


2. Citrus Fruits
Every time you have a terrible cold or flu, you might instinctively reach for the Vitamin C. This is because Vitamin C, found in citrus fruits, is known to boost your immunity and protect you from certain diseases and illnesses. It also helps increase the production of white blood cells, which are the body's primary natural defence against infections. And did you know? Vitamin C also has natural anti-aging properties.

Citrus fruits are believed to contain the highest amounts of Vitamin C compared to other foods, and are also referred to as "superfoods" for the immune system. Some citrus fruits that can be added to your diet include oranges, tangerines, grapefruit, clementines, lemon, and lime.

Interested in learning about some more uncommon superfoods? Read this.


3. Garlic
Garlic takes just about any dish to the next level, flavor-wise. And it's totally worth having garlic breath because it has so much more to offer than just excellent taste! It's loaded with a number of biologically-useful chemicals such as allicin, alliin, and many others.

Garlic is a natural antimicrobial, which means it will boost your immunity and help combat deadly viruses. The active ingredient allicin, in particular, wards off bacteria and infection. It also protects against the common cold!


4. Herbal Tea
If you like to start your mornings with an instant caffeine kick, try replacing coffee with herbal tea. Why? Herbal tea contains fantastic immunity-boosting benefits and have a wide range of benefits and uses.

Dandelion tea, for instance, has been consumed for decades for its healing properties. It includes chemical compounds that rid the body of dangerous toxins, and enhance the immune system's ability to destroy infection-causing agents.

Check out The Health Benefits of 6 Popular Herbal Teas to learn more!


5. Almonds
You might be scratching your head in confusion at this one. But it's true – almonds boost your immunity! Research confirms almonds can also help fight off viruses and common viral infections like flu and cold.

A study conducted to measure the effect of nuts on the immune system shows that there are some naturally occurring chemicals present in the almond skin that improve your body's defense system's response to infections.

Almond skins also increase the ability of white blood cells to detect viruses, thereby preventing them from entering the body.


6. Oats
You may already know that oats are heart-healthy, but did you know you are also giving your immune system a major boost every time you eat them?

Oats and other whole grains provide essential B vitamins like folic acid, Vitamin B6, and pantothenic acid. These vitamins support your body's immune system and significantly helps your blood cells fight infection. Oats also have zinc and selenium, which are the two vital nutrients that shield us from viruses, bacterias, and disease.


7. Leafy Greens
From kale to spinach to broccoli, leafy green vegetables contain all essential minerals and vitamins you need for a fully functioning immune system. They are high in antioxidants and components like beta-carotene, which are incredibly effective in increasing the infection-fighting abilities of the immune system.

Leafy greens are also believed to play an essential role in controlling immune cells that are vital for a healthy digestive system.

Get Your Superfood On, and Boost Your Immunity!
Include these 7 amazing superfoods if you wish to boost your immunity and reduce visits to the doctor, and live a happy and healthy life.

Eating right is just one great way to protect yourself and your body from cold, flu, and other more serious illnesses. Proper nutrition that provides you with all the essential nutrients you need is vital for a healthy immune system. These nutrients not only help boost your immunity but also prevent other health problems like allergies, heart diseases, cancers, and high blood pressure to name a few.

This article has been read 707 times. Share it and spread the love!