5 Mindful Self-Care Tips for Black Men That Support Mental Health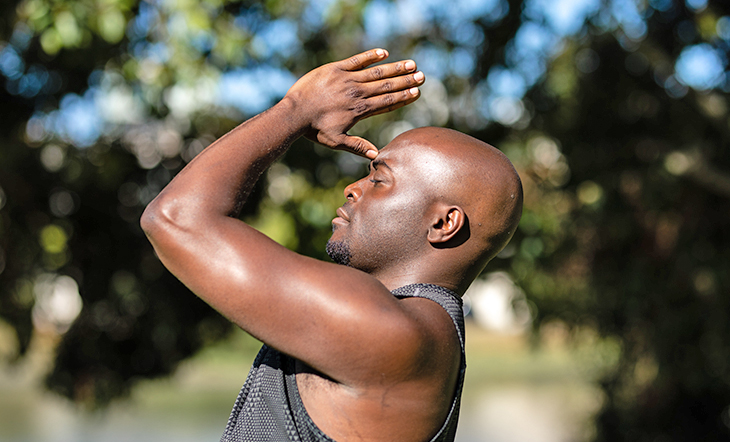 Mindfulness-based lifestyle choices are vital – even necessary – for Black men. If Black men are seeking optimal mental health and wellness, self-regulation and self-care, then they must include mindfulness-based practices.
Yep, I said what I said. But hear me out, though.
The term mindfulness has many definitions.
According to the Center for Mindfulness in Medicine at the University of Massachusetts Medical School, mindfulness is "the intentional, accepting, and nonjudgmental focus of one's attention on the emotions, thoughts, and sensations occurring in the present moment."
Whether through mindfulness-based practices such as yoga, breath-work, spiritual retreats, etc., the pursuit of becoming more self-aware from a meta space is synergistic — particularly for Black men.
While there is an established awareness month for men's wellness, it's something that men – and Black men in particular – need to focus on more throughout the entire year.
However, as a directly lived-in experienced Black man, and after ten years of following mindfulness principles and practices, I have found my mindfulness journey of health and wellness to be anything but easy.
What is Mindfulness? A Simple Introduction to the Practice
With the desire to understand the concept of mindfulness from the perspective of Black men in America, I have begun the work of unpacking social theories that have led me to a few strategies that Black men, as well as Indigenous and People of Color (BIPOC), can use to embrace mindfulness-based solutions as part of their daily routine.


5 Mindfulness-Based Self-Care Tips for Black Men That Support Mental Health
Here are five insightful mindfulness-based practices Black (and BIPOC) men can use to optimize mental health and wellness, self-regulation and self-care.

1. Know Your Emotional Battle Rhythm
The mindfulness path ahead may be the same for some, but that doesn't mean we must follow in the same footsteps.
Emotions are normal. Everyone experiences them. But Black men cannot change their color or culture at will, so developing a practice to monitor your emotional battle rhythm, will leave you better equipped to spot the presence of negative emotions.
Knowledge is power, even if it feels like defeat at first. Spotting the patterns that might repeat in your life leads you to understand how to make yourself stronger, find healthier outlets, and make your emotional center stronger.
When it comes to achieving greatness, you must know how to tame your emotions. It is no secret that our emotions guide us toward achieving our dreams. However, whether we like it or not, they can get the better of us.
At times they may even become obstacles that hold us back from reaching our goals. But hear this: Your emotions can help you overcome challenges, achieve your goals and live a happy life!
The key to success is to know how to control your emotions and make them work for you rather than against you.
Start tracking your thought patterns and triggers. What stirs you? Incites passion, sadness, frustration, anger? Write it down or share with trusted friends and family. Once you know your patterns, you can learn how to manage the emotions.
Cultivating awareness helps you navigate the emotional battle rhythm, supports self-regulation, and address the issues before they cause more serious problems down the road. And that's something we can all benefit from.

2. Yes, Climb That Mountain But Enjoy the Valley Too
Often, particularly when it comes to one's aha mindfulness moment, we tend to think of rushing off to the most insane mountain to climb, the 1,000 days of a silent retreat, or a few jungle visits to slurp down Ayahuasca goo to have a delightful conversation with God.
On the contrary, the mindfulness journey, even for the busiest humans, inspires us to take time out of our busy schedules to relax and enjoy life more. Often, one doesn't need to take a class or go on a retreat; one only needs a few minutes each day or week to practice some form of mindfulness meditation in whatever fashion one sees fit.
So yes, the mountain is a perspective. Learn to balance your mindfulness practice with consistency, open-mindedness and wisdom.
Found: 8 Useful Hacks to Make Mindfulness a Daily Habit

3. Treat Mindfulness as One of Many Tools in Your Toolbox
Let's be honest, mindfulness does not come with a color preference of who can or cannot practice its teachings. Pursuing mindfulness solutions can be instrumental in finding your community, particularly as men struggle to balance the relationship between what is deemed spiritual and what is deemed weak.

Using mindfulness to support each other is the way forward.

However, and rightfully so, mindfulness solutions can often shift how we perceive others and ourselves, allowing us to focus on the present moment to deal with life's challenges in a healthier way. Knowing this, mindfulness solutions can serve as our gym, where we can use various equipment options to improve our physical and mental fitness.


4. Mindfulness-Based Practices Don't Mean You Have to Sabotage Your Blackness
The words mindfulness and Blackness, when together in a sentence, can be uncomfortable for some.
Many people within the BIPOC community are told to be mindful or mindful of their actions, but what has been added as a subtle afterthought is the notion of not just being mindful and self-aware, but how to hold space for one another as we are challenged to learn, explore and grow.
The biggest problem with this is not just the perception of others, but also within the framework of what feels defensive based on a belief that one's race defines a privilege and access point to mindfulness-based teachings.
We are more resilient than our ancestors and have much to give. Using mindfulness to support each other is the way forward.

5. Embrace Your Strong Silent Type, Or Not
Not only is it important for Black men to understand how mindfulness can help us cope with our emotions, but also for all men to embrace this journey as we evolve. Our relationship to mindfulness should be a brave space to explore, unpack and embrace love and wellness for all men.
Unfortunately, many issues Black men face have been systemically unresolved, leaving them to cope with emotions and relationships in unhealthy ways. Many of the tools within the mindfulness toolkit can prevent the higher rates of depression that Black men experience more often than other racial groups.
Mindfulness-based practices can help Black men identify symptoms early, so treatment can begin sooner rather than later. Remember, a lion does not need to roar to be considered a lion.
8 Self-Care Practices From 8 Black Yogis to Support Wellbeing and Mental Health


Mindfulness-Based Practices for Black Men Go Beyond Cultivating Awareness
So, here is the rub: Do men experience mindfulness-based practice as a buffer against psychosocial stress?
The answer to that question is — yes.
Further, although rates of depression are lower in Blacks (24.6%) and Hispanics (19.6%) than in whites (34.7%), depression in Blacks and Hispanics is likely to be more persistent.
Moreover, BIPOC communities and racial/ethnic minority groups are less likely to receive mental health care. For example, in 2015, 48% of whites received mental health services among adults with any mental illness, compared with 31% of Blacks and Hispanics and 22% of Asians.
19 Mindfulness Mantras to Find Peace In the Here and Now


Black Men Can Achieve Optimal Health and Wellness With These Mindfulness-Based Practices
How Black men can optimize mental health, self-regulation and self-care through mindfulness-based lifestyle choices is as varied as our expressions of what it means to be human.
Still, we can take steps to make our lives more aligned with what's important to us as we navigate the rhythm of our body and consciousness in relation to who we are.
In a world where Black men are often misunderstood, this is a necessary time for all of us to pause and reflect on how we can use mindfulness to live with more ease and self-awareness.
Mindfulness-based practices for Black men can help all of us pause, breathe and reflect before reacting when people say or do something triggering.
It can also help with listening with a third ear while making better decisions based on what is true, rather than what others may think of you as a BIPOC community member who just happens to carry a yoga mat, meditates daily and attends a silent retreat now and then.
This article has been read 613 times. Share it and spread the love!