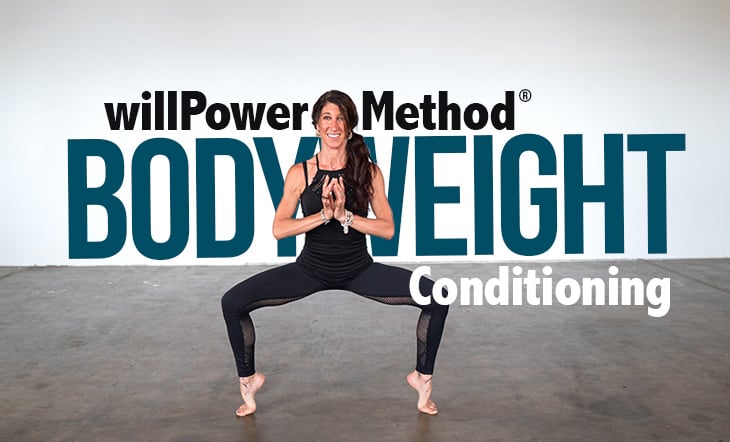 willPower Method: A Rhythmic Fusion of Yoga, Cardio and Bodyweight Conditioning (Free Class)
There's no doubt about it – a great cardio workout always leaves us feeling euphoric. There's just something about moving your body and getting your heartrate up that makes you feel amazing!

Enter the willPower Method.

The willpower Method® is a rhythmic, cardiovascular barefoot bodyweight conditioning workout based on scientific "Power Posturing," flow and positive mental coaching.

The positive mental coaching aspect allows students to focus on thought patterns and rewire their emotional responses, while the rhythmic cardio-based movements and yoga-inspired flows create a challenging and effective workout.

In this sense, the willPower Method is a self-care practice that enhances your physical strength, mental processing and emotional intelligence.


What Is the willPower Method Workout?
The willPower Method is a barefoot bodyweight conditioning practice that incorporates mindfulness, yoga, and powerful movements for a full-body workout.

Throughout any willPower workout, you are offered different levels so you can work up to more challenging movements, or back off when you need to, making this an all levels-friendly workout.

The willpower Method is a rhythmic, cardiovascular barefoot bodyweight conditioning workout

willPower workouts are all done barefoot. "Foot Fitness," or the practice of using your feet deliberately, is a powerful pathway to heal and strengthen the body from its foundation.

Cardio combined with yoga, bodyweight conditioning, conscious movement and positive mental coaching is the recipe for a feel-good, full-body toning workout that keeps you coming back for more.


Meet willPower Method Founder Stacey Lei Krauss
Stacey Lei Krauss (SLK) is the creator of the yoga-cardio fusion willPower Method. SLK developed this workout to tone, stretch, and strengthen the body while also providing the intense endorphin rush of a sweaty cardio class.

A student of shamanism, transformative arts and a Reiki practitioner, SLK approaches her teaching through integrated sensory practices, guiding students to explore a higher level of self-awareness through movement.

The willPower Method began in 1999 in New York City, and was originally called willPower & grace®. Stacey Lei Krauss created this workout for her NYC-based clientele who were looking for a smart, intense workout "that gets it all done" in an hour.


Find Physical and Mental Strength With the willPower Method Workout
The empowering philosophy of willPower unfolded organically in September 2001, when Stacey found that her NYC students needed emotional healing in the post-911 world. People were searching for more than "just" a physical workout. The willPower Method has now spread across the US, Europe and beyond.

willPower Method is a self-care practice that enhances your physical strength, mental processing and emotional intelligence.

The willPower Method provides a platform for students to move through physical choreography while processing and digesting situations in their daily life.

Stacey is an incredible instructor, and her classes will challenge you physically, uplift you mentally, and have you feeling empowered in your daily life.


Join Stacey Lei Krauss in this Introduction to the willPower Method workout, exclusively on YouAligned.com!
After you take the class, we'd love to hear from you! Please let us know what you thought in the comments below.


Never miss a FREE class. SUBSCRIBE HERE

Want to learn more about this unique form of fitness? Check out the About Page on the willPower website.
This article has been read 3K+ times. Feelin' the love!

YouAligned
YouAligned is an online yoga, health and wellness publication for your life on and off the mat. We are here to help you live happier, healthier, more fulfilled lives. Yoga is our passion. Your healthy lifestyle is our obsession!
You may also enjoy

AgeDEFY Movement Therapy was developed to keep the body young and mobile. Learn key movements to prevent injury and stay mobile. Enjoy this free class.

YouAligned