This Tangy + Warming Root Vegetable Salad Recipe Is Perfect for Winter
Winter is a great time to stay home, reflect, meditate, and spend time making really good, nutritious food for yourself. Foods in the winter tend to be heavier, warmer, and more hearty in order to keep you warm and give you energy throughout the season. This root vegetable winter salad recipe is great for exactly that!
We'll blend filling potatoes, heart-healthy beets, radishes, and Brussels sprouts for a powerful meal that will fuel you up and give you the energy to face those chilly temperatures.


The Low-Down on Beets, Brussels and Radishes
Beets are packed with vitamin C, fiber, potassium, and manganese.
That means they're great for your heart and muscles, as well as your liver, kidneys, and other organs! They also contain folate (a B vitamin), and can help reduce inflammation and decrease your risk of heart disease.




Radishes also contain fiber, potassium, and manganese, but they also bring vitamin B6, magnesium, copper, and calcium to the table.
Magnesium can help to reduce inflammation and headaches, and overall radishes can help to lower blood pressure and give you radiant skin.
Brussels sprouts are packed with vitamins and minerals including vitamin K, which has anti-inflammatory properties, and antioxidants. They support your heart and your digestion, and they're delicious!


Here's Your Winter Root Vegetable Salad Recipe:
Makes: 2 Large Servings | Difficulty: Moderate


Ingredients
2 Red Potatoes
4 Beets
12 Radishes
2 cups Brussels Sprouts
4 cups Arugula
1 Tbsp Olive Oil
1 tsp Lemon Juice
Pinch salt, pepper, and garlic powder
Optional: Dressing Ingredients
If you have a favorite salad dressing, use that! Otherwise, here's a quick dressing you can whip up.
⅓ cup Hemp Seeds
2 Tbsp Nutritional Yeast
2 Tbsp Unsweetened Original Almond Milk
1 tsp Apple Cider Vinegar
1 tsp Lemon Juice
Pinch salt, pepper, and garlic powder
Winter Root Vegetable Salad Preparation
Preheat your oven to 425 degrees. Wash and dry your veggies, and then peel the skin off your beets. (The beets will stain your hands a bit, so this is a great time to pause and play a prank on someone.)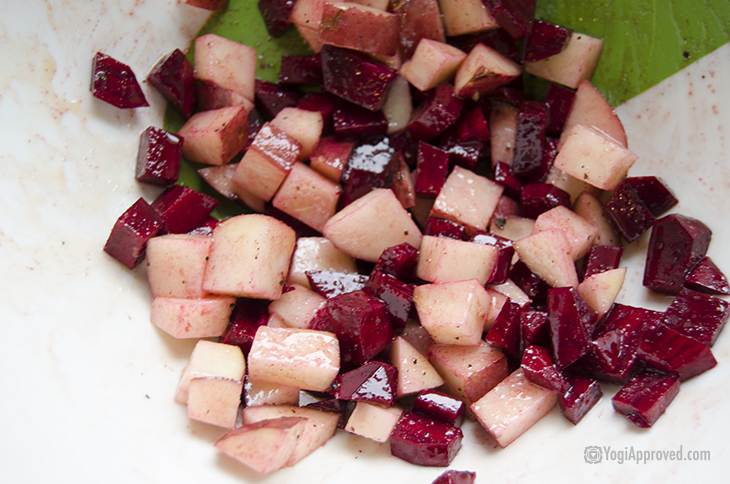 Chop your peeled beets and red potatoes into small cubes and place aside in a mixing bowl. Thinly slice your radishes and place them in a single layer on an oiled baking sheet sprinkled with a bit of salt and set aside.




Slice your Brussels sprouts in half and place them face down on an oiled cast iron skillet.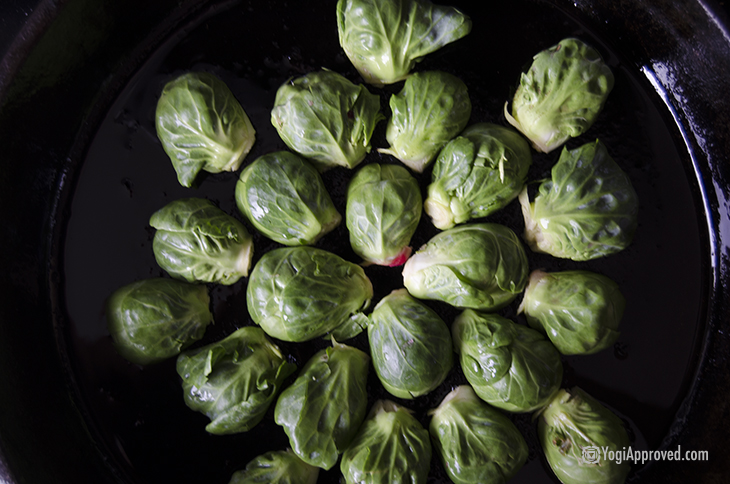 In your mixing bowl with potatoes and beets, mix in oil, lemon juice, salt, pepper, and garlic powder. Place the mix on a baking sheet in an even layer. Put both your baking sheets in the oven at the same time.
Bake your radishes for about 20 minutes, flipping at the 10 minute mark. Bake your potatoes and beets for about 40 minutes. Cook your Brussels sprouts on high heat for about 5 minutes.
If you're making the salad dressing, put all ingredients into a food processor and blend until smooth.


Now You're Ready to Enjoy Your Winter Root Vegetable Salad Recipe!
Once all of your veggies are cooked, assemble your salad with a generous arugula base. The blend of your warm winter root vegetables with the arugula and dressing creates a warming and grounding feel that's perfect to savor all winter long!
Enjoy!


This article has been read 252 times. Share it and spread the love!