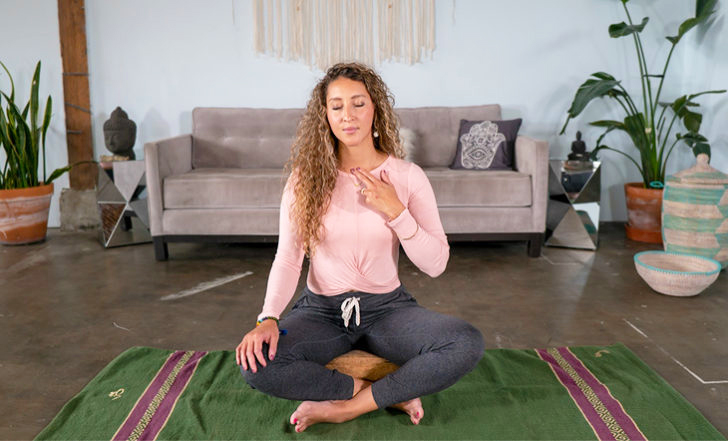 Unwind and Destress With These 7 Relaxing Online Yoga Classes
In our fast-paced society, who doesn't need to take the time to unwind and relax? In reality, we all need to slow down and chill. And there are few things that get you into a calm state of mind better than yoga for relaxation.
Practice These 7 Relaxing Yoga Poses to Quickly Calm Your Body and Mind
But with so many options out there, it's hard to know which are the best yoga classes to help you destress and let go. Don't worry – we've got you covered.


Use These 7 Online Yoga for Relaxation Classes to Unwind and Destress:
Whenever you need to hit the reset button on a stressful day, roll out your mat and hit play on any of these deeply relaxing classes.

1. De-Stress With Ashton August
Yoga Class
With Ashton August
De-Stress is a feel-good Vinyasa-style yoga class designed to help you unwind and let go of stress and anxiety.
This 34-minute yoga for relaxation practice moves through a series of yoga poses to release physical tension and it's filled with simple breathwork practices to help you sink into a sense of peace and pure relaxation.
Let Ashton August soothe you in this gentle and restorative flow to leave your stress behind.

2. Inner Balance With Jess Rose
Hit the reset button for your nervous system with this gentle and deeply relaxing Restorative Yoga practice.
Let Jess Rose guide you through this soothing 51-minute yoga for relaxation practice to balance your inner world through a soothing, slow journey of supported yoga poses held for several minutes each.
Allow Inner Balance to draw your focus inward so you can find a deeper sense of peace and wellbeing and walk away feeling renewed and restored.

3. Clear Your Mind With Reace Daniel
Yoga Class
With Reace Daniel
Clear Your Mind is partially a mindful movement practice and partially a meditation and guided pranayama practice, but it's completely relaxing and soothing.
Mindfully move through basic Hatha Yoga poses and then establish calm and focus by inducing a deeply meditative state of mind.
Let Reace Daniel guide you through this unique 29-minute yoga experience as he helps you destress and unwind into a state of deep relaxation.

4. Restore With Allie Geer
Yoga Class
With Allie Geer
Restore yourself with this soothing yoga for relaxation practice.
In this 32-minute Restorative Yoga class, Allie Greer will help you to downregulate your nervous system to tap into your parasympathetic response for full body relaxation and calm.
This simple but effective practice will help you find stillness and ease, to reduce stress, improve sleep, and revel in pure tranquility.

5. Calm Mind With Carisa Banuelos
Breathwork Class
With Carisa Banuelos
Completely calm your mind with Reiki master and meditation coach Carisa Banuelos in this 20-minute simple yet powerful guided breathwork and meditation practice.
Explore three different forms of pranayama and then apply them in a guided meditation to create the ultimate Calm Mind.
Use this mental break to recharge, unwind, and deeply relax.


6. Yin Reset With Denelle Numis
Yoga Class
With Denelle Numis
Yin Yoga is the perfect yoga for relaxation practice. It stimulates your parasympathetic nervous system (or your "rest-and-digest" system), which allows you to fully relax and unwind.
Hit the reset button on your day with Yin Reset as Denelle Numis guides you through this 42-minute practice of long holds of all the feel-good poses your body craves.
Let your body relax, rejuvenate, and reset with this gentle but influential practice.

7. Release Meditation With Yogi Bryan
Meditation Class
With Yogi Bryan
Create a full mental reset with this Release Meditation. This class incorporates traditional relaxing meditation practices with neurolinguistic programming to program your subconscious for a specific result.
Yogi Bryan will guide you through this practice with a specific intention to remove stuck energy and any emotional or physical pain.
This 22-minute yoga for relaxation practice will help you to actually let go of stuck energy so that you can move forward with a fresh mindset.


Unwind and Destress With Yoga for Relaxation Classes
We all need a solid break every now and again to unwind, destress, and reset. And there's no better way to rejuvenate yourself than a solid yoga for relaxation class.
Give these classes a try and let us know what you think in the comments below!
Craving more? Try this Guided Pranayama and Mindfulness Meditation for a Calm and Peaceful Mind (Video)
This article has been read 736 times. Share it and spread the love!