Yoga-Friendly Festivals to Attend this Spring and Summer (Eastern US)
The best part about warmer weather on the East Coast is peeling away our warm sweaters, waterproof boots, hats and gloves and replacing them with colorful tanks and leggings, flip flops and some stylish shades. As the winter chill fades away and we welcome spring, we can now experience warmer weather, outdoor activities, and dare we say it – sunshine!

To make the most of the warmer weather, there are tons of yoga festivals that you can enjoy in the Eastern US. Whether these festivals are close to home or require a day trip, these events offer a little something for everyone and are certainly worth the trip!

Here are 8 yoga friendly festivals in the East that we are looking forward to this spring and summer:

LEAF Festival
May 12 – May 15 in Black Mountain, NC



For the past 21 years, the LEAF Festival has been connecting cultures and creating a thriving community atmosphere through music and the arts. This family-friendly event offers numerous festivities that are great for crafters, culinary aficionados, poets, musicians or lovers of music, artists and entertainers, or people who love to experience music and the arts. While you're there, enjoy a yoga class, guided meditation, relaxing massage, hula hooping lesson, or countless other classes to experience the healing arts first-hand.

You'll like it if: You're a yogi who also has an appreciation for music and the arts.


Return to Roots Gathering
July 28 – July 31 in Medford, NJ



Return to Roots is a 5-day yoga, music, and flow arts event that allows you to return to your roots to reconnect with your body and feel a sense of community. The event will transform your consciousness through education, activation, self-expression and music. Choose from more than 30 workshops in hoop dance, yoga, meditation, flow arts, conscious living, personal development, and more!
You can check out our experience attending last year here.

You'll like it if: You love meeting kindred souls and are looking to deepen the spiritual side of your yoga practice.


Hamptons Yoga Fest
August 26 – 28 in Bridgehampton, NY



A community-based festival that centers on yoga, augmented by many other appealing activities for a weekend of healthy fun in a welcoming, family friendly setting. Attend yoga and other workshops during the day, including massage, reiki, acupuncture and more at the Healing Village. The Kids Village has everything from mindful activities to music and even cooking classes. In the evenings you can experience live music, and enjoy local, organic food throughout the festival.

You'll like it if: You enjoy participating in community activities, want to include your children in your yoga pursuits, and appreciate live music and fresh local food.


Burlington Yoga Conference
April 2 – 3 in Burlington, VT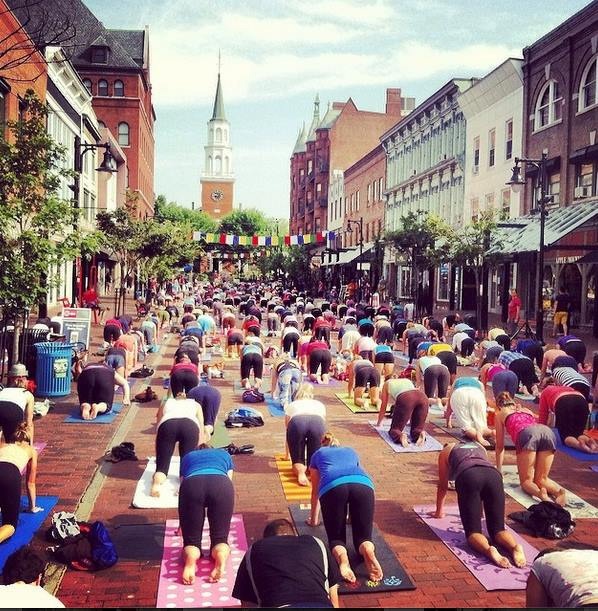 Burlington, Vermont is a town known for healthy living, so it only makes sense to host a yoga conference there, on the University of Vermont campus. At the Burlington Yoga Conference you will practice yoga in beautiful settings, and have the opportunity to attend different workshops, lectures, and other fun activities like henna, Thai yoga, sound healing and more. Enjoy long lunch breaks with farm-to-table vegetarian meals and tons of yoga classes to choose from.

You'll like it if: You enjoy not only the practice of yoga, but all the health, wellness, and study that goes along with it.


Floyd Yoga Jam
September 2 – 4 in Floyd, VA



Just a quick look on their homepage shows you just how much is in store for the Floyd Yoga Jam this September. A rock star line-up and a beautiful setting is only the beginning of all this yoga festival has to offer. Visit the Art Village to make your own prayer flags, bring your kiddos to KidsVille for dance and family yoga, and check out the Healing Oasis for healing sound immersion, flow massage, and more.

You'll like it if: You're looking for a weekend of stimulating mind/body/spirit fun with awesome music, events for the entire family, and positive people.


Frendly Gathering
June 23 – 25 in Timber Ridge, VT



The Frendly Gathering is a 3-day community-driven festival that blends music, camping, inspiration and "friendship," because after all there is no "I" in friendship! 😉 Located at a beautiful old ski resort, attend the Frendly Gathering to experience excellent music, workshops and activities that unite attendees and create a community united through art, music, sport and the quest for fun! Stay for the weekend and enjoy friendly vibes while you take part in yoga, skateboarding, swimming, camping, hiking and even disc golf.

You'll like it if: You're a younger, festival loving, community-minded yogi who's also looking for extracurricular activities during your time at the festival.


Yoga Fest
August 4 – 7 in Pigeon River State Forest, MI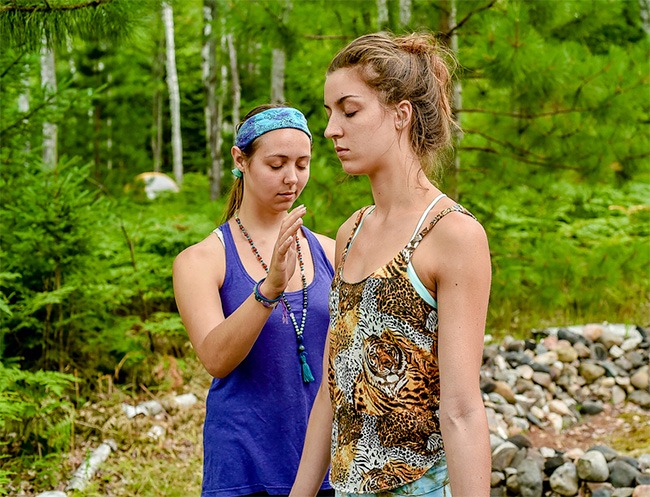 Yoga Fest is a community-based festival where every presenter, musician and coordinator joins together in the name of seva (selfless service). Proceeds from the event help raise funds for Song of the Morning Yoga Retreat, which provides a spiritual home for yoga year-round. This event brings together people of all backgrounds to share their love of yoga, music, nature and the arts.

You'll like it if: You're a philanthropic yogi who flourishes from selfless service and are looking to give back to your community.


Yoga Journal LIVE!
April 8 – April 11 in New York, NY



Yoga Journal LIVE! is a 4-day yoga event where you can share your love of yoga with like-minded yogis of all experience levels. Join in dozens of workshops, lectures and discussions to experience world-class yoga and meditation instruction and yoga business advice from celebrity yogis and mindfulness experts including Gabrielle ​Bernstein, ​Baron ​Baptiste, Rodney Yee, Kathryn Budig, Sadie Nardini and Sage Roundtree among many others. You can even earn continuing education credits for Yoga Alliance for select classes.

You'll like it if: You're looking to deepen your yoga practice physically and spiritually and want to be taught by the best in the business.


Bonnaroo
June 9 – June 12 in Manchester, TN




Join more than 85,000 people at Bonaroo, a 4-day music and outdoor camping festival. Come to Bonnaroo if you are a fan of music, art, film, yoga, dancing or just happiness and camaraderie with your fellow people. Join in for daily yoga classes to kick-start your day and prepare you for all of the adventures that this festival has in store for you.

You'll like it if: You're a music junkie who loves to attend music festivals while still having the opportunity to practice yoga with other attendees.


Unifier Transformation Festival
June 17 – June 20 in Tolland, MA



Unifier Transformation Festival is a yoga, music and tribal belly dance festival that brings together artists and educators. It unites people from all walks of life, coming together to celebrate and share in their love of art, dance, spirituality and even circus arts. Proceeds from the gathering are saved in a Land Trust Fund to build a retreat center and eco-village that will service the community.

You'll like it if: You are looking for opportunities to practice everything from yoga to belly dance and more with proceeds going to a meaningful cause.


Wanderlust 108
April 9 in Charlotte, NC
April 10 in Atlanta, GA
TBD in Washington, DC
TBD in Philadelphia, PA
TBD in Miami, FL
TBD in Tampa, FL



Wanderlust 108 is a one-day yoga festival that is taking place in major cities from coast to coast throughout 2016. Wanderlust 108 is a mindful triathlon that combines three events (running, yoga, and meditation) into one challenging and fun day. No matter where you live, you can find a nearby Wanderlust to see for yourself what all the hype is about.

You'll like it if: You want a unique opportunity to run, then practice yoga, and end with meditation for a well-rounded day of mindful fun.


Wanderlust
June 16-19 in Stratton, VT
June 3-5 in Snowshoe, WV



Wanderlust is a transformative retreat that unites world-class yoga teachers and experts in mindful living in a fun-filled and creative environment. Join in on booty-shaking music, stand-up paddle boarding, inspiring lectures and workshops and your choice of multi-level yoga and meditation sessions amidst a backdrop of the naturally beautiful and awe-inspiring scenic views of Lake Tahoe.

You'll like it if: You are a true outdoorsman (or woman) who enjoys yoga and other outdoor activities in a picturesque environment.

Whether you are a new yogi or a long-time practitioner, you can find a yoga festival that will meet your needs and help you find a new love for your yoga practice. Attend a festival or two, make new friends and share experiences that will last a lifetime.

This article has been read 1K+ times. Feelin' the love!