Why Thousands Are Traveling to Bali for This Yoga and Dance Festival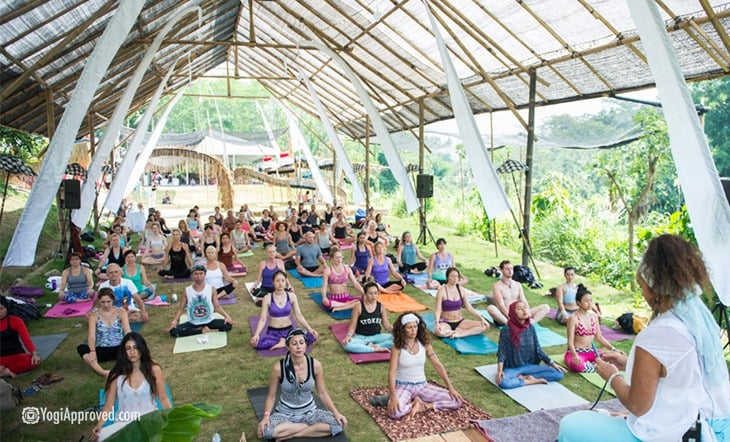 A full week of yoga, world music concerts, workshops, dancing, healthy food, and positive vibes . . . all set against the spiritually and culturally rich beauty of Ubud, Bali.

Sound like a dream come true? It is! Welcome to the BaliSpirit Festival!

This March marks the 10th annual BaliSpirit Festival, which goes from March 19-March 26, 2017. Every year, more than 7,000 people from around the world gather for this unique event. Five days and seven nights of 200+ workshops with offerings ranging from yoga and healing to dance and music.

Bali is a spiritually-charged, culturally rich paradise.

You'll be joining thousands of likeminded people uniting for a powerful week of community, self-love, and sacred celebration.

The festival details
Let's start with the yoga! There is a broad range of yoga offerings and definitely something for everyone. Enjoy Hatha, Vinyasa, Ashtanga, Kundalini, Laughter Yoga, and yoga for kiddos, just to name a few. The teacher line-up is a mix of 90 leading international names, including Ana Forrest, Tymi Howard, Katchie Ananda, Duncan Wong, Eoin Finn, Jeffrey Armstrong and Mark Whitwell.

Then there's the music and dancing! In addition to dance classes, workshops and performances, the music abounds. Kirtan, Bhakti night concerts with ecstatic dance, and weekend concerts featuring 50 amazing artists from around the globe like Xavier Rudd and The United Nations, Chugge Khan and Rajastan Josh, Desi Sub Culture and more.

You'll have ample opportunity for self-love with relaxation spaces, massages, sound healing, breathwork, meditation, and private sessions with healers. There's even a conscious marketplace where you can find delicious fresh, organic, vegan food.

If you have kids, they're welcome too! In addition to the children's yoga, there's also a designated kid's zone with daycare and special programs.


The location + logistics
If you've ever been to Ubud, you already know there's nothing quite like this hidden gem speckled with temples, rice fields, and beautifully lush forests. Bali is a spiritually-charged, culturally rich paradise and the peaceful town of Ubud attracts spiritual seekers, yogis, and wellness enthusiasts. If you haven't yet discovered Ubud, you're in for an amazing treat, and certainly won't regret it.

BaliSpirit Festival offers ticket + accommodation packages. Whether you prefer tropical bungalows or luxury resorts, there are options for every budget, starting from $915. Check out the packages here. Also, airfare costs are more reasonable than you may expect. You can find roundtrip tickets from LA for around $600.


Are you ready?!
If you're already packing your bags, or at least considering this adventure, it gets better . . . There's a special last-minute discount exclusively for YouAligned readers!

Book your BaliSpirit Festival passes with promo code YOGI-UNLIMITED for 20% off the Full Pass and Abundance Pass with unlimited access to festival workshops. Use the promo code YOGI-SPIRIT for 10% off the single-day unlimited access passes and music-only passes. Hurry – offer expires February 13!




BaliSpirit Festival amplifies the energy and spirituality felt in Bali through high vibe music, yoga and community. Joining like minded people from around the world to take part in sacred celebration is a unique opportunity you don't want to miss!

Whether you're a brand new yogi or more advanced in your practice, a spiritual seeker, a music enthusiast, or simply a wanderlust, there's something for everyone in this one-of-a-kind festival. Explore the full line-up and book your tickets!


This article has been read 2K+ times. Feelin' the love!