10 Yoga Festivals in the Midwest You Don't Want to Miss This Summer
With Spring poking its head around the corner, it's time to start planning for yoga festivals! We're so ready for some time in the sun, surrounded by yogis and positivity. Who's with us?!
The American Midwest spans the central northern states of the U.S., from Ohio to the Dakotas. Known for its sweeping plains and densely-packed cities, the Midwestern states have plenty of space to surround yourself with nature and other yogis – the perfect formula for yoga festivals!

10 Midwest Yoga Festivals to Plan For This Year
We researched and compiled a list of 10 good-vibes yoga festivals in the American Midwest – check it out!

1. Midwest Yoga & Oneness Festival
May 4-6, 2018 | Dubuque, IA




The Midwest Yoga & Oneness Festival artfully combines community, discipline, and yoga workshops for this special weekend. Enjoy a blend of yoga, spirituality, and sangha (sacred community) with other like-minded yogis! Make sure you stick around for Saturday evening Yin and the closing ceremony on Sunday afternoon.

Tickets: $170+


2. Wanderlust 108 Chicago
May 12, 2018 | Chicago, IL




Wanderlust 108 travels all around the world and it's certainly a treat when it rolls around to your city! The Chicago event will be held at Grant Park in Butler Field and offer a mindful triathlon of a 5K run, yoga, and meditation. After that, enjoy lunch, strolling the Wanderlust market, or a workshop!

Tickets: $21+


3. Ozark Mountain Yoga Festival
May 18-20, 2018 | Echo Bluff State Park, MO




OMY Festival is a grassroots event that began with just a small group of passionate yogis on an organic farm. Nestled in Echo Bluff State Park with views of the Ozark Mountains, this yoga festival is the place to immerse yourself in the spectacle of nature. Along with yoga workshops in the main lodge, you'll also be able to hike, camp, rock climb, paddle board, and more!

Tickets: $70+


4. Monumental Yoga
June 21, 2018 | Indianapolis, IN




This donation-based class in Monument Circle is the place to be for the summer solstice in Indy. Monumental Yoga is a celebration of this ancient practice, and offers several mini classes before the main event so you can explore all different types of yoga! Be sure to bring your own mat – and some water! – for this event.

Tickets: Donation (Sign Up Available Soon!)


5. Heartland Yoga Festival
June 22-24, 2018 | Unity Village, MO




Three yogis in Kansas City had an idea to bring a yoga festival to bring the local yoga community together, and the Heartland Yoga Festival was born. They aim to celebrate yoga in the Midwest with local teachers and vendors while giving you a space to dive deeper into your practice with someone who could be your neighbor! Your ticket includes classes, workshops, and Saturday lunch.

Tickets: $28+

6. South Dakota Yoga Conference
July 13-15, 2018 | Deadwood, SD




At the South Dakota Yoga Conference you'll gather with local yogis, stellar local yoga teachers, and local vendors while you're surrounded by the beautiful scenery of Deadwood. You have the opportunity to explore all different forms of yoga, and expand your understanding of the practice. You'll also have the opportunity to take your practice outdoors with SUP yoga!

Tickets: $22+


7. YogaFest
July 26-29, 2018 | Vanderbilt, MI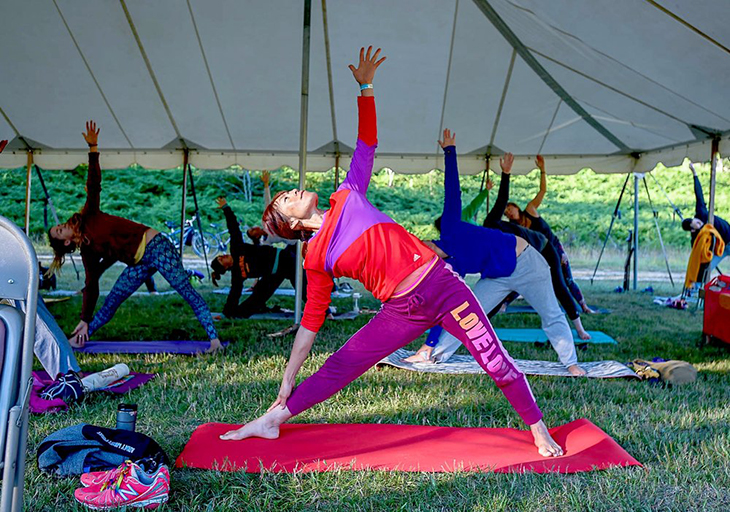 YogaFest combines yoga, community, and nature at Song of the Morning Yoga Retreat in Vanderbilt, MI. Immerse yourself during these 4 days surrounded by nature with like-minded yogis searching to connect to their higher selves. This festival is for everybody – even the kiddos!

Tickets: $40+


8. Fields of Yogis
August 10-12 | Cedar Rapids, IA




Fields of Yogis set out to put on a yoga festival in Cedar Rapids all about growing your practice from wherever you are. They combined the feel of a yoga, music, and street festival to create a truly unique experience for every yogi. You'll find the inspiration to refresh your practice at this festival.

Tickets: $100+


9. Harvest Moon Yoga Festival
September 7-9, 2018 | Baraboo Range, WI




Harvest Moon Yoga Festival is held on a private, 147-acre property dense with a maintained hardwood forest, a pavilion, a small farm, and a pond. The festival invites renowned yoga instructors from Madison and Chicago that will guide you through your festival journey. This festival also gives 3% of profits to The Nedra Askey Baraboo Range Environmental Sciences Scholarship Fund.

Tickets: $12+


10. High Vibe Yoga Festival
TBD | Omaha, NE




High Vibe Yoga Festival kicked off last year with Nebraska's very first yoga, music, and plant-based festival. The festival starts with a fun 5K that leads straight into uniting with the community in mindfulness, yoga, and meditation.

Tickets: On Sale Soon!

Enjoy Those Good Yoga Festival Vibes!
We hope you're able to check out and enjoy some of these festivals, and follow along with us as we curate lists for each region of the United States. Have a favorite Midwest festival that we missed? Share it in the comments!

This article has been read 2K+ times. Feelin' the love!