Yoga Teachers: This is How to Get Booked at a Yoga Festival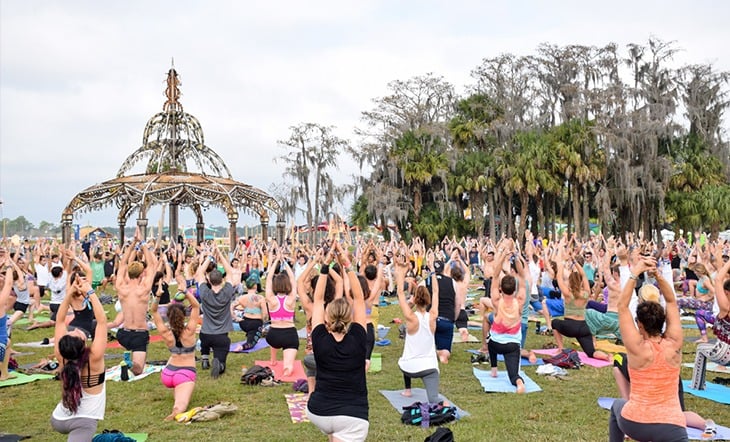 The Journey Junkie
In the US alone, there are currently over 50,000 registered yoga teachers and hundreds of yoga festivals happening each year. As yoga festivals grow in frequency and popularity, yoga teachers are interested in their opportunity to teach and be involved. Yet when it comes to getting booked or invited to teach at a yoga festival or conference, many yoga teachers don't know where to start.

So – what does it take to for a yoga teacher to get booked at a yoga festival?
Event producers have a plethora of considerations for creating a successful festival. After 15 years of booking yoga teachers, I've compiled several key ways that you can increase your chance of being invited to teach at a yoga festival or conference.

In addition, I've asked Heather Sheree Titus, co-founder and director of the Sedona Yoga Festival to offer her input from the producer's point of view. Read on for our answers and experience-based information to learn the ins and outs of getting hired to teach at a yoga festival.

When you're ready to get booked at a big yoga festival or conference, start by answering the following questions:
1. What is a festival producer looking for?
When speaking to producers about potential teachers, many have started the conversation with,
"Don't tell me about another vinyasa teacher. I have a million vinyasa teachers."

Producers are looking for yoga teachers that teach something interesting, compelling and different.

Heather states it simply, "Authenticity! If a teacher is teaching what really lights them up, then they are in touch with their own gift. This is the gift we want teachers to share. We don't choose based on our personal style preferences because we are building the container for people to experience their own transformation."

Takeaway Tip: Create a unique yoga workshop with a compelling title and enticing description that isn't something common or that the producer or festival already has.


2. How do I approach or introduce myself to festival producers?
Festivals are becoming more and more organized and automated, and given the interest in teaching, many have online applications. Use them.

Heather says, "It is SO important that teachers who are interested in presenting are willing to play with the channels of communication we've put in place." You may have the best press kit in the world, but the truth is, it may not be seen. Heather explains that most yoga festival organizers are navigating hundreds, maybe even thousands, of relationships. Due to the high volume of interest, if teachers simply send an email and don't use the online applications, most producers probably won't even open those emails.

Takeaway Tip: Approach a festival producer in the way they have instructed. Follow the necessary steps. Be clear and concise in your communication.


3. How and when should I follow-up about my application?
So you've submitted an application or sent an email and are awaiting a response. How do you know when to follow up and avoid being annoying?

Heather offers, "I like the thoughtful little notes we receive in reply to updates we send out to those who applied. A kind note reminds me that they are out there, waiting to hear from us, paying attention, and enthusiastic about the prospect of being at Sedona Yoga Festival. What is 'annoying' is when an applicant starts reaching out on every other available channel they can find: Facebook messages, the office phone number, my email address if they find it, etc. That's too much."

Takeaway Tip: Follow up with producers about 2 weeks after your initial contact. Be professionally persistent, but maintain professional boundaries and respect the producer's time.

---
Yoga Teachers – Need yoga insurance? Our friends at beYogi are offering YogiAproved.com readers $30 off your annual premium, dropping the annual cost to $149. Learn more here
---
4. How important is my website?
Your website is your calling card and producers WILL look at it. If your website truly represents you and your teachings, then it will provide the producer with a good first impression and some detailed information about you.

Heather confirms, "We absolutely check out a teacher's website. Our teachers come from all over and it's not possible to personally meet them all, so we have to look how they're presenting themselves."

The good news is that Heather also confirms they've chosen teachers in the past without huge online or social media following. Producers will definitely look at your website, and it's a great way to showcase your unique offerings, but having a site is not an absolute requirement.
And be sure your website works! Heather continues, "It is better to say, 'I don't have a website,' than to send me a broken one."

Takeaway Tip: Have a clear, compelling website that really represents you. Test your site and be sure there are no broken links.

To learn more, read 5 Habits to Make Your Yoga Business Successful for mindful marketing tips specifically for yoga teachers!


5. How important is social media and my student base?
Many emerging teachers want to teach at a festival to increase their student base, so their social media following may be small, but festival producers want to book teachers that will help sell tickets. It's important to remember that yoga festival teachers are part of what creates exposure for the festival.

That being said, if you don't have a large student base, don't let that stop you from applying.

Heather says, "We recognize that not everyone chooses to spend all of their time developing a social media presence. We see a great range of public profile levels – from 'I have a million followers' to 'What is Instagram?' It does help if you have a presence, but we're also willing to invest in the right people."

Takeaway Tip: When you apply to teach at a yoga festival, be sure to include your social media links and know the producer will review those, so the more you build them, the better.

Not a social media maven? Don't worry! 7 Savvy Social Media Tips for Yoga Instructors will change that in no time!


6. What about compensation?
If you think you can make a lot of money teaching at yoga festivals, you'll most likely be disappointed. Teaching at festivals is more about exposure than money. Even the top teachers are making a fraction of what they could teaching a weekend workshop, teacher training or retreat.

"The best way to describe it is there are three different categories. The first is the yogi celebrity who commands a certain price to attend. The second is the professional teacher who holds retreats and teacher trainings – they are middle of the road and we make selections based on adding balance to the program. The third is the teacher trying to break into festivals and build a following. These teachers benefit more from exposure than monetary compensation."

Takeaway Tip: Assess the overall compensation offered by a festival by looking at all the benefits – not just the financial compensation. While you may not make a huge paycheck, you will come away with a bigger name and following, plus a nice boost to your yoga teaching resume.


The Final Takeaway
Festivals are an amazing opportunity to grow your personal brand and build valuable experience as a yoga instructor. Our final advice? GO FOR IT!

Getting booked at a festival can be a daunting goal if you're just starting out, but it is absolutely doable and oh-so-rewarding. Do your homework on what types of yoga festivals or yoga conferences are most appropriate for your practice and passions. Connect with the producer in a professional way and through their standard channels of communication.

Offer them something unique and authentic – something you are passionate about. And when you are in discussion with them, recognize all the benefits the festival can provide and take advantage of what they have to offer.

Most of all, have fun in both the process and attending the festival itself. Yoga festivals are always a magical, transformative experience for all who attend – including the festival teachers themselves. Best wishes, and namaste.

Photo Credit: The Journey Junkie teaching at Okeechobee Festival
This article has been read 3K+ times. Feelin' the love!