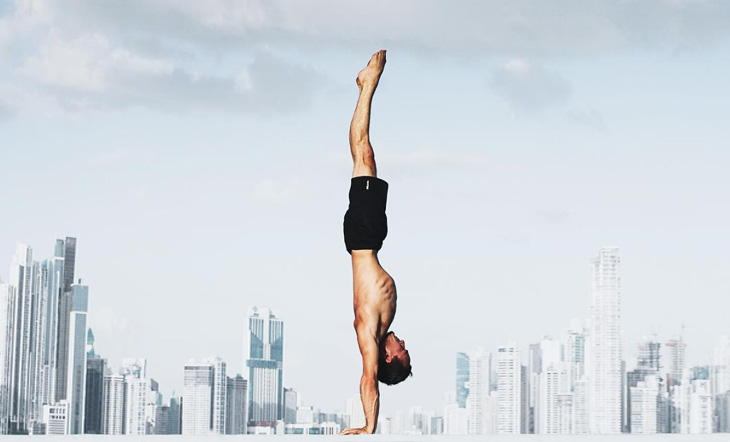 Photo: @kevindhofer
Fill Up On Yoga Inspiration With These 8 Yoga Instagram Accounts
For many of us, our days wouldn't be complete without social media. It is how we stay updated about our families and friends, and how we keep them updated as well.
Whether we would like to admit it or not, social media definitely has an impact on our everyday lives – and our yoga practice.

From social media connection spawns social media inspiration – specifically yoga inspiration. There are so many amazing yogis around the world who never fail to amaze us with their daily posts and stories. They are dedicated to their practice, show amazing resilience, and love their tribes.

While most yoga Instagram accounts inspire, we do have a few favorites for epic yoga inspiration.


8 Yoga Instagram Accounts to Follow for Some Serious Yoga Inspiration
These are some of the most inspirational yogis on Instagram who are sure to encourage you, lift you up, and, of course, inspire you in your practice and beyond. These men and women will amaze you.

1. @ogyogini

If you love empowering women and badass mothers, then Ashley Albrand is the yogi for you. Her beautiful spirit will make you want to walk barefoot through the jungle, drink green smoothies, and embrace your inner goddess. Posted up in Costa Rica, Ashley shares the monkeys in the mornings and the moon shining at night. She runs a school of consciousness, where she hosts yoga teacher trainings and retreats.

2.and 3. @gypsyon_ + @pabloandnalu.perspective

This duo will give you all the feels. They are currently touring through North America, but they stay well connected with their followers. They both post amazing AcroYoga videos, that will undoubtedly amaze you. This yoga Instagram couple is totally #yogigoals and #yogainspiration.

Do you want to create amazing yoga Instagram posts? Use These 6 Pro Tips to Take the Perfect Yoga Photo


4. @joshkrameryoga

Josh seems to defy the laws of gravity in all of his posts. From one-handed poses on rocks to handstands on mountains, it looks like he can do just about anything. No matter what anyone says about yoga stereotypes, this man blasts them all. He shows that yoga is about both physical strength and inner strength, and that it takes hard work and dedication to make your practice great.

5. @erinkellyart

Erin is the queen of stunning yoga flow videos. Her entire yoga Instagram feed contains videos of handstands and just pure flexibility. She moves with such fluidity and grace, she will definitely inspire you to get on your mat ASAP. Erin shows the yogi community that there are no limits when it comes to embracing your practice and pushing your limits.

6. @casa_colibri

It's all about the core with this one. Steph Gongora is another handstand and backbend queen. You can find books about how to do handstands and full-body backbends on her yoga Instagram, along with videos of her amazing flows. She partners with @erinkellyart for many retreats and teachings all over the world, and they definitely make a dynamic duo for yoga inspiration.

7. @kevindhofer

Kevin is a world traveling yogi, and his travels and amazing yoga poses are poured all over his yoga Instagram account. Living vicariously through his travels, you can see him strike a pose or practice a flow from Washington state to Lisbon, Portugal. While we may not be able to hop on a plane, we can definitely enjoy Kevin's travels and his mind-boggling yoga poses from home sweet home.


8. @yoga_girl

Of course, any list of yoga Instagram accounts wouldn't be complete without @yoga_girl. Rachel Brathen was originally born in Sweden, but she has captured the hearts of yogis all over the world. She currently runs her own studio in Aruba and hosts workshops internationally. On her Instagram you can expect to find cute baby pictures of her daughter, yoga flows, and stories of her travels.

Need more yoga inspiration? Check out: We Interview Instagram Yogi @bananablondie108 About Sexy Yoga, Motherhood and Entrepreneurship


What's Your Favorite Yoga Instagram Account for Yoga Inspiration?
All of these yogis have got it going on! Their complicated handstands, backbends, and gravity-defying poses are mind-boggling, and their devotion to their practice is downright inspiring – giving us all the yoga inspiration feels.

Each of these eight yoga Instagram profiles will make you want to roll out your mat and challenge yourself to hold poses longer, stronger, and steadier, and to just embrace the beautiful yoga practice.

No matter what yoga Instagram accounts you follow, a little inspiration can go a long way. These are just a few of the many great yogis that you can find on Instagram.

If we missed your favorite, comment below so we can get some yoga inspiration too!
This article has been read 7K+ times. Feelin' the love!

Cidney Bachert
Cidney is currently pursuing her journalism degree at the University of Central Florida. She enjoys yoga, cooking and exploring new places. Cidney hopes to encourage others to see the light in life and enjoy the gifts the earth has to give. Eventually, she would like to get her yoga teaching certification and become a holistic health coach.
You may also enjoy

Check out our latest video reminding you that social media posts are TINY slivers of someone's journey.

Erin Motz