We Interview Instagram Yogi @bananablondie108 About Sexy Yoga, Motherhood and Entrepreneurship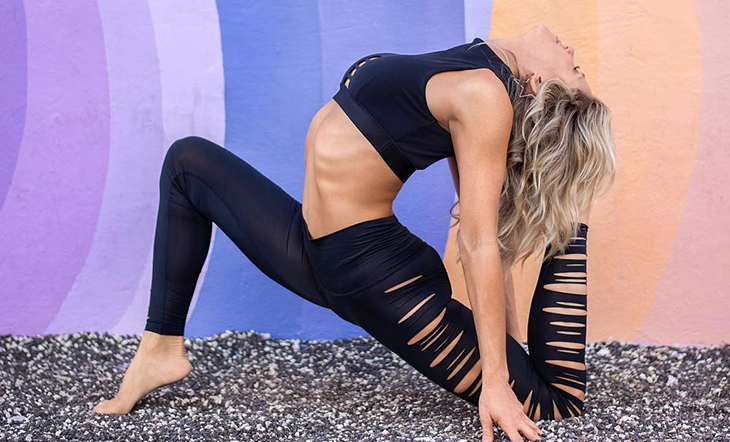 @bananablondie108
Michelle Muench, aka @bananablondie108 on Instagram and YouTube, sits in her bedroom wearing a white cut-out shirt as we Skype. It's mid-morning, she's sent her kids to school for the day, walked McFluffin (her dog), and can finally sit down to chat.

Muench's "Sexy Yoga" videos on YouTube and Instagram have garnered her over 200 thousand followers collectively. She also runs the website Thriving Plant Based with her partner, Jay Oliveria.

As a single mom, Michelle says owning a business has proven to be heavenly, but also challenging. Michelle finds solace in her unique style of "Sexy Yoga," and the balance she's found between motherhood and entrepreneurship.

Our Interview With Michelle Muench:
1. YouAligned (YA): We know everyone's path is unique. What brought you to yoga?
Michelle: I have scoliosis and it was really debilitating – to the point where I was laying down on my floor for months out of the year. Nothing really worked, and then I had a massage therapist recommend yoga. And you know how when you're in pain you'll do anything . . . even yoga.

So, it wasn't something that I enjoyed at first, but it was something that I had to do in order to function. It wasn't until I found Vinyasa Yoga, like a Shiva Rea style of practice, with more movement, that I fell in love and really connected with yoga.


2. YA: How would you describe the style of yoga that you practice now?
Michelle: I would say it's definitely not traditional yoga. I do use traditional asanas sometimes, but it's more of a sensual free form movement with a yoga basis.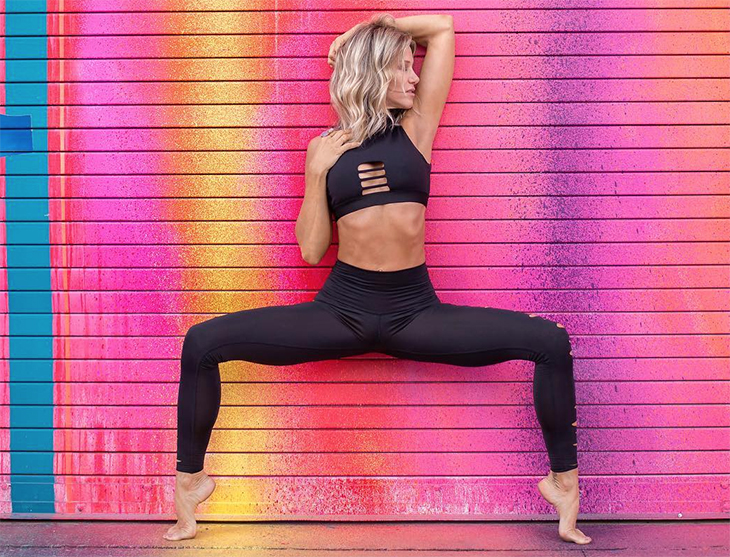 3. YA: What brought you to this sensual form of yoga?
Michelle: It started coming out in my own personal practice shortly after I had my first baby. I created a yoga space in my house . . . because once you have kids you don't really get out a whole lot. I couldn't make it to yoga classes, so I started developing my personal practice.

I had done a lot of Ashtanga yoga during my teacher training right before I became pregnant. So I would start my practice doing my Sun Salutations, and my Warrior Two's . . . you know, a very traditional type of practice. I would always wind up rolling around on the floor instead, doing this other style of movement.


4. YA: Do you think it's possible to gain body confidence from doing yoga?
Michelle: Yes! Absolutely. I've had a lot of women respond in a positive way to my practices in regards to their own personal body confidence. I think society tries to disconnect us from our bodies, and our sensual natures, and I think to move in this freeform way can bring you back to a connection with your body – with your sensual, sexual nature.

All life begins with a sexual moment, so it's innate in all of us, and that sexuality is the source of life and life force energy. I think moving this way helps me to connect with sexuality, and I've heard from other women it definitely helps them too. Once you connect to that side of your nature, you naturally feel more confident.


5. YA: What does a typical day look like for you?
Michelle: I know a lot of yoga people, and a lot of vegans, are into this whole "morning routine" thing. They wake up and meditate, they have their writing and journaling . . . that's just not happening in my life.

I have two kids and a dog. I'm a single mom. I have a business. So from the moment I wake up in the morning, I'm meeting the needs of my children and my dog. Once that's done, I like to spend time on my mat. Then I love answering peoples' questions on my website, and I love connecting with people that way.

Ultimately, I'm a real life person. I don't have large amounts of extra time, but I do find time every day to spend at least a few minutes by myself on my mat, connecting with my breath. It makes a difference – I'm more sane if I can do this little bit every day.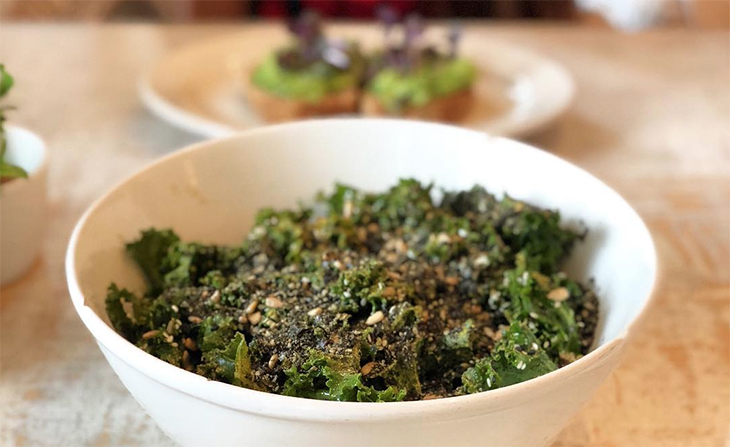 6. YA: What inspired you to create Thriving Plant Based?
Michelle: Jay and I became plant-based, and felt compelled to share it with as many people as possible. We wanted people to feel as great as we do, and share it in an affordable way.

I wanted Thriving Plant Based to be accessible for everyone, no matter their income or situation, and I also wanted to offer a platform for people to practice yoga on their own schedule. Honestly, Thriving Plant Based is beneficial to me as well.


7. YA: Finally, how do you balance motherhood and entrepreneurship?
Michelle: Luckily I'm able to schedule things myself, and work when they're at school. But I'll confess, when you work from home and you have your own business, it's hard to decide when to stop working, when I'm going to stop answering questions.

Sometimes I have to stop myself from overworking when my kids are around, but kids definitely have a way of pulling you into the present moment. They often have immediate needs that I have to meet. So I set my sh*t down, and try to remember how to do sixth grade math. They help me stay present and balance it all out.

Michelle Muench: The Takeaway
The ability to manage motherhood while navigating entrepreneurship is no easy feat. Many women today aspire to be mothers while they balance their personal lives with their public lives, their family with their work. Michelle shows us that it's completely possible.

Michelle Muench has it figured out. Her answer to balancing motherhood with life: build up a thick skin and learn to stop caring what the world thinks about you. When all else fails, make room for more yoga.

This article has been read 3K+ times. Feelin' the love!