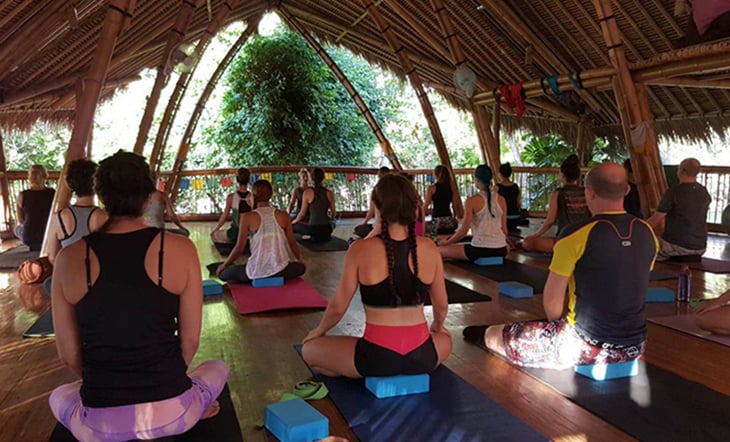 Power Of Now Oasis
Traveling to Bali? Don't Miss These 5 Dreamy Yoga Studios
Bali is practically synonymous with yoga, and thousands flock to this tropical paradise each year to connect with the land, the locals, other yogis, and of course, themselves. Whether you're just passing through and want to pop into a class, are going to Bali specifically for yoga, or you're looking for a retreat to heal mind, body, and soul, Bali is the place to be!
This tropical paradise marries travelers with the healing power of yoga and the palpable energy of the countless ancient temples and deeply rooted religion and culture.

Here Are the Best 5 Yoga Studios in Bali
Here are the coolest, most peaceful, and highest vibration yoga studios in Bali with something for every yogi, from beginner to advanced . . . and even yoga teacher training (YTT).


1. The Yoga Barn, Ubud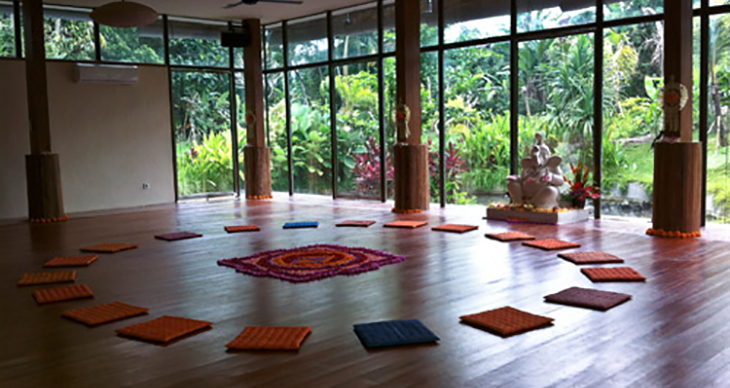 Easily the most well-known yoga studio in Bali, The Yoga Barn in Ubud is more like a secluded compound than a studio. It offers lodging, teacher training, massage therapy, healing services, tons of classes in gorgeous open-air studios, and an outdoor vegan cafe.

You can easily stay in this wonderland the entire time you're in Ubud. If you plan to stay in Ubud for an extended amount of time, look into getting a class package to save some money and avoid having to pay for each class separately.

Word to the wise: The Yoga Barn is not for the yogi seeking an intimate environment, but rather for the yogi seeking a vibrant community full of high-vibe, sweaty people.

Considering becoming a certified yoga teacher? Read this: 10 Reasons Why Yoga Teacher Training is the Best Thing You'll Ever Do


2. Radiantly Alive, Ubud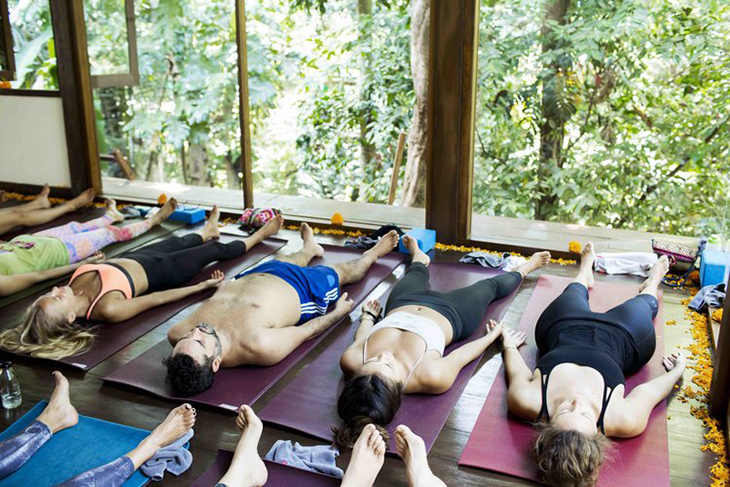 This intimate and cozy space is like a home away from home and a breath of fresh air for traveling yogis looking for a tight-knit group to flow and heal with. Radiantly Alive hosts teacher trainings and offers an array of healing services. You'll surely fall in love with the open and caring instructors.

This studio is a bit on the pricey side, but for the atmosphere and attentiveness, you will definitely get your money's worth. You can also attend retreats held frequently throughout the year at Radiantly Alive.

Traveling through SE Asia? Check out The Best Yoga Studios in Chiang Mai Thailand


3. Samadi, Canggu


Samadi has it all! In addition to being located in the hippest beach town in all of Bali, just a block from the Indian Ocean, this yoga sanctuary also hosts retreats and teacher trainings. It also has an organic cafe and luxury guest rooms.

With a focus on Mysore Ashtanga, yoga, and healing workshops, Samadi caters to the more advanced yogi looking to deepen their practice with highly experienced international instructors.


4. Power of Now Oasis, Sanur


Where the jungle meets the sea is where you'll find this beautiful bamboo eco yoga studio. With daily meditation classes, a homestay, wellness and yoga retreats, teacher training, and family-style community, Power of Now Oasis is Bali's most zen yoga studio. As a bonus, it's right on the beach!

Never done yoga while traveling? Read this: 5 Benefits of Practicing Yoga While You Travel


5. The Chillhouse, Canggu


True to its name, The Chillhouse in hip Canggu is tucked away in the back streets, away from the tourists, bustling traffic, and buzz of motorbikes. This open-air studio has classes in meditation, Vinyasa Flow, Hatha, and Kundalini.

You can also take surf lessons, go on a mountain bike excursion, and receive holistic treatments that focus on balancing and revitalizing the entire body.


BONUS: Gili Yoga, Gili Trawangan


If you're on Bali, it is likely that you'll also be traveling to the stunning Gili Islands (and if you haven't heard of these paradise islands, it's definitely worth looking into). While these three islands located off the northeast coast of Bali are known for the wild beach parties that bump until dawn, you can also find some tranquility and zen.

Located on the biggest island, Gili Trawangan, Gili Yoga is a sanctuary from the madness. With yoga teacher training, daily classes, and accommodation, you can find an oasis of calm to relax and reconnect.

Flow, Grow, and Find Balance in Bali
Whether you want to expand your yoga practice or just have a nice stretch after hours of travel, Bali is the place to be. This yoga mecca will leave you feeling revitalized and reinvigorated for the long flight back home with a fresh perspective and happy muscles.

Have you been to a yoga studio that you loved that you don't see on this list? Share it in the comments so we can all discover something new in this tropical paradise.

This article has been read 3K+ times. Feelin' the love!