Are You a New Yoga Teacher? Follow These 5 Tips to Find Your Soulmate Yoga Studio

Are you a yoga teacher who just graduated from yoga teacher training (YTT)? Or maybe you moved to a new city and you're not sure how to find the right yoga studio to teach at.

You're not alone!

With the amount of yoga studios in any city, it can be difficult to narrow down your search. So many yoga studios offer different styles of yoga, different styles of teaching, and even different types of students who attend.

When you're ready to find your next home yoga studio, there are a few things to consider to make sure it's the right fit for you as a yoga teacher.

Here are 5 tips to help new yoga teachers find the perfect yoga studio to teach at:
1. Narrow Down Your Search
Every yoga teacher's teaching style is different! Not every yoga studio is going to be the perfect fit for you. That's why it's important to make sure your style of teaching fits the studio you want to teach at. Equally as important is that you feel positive vibes from everyone who works there.

Here's how to find out. Do some research online first and create a list of your top five yoga studios based on proximity to where you live, particular yoga styles/disciplines offered, Yelp reviews from students, etc. Reviews are important because it's probably not the best career move to teach at a dirty studio with unfriendly teachers or a studio with a bad reputation.

Once you've compiled your list, take a class (ideally several) at each yoga studio. After class, chat with the yoga teacher, front desk and some of the students to get a feel for their energy and how well you connect with everyone.

---
Yoga teachers: Need yoga insurance? Our friends at beYogi are offering YogiAproved.com readers $30 off your annual premium, dropping the annual cost to $149. Learn more here
---
2. Interview the Yoga Studio!
It's important to find a yoga studio that fits your personality. That's why you need to talk to the other teachers and people who work or practice there (see #1). While you're having these conversations, ask questions that will help inform your decision.

Does the yoga studio currently need more teachers? What's their hiring process? Do they have any perks (like a free membership, discount on products, etc) for teachers? Do they require yoga teachers to have a certain amount of training? Are teachers required to have yoga liability insurance?

Knowing these aspects can shed light on whether that yoga studio is the right fit for you. For example, if a studio does not require that yoga teachers be certified, that may be a red flag. If a studio doesn't require yoga insurance, be smart and get covered anyway. It's a safe way to make sure you're protected in case something happens.

In need of yoga insurance? beYogi is offering YogiAproved.com readers $30 off the annual premium, dropping the annual cost to $149. Learn more here!


3. Pinpoint Your Teaching Style
With yoga growing in popularity, there are studios popping up all the time that offer a variety of yoga styles. When you're trying to decide on the perfect yoga studio, it's important to decide on which style of yoga you plan to teach.

Pinpoint your specialty as a yoga teacher, whether it's a specific discipline like Hot Yoga or Restorative, or if it's more about the way you teach (a spiritual focus, dharma talks – whatever sets you apart).

Then, go check out those types of classes at the yoga studios you included in your list (see #1). By doing this, you'll get a feel for the class sizes and how popular the different disciplines/teaching styles are in that area. You now know what's in demand, and where!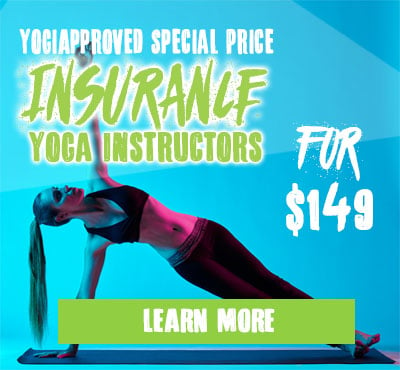 4. Polish Up That Resume!
After you've completed the steps above, now you're ready to approach your ideal yoga studios! Make sure your yoga teaching resume is updated. Even if you're a brand new teacher, you want to include your teacher training and any other relevant experience or education to date.

Part of a yoga teacher's resume is also their teaching! Be sure you're maintaining a personal practice. Also make sure you're comfortable teaching, because you never know when a studio will ask you to give a demo on the spot! Have a set sequence and playlist ready just in case so you're not caught off guard.


5. Visualize, Manifest, Prepare
As yoga teachers, we understand the importance (and effectiveness) of visualizing and manifesting that which we seek. Once you've found your choice yoga studios, start visualizing yourself teaching there! Manifest teaching opportunities and spend time envisioning yourself leading a full class at your top choice yoga studio.

Since visualizing and manifesting are so powerful, you'll also need to start preparing for the call or email that you got the job, because it's only a matter of time before you do!

Yoga Teachers – Your Perfect Fit Yoga Studio Is Waiting For You!
Following these steps is a surefire way to find your next home yoga studio. There might be a sea of yoga studios and yoga teachers out there, but nobody just like y.o.u.! Use these steps to narrow down your search and find the yoga studio that's right for you.

It's a great feeling when you find the perfect yoga studio where you can proudly share your teaching. It won't be long until that yoga studio becomes a home away from home.

For a limited time, beYogi is offering $30 off your annual premium for YogiAproved.com readers, dropping the annual cost to $149.

This article has been read 1K+ times. Feelin' the love!