10 Products to Help Introduce Your Child to Yoga
Research has proven the immensely positive impact that yoga has on the mind and body. As a yogi, you've experienced these benefits for yourself. Can you imagine how profoundly yoga would have impacted you as a child?

Regardless of when you began your personal yoga journey, as a parent, you have the incredible opportunity to introduce yoga to your child. Yoga has many amazing benefits for children. Yoga increases a child's ability to concentrate and stay calm, and it gives them valuable tools for finding peace and relaxation. Yoga improves a child's physical health and wellbeing. It also enhances their flexibility, strength, coordination, and body mindfulness.

Since yoga is a non-competitive activity, children learn to cooperate and share whilst exercising and playing. Kids also begin to connect more deeply with their inner self. Yoga helps children calm down, while cultivating patience, kindness, and a love for their bodies.

Whether you are an after school activity leader, a kid's yoga teacher or want to teach yoga to your little ones at home, having resources to support you is a must.

Here are 10 awesome yoga products for kids that can all be used as helpful tools in teaching yoga to children:
AZIAM Girlz Asana Yoga Girl Yoga Doll
Introducing the world's first yoga doll, created by renowned yoga instructor Alanna Zabel for young girls. The Asana Yoga Girl Doll ($29.95) by AZIAM Girlz is designed to move easily into most yoga poses and even has a built-in spinal extender to allow for forward and back bending.




The intention behind the doll is to inspire young girls to focus on things beyond outer beauty and glamour, and instead learn and care about more positive things, like giving back to social causes, having love for everyone regardless of race, religion or culture, and encourage girls to keep their bodies active, be kind, and love themselves.

Shop this yoga doll here.


Chi Universe Phresh Yoga Mat & Yoga App
The Chi Universe Phresh Mat ($38) for children is a beautifully printed yoga mat with playful symbols acting as a 'map' that helps guide children into yoga poses while also teaching correct alignment. The great thing about this mat is that its system is based on anatomical averages, which increases safety and physical alignment for growing bodies.



You can also purchase the touch-interactive online cards, and download the Flow & Phreeze App from iTunes to use with the yoga mat for a wonderfully interactive yoga experience. The game format makes it easy for kids of all ages and abilities to get active, and it is especially great for parents in need of a rainy day activity to keep children engaged and inspired.

Shop the Chi Universe kid's yoga mat here.


Yoga Pretzels Yoga Cards
These colorful and vibrantly-illustrated yoga activity cards ($13) are super fun for children and grownups alike! They provide a healthy dose of entertainment and education while teaching basic yoga poses, short meditations and breathing techniques, and even simple acro-yoga partner games.




The pack is divided into different, color-coded categories (breathing, standing postures, backbends, forward bends, balances, and games). Each card features an illustration of the pose on one side, with clear and simple instructions on the back. The diversity of this card pack allows you to customize your yoga session with your kiddos and are a wonderful resource for creating spontaneous games within your classes.

Shop Yoga Pretzels here.


Meddy Teddy
All children – and even adults – love teddy bears which is where the Meddy Teddy comes into play. Meddy Teddy is a small bear with a big purpose: to encourage kids to practice yoga, meditation and mindfulness. Meddy is 100% posable, meaning he can do most of the yoga poses you can!




Meddy Teddy is meant to be a parent's resource for opening the door to mindfulness practices, starting a yoga practice, and introducing meditation to children through a fun and interactive teddy bear companion.

Check out Meddy Teddy here.


Yoga for Children: 200+ Yoga Poses, Breathing Exercises, and Meditations book
With over 200 yoga poses great for kids, complete with step-by-step photographs, instructional scripts, and posture modifications, Yoga for Children ($15) will encourage your child to step onto the mat and learn about yoga via activities that are not only easy to demonstrate, but simple enough for children between the ages of three and twelve to understand and replicate.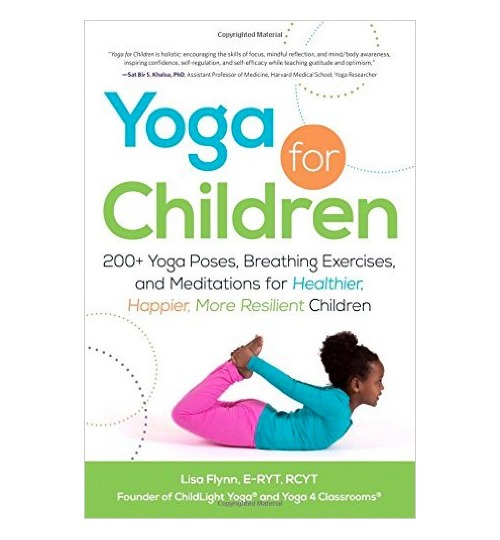 This book also includes fun games, yoga songs and an entire section devoted to creating kid's yoga sequences. It also provides tips on working with kids at particular developmental levels (2-4 yrs., 4-6 yrs., etc.) and tips on setting up a children's yoga space.

Shop this book here.


Kids Zafu Meditation Cushion
Zafu are an environmentally friendly, family-ran business. This adorable kids Zafu meditation cushion ($40) promotes proper posture and thus encourages a strong spine while providing comfort during meditation.




This cushion comes in purple and light blue and has a hidden zipper to adjust the filling and remove the cover to be washed. It also has a carry handle, making it easy to transport and because it is not very heavy, the cushion can be taken on your travels. These cushions are perfect for encouraging your kids to start a meditation practice.

Shop this meditation cushion here.


Good Night Yoga: A Pose-by-Pose Bedtime Story book
Good Night Yoga ($11) is a full color, stunningly illustrated children's book that tells the story of the world as it goes to sleep at night while teaching children simple yoga poses inspired by their favorite animals.




Children will learn to self-soothe, feel relaxed, and prepare for a restful sleep. The book offers a clear and calming introduction to yoga with serenely illustrated children demonstrating 11 basic yoga poses, with a lullaby woven throughout. This is a charming and practical book every little soul should have on their nightstand. The second book, Good Morning Yoga is also available.

Shop the book here.


Shanti Generation: Yoga Skills for Youth Peacemakers DVD
Yoga Skills for Youth Peacemakers is an excellent yoga DVD ($17) for tweens and teenagers (ages 7-16) wanting to develop a home yoga practice. It includes five unique 30-minute yoga sequences, 18 mini yoga sequences, five breathing exercises, and two relaxation exercises. Themes include creating happiness, choosing peace, stress management, and mindful awareness.



The DVD's featured teachers are teenagers who use yoga for their own personal development and wellbeing, making it relatable for adolescents. The DVD includes interviews with these young yogi teachers who reveal why they started yoga and what it does for them to show your child that yoga is for all ages.

Shop this DVD here.


Kids Harem Pants by Bohemian Island
We all love Bohemian Island for their stunning and comfy harem pants. B.I. promotes fair pay and working conditions through family-ran factories, and they also donate 10% of all their proceeds to saving Thailand's stray dogs. But did you know Bohemian Island also offers cute harem pants for your little ones?




There are numerous colors and patterns to choose from and for only $15, they are a bargain! Snag your own pair so you and your child can match and feel even more inspired to practice yoga together.

Shop for your kid's harem pants here.


Psst! You may also be interested in seeing our review on Bohemian Island's Harem Pants.


Enchanted Meditations for Kids CD
Enchanted Meditations for Kids ($18) is a superb, high-quality children's meditation CD by leading yoga teacher and Montessori teacher Christiane Kerr. This is a one-hour CD consisting of eight short meditations to help children relax and sleep soundly at night.




Each meditation has been carefully conscripted within a story, accompanied by subtle sounds, a soft voice and gentle music throughout to activate your child's creative mind. This is a really useful way to teach your child how to relax, and is suitable for kids up to the age of 12.

Shop this CD here.


As parents, you care about your children and want the best for them. You strive to keep your kids healthy and happy in every way possible. As a yogi, you know how much your yoga practice impacts your life. It's never too early to give your child the gift of yoga and teach them important life skills like stress management, conscious breathing, and maintaining a sense of peace and calm.

What was your favorite yoga product for kids? Are there any other products that you feel should be added to the list? Please share your thoughts in the comments below – we love hearing from you!

This article has been read 3K+ times. Feelin' the love!