10 Things Your Yoga Teacher Wants You to Know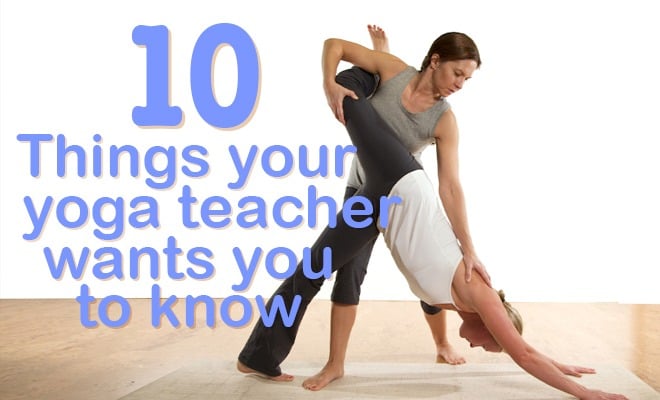 Here are 10 Things Your Yoga Teacher Wants You to Know
1. Let. Go. Of. Comparison
We all walk onto the mat with unique strengths and weaknesses.  No two bodies are the same. The mirror in the front shouldn't reflect all 20 bodies doing the exact same thing. Some people are able to go deeper; others must make modifications; and we are all at different stages of our practice.  
Yoga is not a competition.

2. Yoga isn't about how you look — it's about how you feel
Teachers don't care what type of clothes you wear or how messy your hair gets during class, and neither should you. Teachers aren't concerned with whether you're able to fully straighten your leg or not.
As long as you're not doing anything dangerous, we want the pose to be your own.
"Let go of how you look and focus on how you feel".
3. You don't have to be flexible to be good at yoga
Flexibility is a by-product of yoga, not a requirement to practice it. You show up exactly where you are in your practice and work from there. Where you end today is where you start tomorrow, so stay positive and motivated. Your flexibility will deepen with your practice.
4. If doing something makes you grit your teeth in pain, don't do it!!
Your body has its limits and will make them known in the form of pain. We as teachers would rather you make a modification to the pose before causing yourself pain. We can't always know about every little thing going on in your body—only you know how it feels.
"Yoga is about honoring your body and treating it as your temple".
5. It's ok to laugh out loud, to smile, and to make eye contact with us!!
As yoga teachers, we take yoga seriously, but that doesn't mean we always have to be so serious! We love it when students can laugh at themselves! We love smiles in the yoga room!
Students sometimes seem hesitant to make eye contact, but that's welcome too! As teachers, we love sincere human connection—it's one of the rewards of teaching!

6. We can smell that vodka you drank last night…
…that's now seeping out your pores. We've all heard how getting a good sweat is the best hangover cure, but the rest of us are suffering. You are very literally sweating out the liquor you drank…and the rest of us are now breathing in the stench! So don't come to hot yoga hungover!
Stay home and do this great yoga routine for those hungover mornings.
7. Your energy adds (or detracts) from the class!
Sometimes certain students show up and we know it's going to be a great class—they bring with them positive energy. Class is a group experience and everyone brings their own unique energy. Make yours positive! It is much appreciated.
8. Leaving before or during Savasana is both rude and bad for you!
Savasana is final resting pose.
Key word here: pose. This pose is crucial at the end of every yoga practice. The body's natural wisdom takes over, sending the healing effects of each pose to the areas that need them most. When you leave during savasana, you rob yourself of the benefits while disturbing everyone else's peace.

9. We're only human! We make mistakes and struggle with poses too.
We are not immune to bad days, losing our temper, messing up during class… and we all have our own list of challenging poses. Yoga teachers are by no means yoga masters; we are simply people with a knowledge and passion for teaching, serving, and of course, yoga.
"Think of us as guides sharing your yoga journey".
10. We leave our sh*t at the door, and you should too.
Yoga teachers have bad days too! Regardless of what's going on in our life outside the studio, we still show up, take a deep breath, and enter with the intention of setting the tone for peace, focus, and strength.
This is part of our practice as a teacher. Students share the responsibility to enter with a good attitude and positive energy.
New to Yoga? Here Are 7 Yoga Room Codes of Conduct
There You Go – There Are the Things Your Yoga Teacher Wants You to Know
Yoga is a very personal experience that is shared collectively in the yoga room. Teachers have the honor of guiding all levels and backgrounds of students through their unique journey.
We look at each class as an opportunity to uplift and better ourselves, our students, and the collective energy of the studio. This is the aim of authentic yoga teachers everywhere.
This article has been read 50K+ times. Hot damn!