12 Ways Yoga Brings Out Your Inner Goddess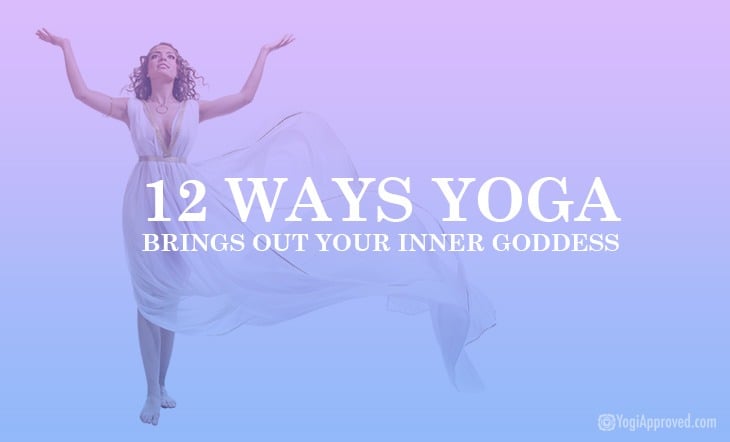 Every yogini knows that deep down within her beautiful self rests an inner goddess. Yet we are often quick to forget about this inner power. Yoga is more than Downward Facing Dogs and Sun Salutations – it is a powerful and subtle practice that can and does change our perspective on the world. Yoga is also a vehicle that helps us remember our true selves and full potential.
Always wear your invisible crown.
Here are 12 ways that yoga brings out your inner goddess:

1. Confidence
When you look at a goddess, you see powerful, radiant confidence. It's that look in their eyes – the one that reminds everyone in sight that they've got it going on. Heart-opening poses like Cobra, Warrior I or II, or Extended Side Angle bring out this same power within us, and help remind us that anything is possible.

2. Beauty
Amidst the sweat and the messy hair, yoga makes us feel beautiful. Even on days when we're not on our A-game, flowing through Chaturanga makes us feel sexy, powerful, and alive.

3. No Labels
Yoga helps us tap into that part of ourselves that is divine and unchanging, the part of ourselves that is always beautiful, confident and capable no matter what the world is telling us. No labels, no judgment – just your beautiful, radiant self.

4. You've Got It Going On!
When we finish practice and have a good sweat, we walk out with a refreshed outlook on life, and we feel good in our own bodies. Working up a good sweat is detoxifying and it's rewarding – you emerge from class looking and feeling like a total badass.

5. Let Your Heart Sing
Do you ever break into song while doing the dishes, or find yourself able to channel your inner Adele with a "Hello" a cappella during your morning shower? Yoga is the reason behind it. That feeling of wanting to burst out into song and dance is your inner goddess waiting to come out and show off to the world.



6. Strength
Goddesses are strong, and yoga cultivates physical and mental strength. With this tough side exposed, we become invincible. This feeling comes to us on our mats when we achieve a challenging pose for the first time like Side Crow or Scorpion. Once we achieve something that we have been working towards, we know it happened because of how strong we are physically and mentally.
Celebrate every tiny victory.
7. Posture
Yoga helps you become keenly aware of your posture. Thanks to your practice and the attention it directs to your body, your posture will drastically improve. Poses like Tree and Downward Facing Dog allow our backs to lengthen, strengthen, and stand taller. Have you ever seen a goddess slouch?

8. Mental Balance
Some days we eat our salads and go to yoga. Other days, we eat cupcakes and do not want to put pants on. It's called balance. Yoga brings us into a state where it is easy to respond versus react, so we maintain a middle ground and empower ourselves to act like the goddesses we really are.

9. Be a Yes
The practice of yoga teaches us to remove certain words from our vocabularies. Words like "no," "impossible," or "cannot" are removed from our language – their negative effects are in turn removed from our lives. We become open to every opportunity and create possibilities for ourselves that are simply limitless.
I can and I will. Watch me.
10. Be Comfortable with NOT Knowing
In life, we all go through battles, obstacles, and struggles, and walk along a path where sometimes we just do not have the answer. Off our mats, yoga shows us that it is okay to not have a plan, and to not know what happens next.

11. Embrace Naked Reality
There is nothing wrong with embracing your raw truth and being vulnerable. When we are flowing through the sequences and sweating head to toe, we are accepting ourselves for who we really are. It is the same when we fall out of a pose and come right back into it. Yoga reminds us to accept our flaws. In yoga, we remind ourselves that we are "perfectly imperfect."

12. Connect with Mother Nature
Instantly connect with goddess energy by spending time with Mother Earth. One way is to walk barefoot on the grass and lie on the ground. We connect to the Earth as soon as we get onto our mats, and as we breathe mindfully we become at ease with our surroundings. We allow Mother Earth to hold us in her loving embrace and fill us with maternal love.

There you have it! 12 ways the wonderful practice of yoga brings out your inner goddess. Every goddess finds immeasurable moments of bliss. Keep up the practice – trust in yourself and remember that your rock star goddess already resides within you. It's simply a matter of connecting with her, and unleashing her true strength.

This article has been read 3K+ times. Feelin' the love!