Yoga Teachers: Here Are 4 Teaching Tips for Getting Inspired Before Your Next Class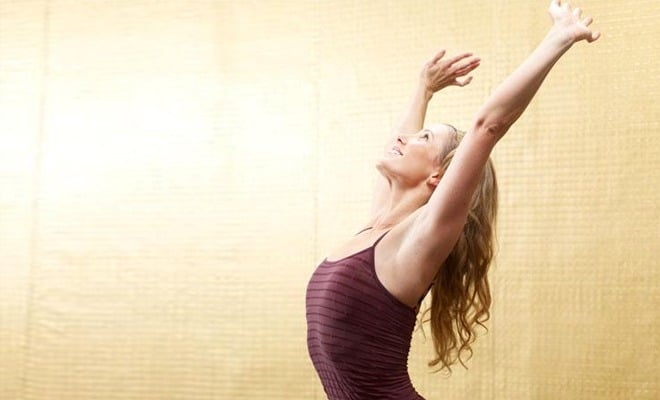 Teaching yoga is an art, a passion, and a work in progress. And it takes practice and a yoga bag of teaching tips to help you show up inspired every time to teach.
Sometimes we tap right in, and teach an entire class from a place of peace and presence. On the flip-side, there are days where we aren't as amped as we usually are to teach class. We've worked a long day, may be running on little sleep, and had to forage snacks from the depths of our desk drawer for a makeshift dinner before class.
Life as a yoga teacher isn't always easy! We need time to become present before we walk others through it. We may start off by just 'going through the motions'. (confession — and cringe) But ten minutes in, we start to get into our zone — twenty minutes in, we're flowing free — and by the end, we've taught another magnificent class.
Yoga Teachers: Feeling Stagnant In Your Teaching? Use These 6 Tips to Spice Up Your Classes
So the question arises: how can we start off feeling this way? Wouldn't it be great to have that inspiration to start?


4 Yoga Teaching Tips To Get You Inspired Before Your Next Class:
Here are four things I have found to help me. Maybe these yoga teaching tips will do the same for you.

1. Personal Practice
Start class early – with yourself. Some days we need to work out our mental knots. Think of it as a precursor to the class…you becoming present. You know what you need and you know the feeling. Just a few minutes for your personal practice is all it takes for you to reestablish your sense of presence. You carry this practice in your steps and in your heart.



2. Get Inspired!
Choose a passage from your favorite book or a quote you've connected with in the past. Think about why, in your heart, you've made this previous connection. Roll with it.

3. Remember the Thank You's
When someone comes up to you in your next class and says, "Great class!" "You're my fav!" Take note, write it down. Make yourself a note, a mini-diary of people you've inspired. Teaching tip: start off your next class keeping this past praise in mind.

4. Envision the End
Bring your presence to the end of class to remind yourself why you love this so much.Visualize your student's content faces and feel that cozy energy they give after waking up from Savasana.
10 Effective Yoga Teaching Cues to Empower Your Students

Get Inspired to Teach with these Yoga Teaching Tips
Remember, you are a student and a teacher. You are still human! Let go of the need to compare or label "good" classes vs. "bad" classes.
It's OK if you're having a hard time pulling out your top yoga-game. All of us experience this. You give words of encouragement and messages of compassion to your students all the time.
Here's our last (bonus!) teaching tip: Take a dose of your own medicine! Be present. Be you. Teach from a place of authenticity and trust that that is enough. (It is always enough!)
Love & Light
Which tip resonates most? Or better yet, what teaching tips did we miss? We want to know – share your yoga teaching tips in the comments below!
Did you like this article? Sign up for our newsletter and get yoga articles like this and more straight to your inbox every Monday.
This article has been read 9K+ times. Feelin' the love!