5 Tips for Practicing Yoga With Your Pet (video)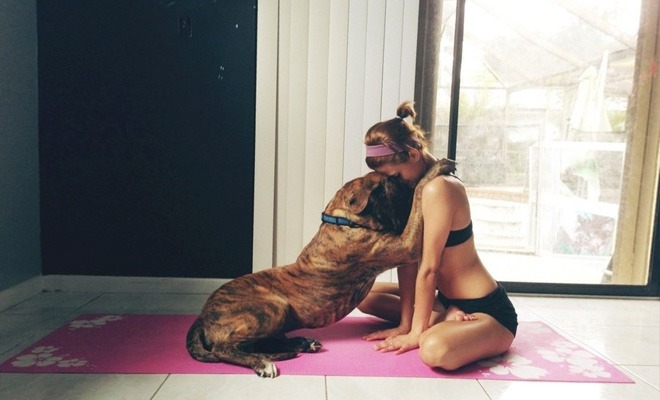 Has this ever happened to you while you practice yoga at home?


Your feisty best friend may be your heart and soul, but when you are on your mat, you want to have the space to stretch and achieve the full expression of each pose without their slobbery kisses. Some pets may happily sit nearby and watch your flow, while the other lovable fury friends may think you are ready for play as you sink down to their level. Sure, you can lock them in another room during your practice, but they are your furbabies and you love them, so you want them to be a part of your life and your practice.

Here are 5 tips on how to practice yoga with your pet:

1. Distraction
Especially if you have a young furbaby, you are their favorite plaything and anytime is playtime. If your pet has a favorite chew toy or teaser that can keep their interest for several minutes at a time, pull out that toy when you are ready to hit the mat. Better yet, find a toy that they really enjoy and that keeps their interest for long periods of time, and only give them that toy when it's time for your yoga practice. This way, they receive a treat that is special and that they are less likely to lost interest in because they only get it when you practice. Keep your furbaby nearby with their favorite toy to keep them occupied, out of trouble, and off your mat.

2. Treats and Chew Toys
Young pets are often food motivated. For pups, smear some peanut butter on a Kong toy or a split elk antler or supply them with a bully stick to keep them gnawing for some time. For kitties, catnip toys are magic! Treat balls are also an excellent way to keep your pet occupied and mentally stimulated for long periods of time. It's so cute to watch them chase their food around the room, but beware! The show may be so cute that you forget what you were doing on your mat!

3. Timing
Timing is key with young puppies and kitties, but luckily they sleep an average of 18 hours each day. During their midday nap, pull out your mat within earshot and quietly play some music or follow a yoga video, even if it is just in 10-minute spurts. If you are quiet enough or if they are tired enough, you might be able to get in a full practice without your tiny companion even batting an eye.



4. Tag Team
Just like many parents do with their children, take turns with your spouse or roommate to distract your pet. For dogs, have your spouse/roommate take the pooch on a long walk, or playtime in another room when it is time for your yoga practice. For cats, your partner can distract them in another room with a laser pointer or a feather teaser. This way, your pet doesn't feel excluded, and you are able to practice yoga uninterrupted.

5. Let Them Join In
Downward Dog was named that for a reason – it is a natural stretch that dogs do. Encourage your pet to join you on the mat in Downward Facing Dog and make yoga time a relaxing and luxurious experience for your furbaby too. Your pet can easily do Savasana by laying on their back and exposing their bellies to you, and child's pose or extended puppy pose are easily within reach. Add in a gentle massage to reinforce this behavior and encourage them to repeat it in the future. If you start integrating yoga into your pet's lives in small doses when they are young, you will have a well-mannered and yoga-friendly furbaby that will be the "aww" of all of your yogi friends.



Your furry companion can become a welcome addition to your yoga practice with a little time and effort. Remember that just like children, pets have short attention spans, so if they are awake and active, they may not be able to remain distracted for more than 30 minutes at a time. Also, remain calm and don't do any sudden movements when you are incorporating your pets into your practice, showing them that yoga time is a relaxing and serene experience.

Do you have any other tips for a fulfilling yoga practice with pets? Share them in the comments below to help our your fellow yogis and their beloved pets.
This article has been read 2K+ times. Feelin' the love!

Krysta is a staff writer and product review guru at YouAligned. She believes in the powers of healing crystals and essential oils, and never leaves home without them. Krysta is a true Jersey girl (in the best sort of way) who embraces a non-toxic and all-natural lifestyle.