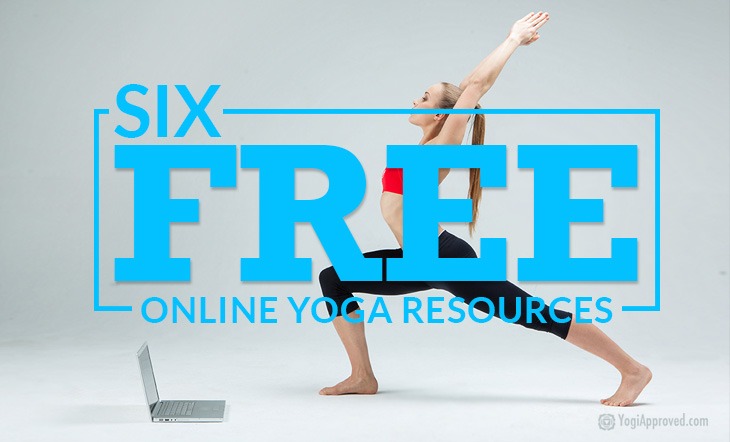 6 Free Online Yoga Resources To Help Improve Your Practice
As more and more people realize the magic of yoga, hundreds of new online yoga resources hit the market. But, how do you decide which ones are worth your time or which most suites your unique needs? Here are our favorite free online yoga resources that are making a positive impact on the world of yoga:
YogaTrail.com
Like the Yelp of yoga, YogaTrail.com is a world wide network that can help you find great yoga teachers and studios in your hometown or while traveling. The massive online directory and mobile app is not just a listing of locations. You can type in your city or zip code and come up with a listing of teachers and studios sorted by proximity to you, listing the class time and cost. Then, if you find one that interests you, you can click on the instructor or studio name and see a full profile and even read student reviews. Easy! And, if you are interested in yoga retreats, there is a comprehensive listing of those as well, all at deeply discounted prices.

YogaJournal.com
The online home of the tremendously popular print magazine, YogaJournal.com is a great resource for all things yoga. This news and lifestyle site has a comprehensive pose library, as well as content on yoga foundations, meditation, healthy living, yoga celebrity interviews, instructional pose videos, and retreats. An entire section is devoted to advice and resources about Yoga Teacher Training (YTT), with articles that help you identify if you are cut out for YTT and tips on how to grow your business and make money (cha ching).

DoYogaWithMe.com
DoYogaWithMe is a free online video resource that offers classes, pose demonstrations, meditations, breathing techniques, and anatomy videos to yogis around the world. Sponsored by advertising, DVD sales and a "pay-what-you-can" donation (even if its $0), the site produces remarkably high quality videos for a free site. You can sort videos by difficulty, class length, style and even teacher, allowing you to choose the perfect video for your practice each day. There are specialized videos, such as prenatal yoga, yoga for digestion, chair yoga and even chakra flows, so this is an excellent site for new and experienced yogis to try out different yoga types and find what style or goal is best for their needs.


Yoga with Adriene
Through actor and yoga teacher Adriene's playful and often humorous nature, Yoga with Adriene inspires people of all shapes, sizes and personalities to connect with their bodies on a daily basis with free yoga videos. Adriene's videos are well-made and easy to follow, plus she incorporates a very personal touch as she explains the inspiration behind each video, which is oftentimes at the request of a fan. Each video has a purpose, whether you want to get the juices flowing or help turn around a bad day, so there is a little something for everyone.

TheYogaRoom
The private Facebook group TheYogaRoom is a quickly growing community of nearly 10,000 members. Yogis across the globe turn to the group each day to share images of pose accomplishments and setbacks, interesting yoga news and articles, tips and trends, and to obtain advice for difficult positions or pose challenges. This active community of men and women provides inspiration and motivation to fellow yogis, as well as support for yoga careers. Pull up a mat and join the free group and say hello to thousands of your new best yogi friends.

YogaByCandace Forum
Set up in a typical 90's style group forum, the YogaByCandace Forum is a forum of yogis that interact regularly and discuss important issues in the yoga community. As long as you treat your fellow yogis with respect and maturity, most yoga topics are fair game, including yoga selfies, yoga for men, yoga teacher talk, yoga gear and products, and newbie yoga discussions. If you have a question, challenge or tip, the forum is an excellent avenue to connect with likeminded yogis. You can also easily search back in the archive of past topics that may have been previously covered to find an answer to your hard-hitting questions.

Join their newsletters, follow them on social media, become active and engaged in the comments section, and take advantage of what all of these sites have to offer to help you get the most out of your practice. These sites are sure to motivate you and push you to the next level. And best of all, they are FREE. Enjoy and Namaste!

Have you given any of these sites a shot? Let us know how you like them in the comments below.
This article has been read 10K+ times. Bada bing!