Buddhibox Jewelry Subscription Box Review
If you are a spiritual yogi that loves inspirational jewelry – malas, crystals, stones and the like – then Buddhibox's new Jewelry Subscription Box is a great way to grow your collection. When you subscribe to the quarterly subscription box (once every three months), you will receive a few handmade pieces of jewelry, made by local artisans, that are designed to help you get in touch with your inner buddha.
Here is what I received in the premiere February Buddhibox:




• Rose Quartz Talisman:
This rose quartz stone necklace on an 18-inch Greek leather chord is perfect to open up your heart chakra for February, the month of love. The stone is attached to a keyring, allowing you to carry it with you at all times in your purse.

• Tulsi Mala Bracelet:
This mala bracelet is made of sacred basil, which is said to help balance your vata and kapha doshas – the biological energies found throughout your body and mind. The lightweight bracelet is simple and understated, but has a great pop of color with the red crystal in the center.

• House of Good Juju Aura Cleansing Tea Light:
This small soy tea light candle has a fragrant lemon scent and has amethyst, clear quartz and flourite crystals and is made with lavender, cypress, lemongrass, grapefruit, cedar and rosemary essential oils. The information card says that the candle was made on a new moon to restore your aura's balance, harmony and regeneration.

• Spicy Maya ChocoPod a mini chocolate bar:
This sweet treat has cinnamon, pasilla chile and a hint of cayenne in dark chocolate. A little hot and spicy, this small piece of chocolate feels indulgent and rich.

The box pictured above that features two beautiful Buddha-inspired jewelry items, as well as a candle and rich chocolate, all for just $49.95.

All of the items in the premier Buddhibox are designed to nourish your mind and body. While I was expecting to only see jewelry, I was pleasantly surprised to find a fragrant candle and a delicious piece of chocolate too. This box would make a great gift for yourself or a fellow yogi who is in need of some soul-loving jewelry that creates balance and harmony, and it is definitely #YouAligned.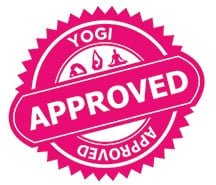 This article has been read 550 times. Share it and spread the love!