Get to Know a Yogi: Talia Sutra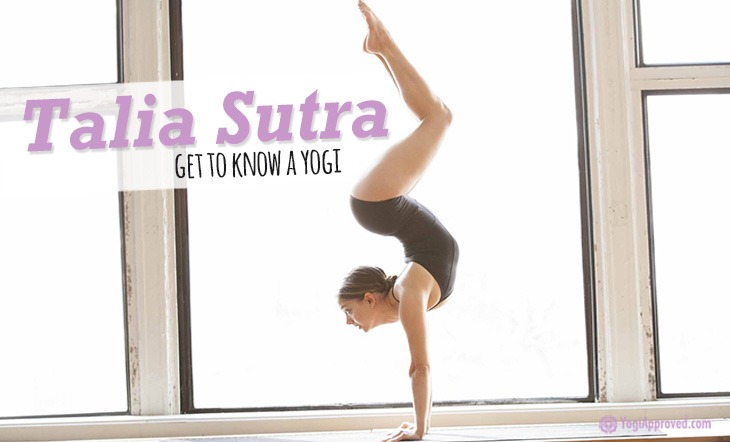 Talia Sutra is an artist, teacher, vegan, speaker and a modern yogi. Born in Israel and raised in New York, Talia inspires multitudes of people with her beautiful practice, her dedication to living a truly yogic lifestyle, and her work to fight poverty in a sustainable way. She started her path to yoga at a very young age of six when her mother used the healing properties of yoga to help fight lymphoma. Talia has been recognized for winning New York's Yoga Championship and has been chosen by Free People to lead "Let's Move" in NYC.

Today, Talia uplifts thousands of yogis with almost 300,000 Instagram followers with her graceful forms and yogic teachings. We can't wait for you to get to know this yogi!



(YA) 1. Yoga has always been rooted in your lifestyle since the very young age of 6. Did you have an "aha" moment when you knew you wanted to take your personal practice into teaching?
(Talia) It has always been very important to me to understand myself, and from a very young age, as far back as I can remember, I have been pushing and challenging boundaries as a method to figure myself out.

I grew up in a traditional religious Jewish home, which offered an abundance of rules for me to break. Growing up, my mother was ill, which also offered many opportunities to contemplate life and death.

She was battling lymphoma for the second time by the time I was six. Ironically, I remember my mother in bliss during her illness. My father is a public figure, and during her illness, my mother transformed from a pantsuit wearing first-lady type to a total bohemian, round-glasses-wearing hippie.

She started practicing yoga, breath and meditation, she studied alternative medicine and really allowed herself to just be… I believe it was she who healed herself. She still practices yoga to this day.

Although I was surrounded by yoga books, attended classes occasionally and witnessed the miracle of liberation through yoga at a young age, being the little rebel I was, it took me years to embrace yoga into my life.

When I was around 21, I dropped out of art school, and a little later also ended a four year relationship with my first ever love. I was at a crossroads, not sure where to turn, or what to do…

I somehow ended up at Yoga to the People in New York City's East Village. For a few months, I kept the yoga to myself, going to classes daily. It eventually became very clear to me that I was deeply drawn and interested in all that yoga had to offer. I entered the teacher training course to learn more about the yoga and to deepen my practice…and in my heart I was hoping and wishing that maybe, just maybe, there might even be a teacher in me too.


2. We love how every teacher is different. Tell us a little bit more about your approach to yoga.
I often say in my classes: yoga is both a science and art of removing physical, emotional and mental blocks, wounds and conditioning. I believe that when we are able to recognize, accept, let go and transcend these layers, we are left with a natural state of peace and unity. In other words, yoga is a return to a natural (divine) state.

Yoga clearly cultivates and manifests balance. Regular posture and breath work will aid in removing strain and stress from the mind-body, and as the nervous system is soothed, we can reach a natural state of observation and concentration, which in time will lead to a state of clarity and effortless meditation.

If you aren't sure where to start in meditation, just sit down for a few minutes. Imagine you are having dinner with the most fascinating person in the world and she is sharing with you her deepest insights. When you are listening with your whole self, the mind naturally fluctuates less and less.

Although I study relentlessly with as many sources as possible, true to my nature, I have no emotional attachments to any teacher, guru, lineage, method or dogma. I want only to be an expert on myself, and I believe that ultimately all resides within, and I need only look there.


3. Aside from yoga, what are your other passions, causes or movements that you incorporate into your lifestyle?
To me, kindness and compassion to all beings without exception, are inseparable from the yoga practice. I became vegetarian in the fifth grade and have been a vegan for the majority of my life.

I believe that compassion is a natural result of human evolution and that it is a key in healing ourselves and the earth.

I am always looking for inspiring leaders to collaborate with. Currently I am supporting Go Light Our World, an organization that helps to diminish poverty with eco-friendly solutions. GLOW's first project will take place this April in Ethiopia, where it will provide solar light to over 1,500 people in a village called Kelina. Beyond bettering their overall quality of life, this project is also a small step in the greater direction of helping the entire world as we strive to eradicate the use of all kerosene lamps. By replacing just one lamp with solar light, we are reducing the total CO2 emission by 300 kgs this year.

Anyone can donate to GLOW by visiting their page: www.golightourworld.net or by shopping my favorite accessories for a good cause at uma-k.com By using the code GLOW at checkout, 10% of the proceeds go to the charity.




4. What are three of your favorite asanas to teach and why?
It really depends on who my student is and what it is that they are in need of. I would say one inverted posture like down dog, shoulderstand or a handstand to help reverse blood flow, improve confidence and build strength and stamina. One heart opener such as cobra, camel or floor bow to help strengthen and heal the spine, stretch the front side and create a feeling of endless energy. And one hip opener like bound angle, double pigeon or lotus to release some of the stale, unconscious tension that usually resides in the hips.


5. What are some favorite bands, dj's, or songs that get you flowing through your practice?
I recently led a large Free People class in Brooklyn, it was DJ'd by the amazing SugaShay.

Currently in my playlist:
I'll Be Your Mirror by The Velvet Underground
Sleep Sound by Jamie XX
Sat Narayan Waheguru by Ben Leinbach
Closer by FKA Twigs
A Walk by Tycho
Uno by Deuter


6. Yoga for a beginner can seem intimidating. What would your advice be for someone that has just started their path on yoga?
Keep a light and joyful attitude in your practice.

Let yourself be inspired rather than intimidated. Be respectful of your teachers but remember that you are ultimately your own best guide, so depend on no one. Learn from everyone and keep that beginner's attitude forever. Stay receptive, courageous and kind.

We hope you're inspired by Talia as much as we are!

You can learn more about Talia and follow her here:
Instagram: instagram.com/talia_sutra
Facebook: facebook.com/taliasutra
Website: taliasutrayoga.com

This article has been read 10K+ times. Bada bing!