Get to Know a Yogi – Meet Meghan Currie (video)

What do motorcycles, safety pins, street art, dirty old things, messy food, and handstands have in common? The answer is yogi Meghan Currie and she is a yogi you should get to know. Meghan is one of those beautiful souls (you know the ones) that are on this earth to inspire us. This is clear. That's why Meghan Currie is the first in our featured series Get to Know a Yogi. Without further ado, meet Meghan…
We asked Meghan a couple of questions about life and yoga. This is what she had to say:
– How and when were you introduced to yoga and how has your life changed since you started practicing? 
I was introduced to yoga when I was 19 in Costa Rica by a woman named Nancy Goodfellow. For years when I was young, I experienced debilitating anxiety that made it extremely hard to function.  I was so scared of life and of myself.   Yoga has been a natural drug-free therapy that has taken me into my fear and conditioned complexities to be properly processed, seen, digested and understood rather that suppressed and swept under the rug.  The outcome for me has been an amazing sense and understanding of freedom, true freedom, as I come closer and closer to see the precious glimpse of the nature of life and that there is absolutely nothing to fear. 
–What is your favorite pose right now and why?
I don't have one pose that is my fav; however, I cannot get enough of being upside down and opening my heart.   I would sleep inverted in a heart opener if I could. I love to lay with half my body off of a couch or bed in a backbend upside down.   Mmmm, it's an amazing way to create beautiful length and opening through the spine using gravity and your furniture in a new way…
One of our favorite things about Meghan are her beautiful yoga videos. Here is one that you just have to see.
The track is "Light" by Dr. Toast (yes, you should put this in your yoga playlist)
Meghan puts out yoga videos on the regular so be sure to follow her YouTube channel. She is also an amazing painter! Be sure to check out her website MeghanCurrieYoga.com and follow her on  Instagram @meghancurrieyoga.
Here is one of her paintings. Wow!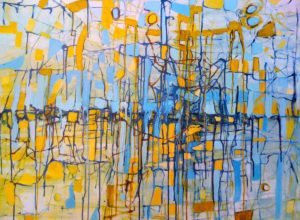 This article has been read 80K+ times. Hot damn!