26 Rules for People Who Practice Yoga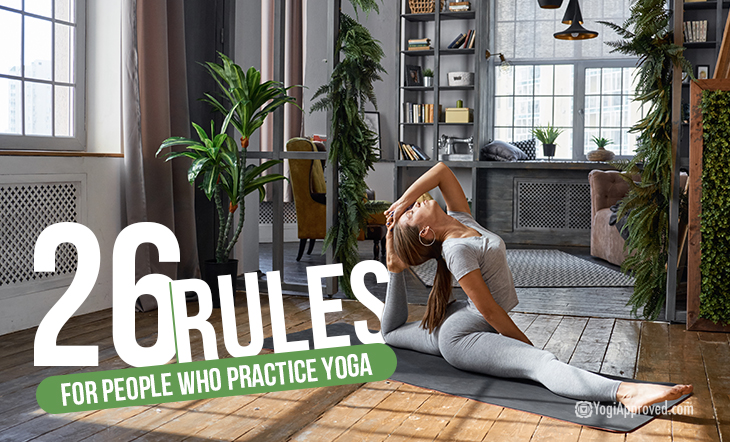 Our yoga practice isn't just about getting our heels to touch the mat in Down Dog, and it's not just about the time we spend on the mat either. Yoga is a lifestyle – a way of life – and if you practice yoga, then you're aware of the monumental impact it can have on your life.
As yogis, we have a responsibility to lead by example. Whether it's a small courtesy in the yoga room or a grand outlook on life, our actions can create a positive ripple effect to help the world be a better, more compassionate and accepting place.


Here Are 26 Rules People Who Practice Yoga Should Follow:
1. Yoga is more about what you do off the mat than on the mat. The practice of yoga is taking what you learn on the mat, off the mat and into your life.

2. Yoga is not about how flexible your body is or can be. It's about obtaining a flexible mind.

3. Try not to skip savasana. It's the icing on the cake of your practice, with so many benefits!

4. If you ever say, "That's not yoga," that may be an opportunity to step back and observe from a new perspective. Yoga is ever-evolving.

5. Please don't bring your cell phone into class. This is your time (and everyone else in class) to unplug and unwind. Enjoy it!!

6. You may not love every teacher you take a class from. You might not enjoy every class you take. Embrace these experiences – you are learning what types of yoga and teachers you resonate with.

7. Assess your goals of practicing yoga. Once your "why" is clear, you can then begin to find studios, class types, and teachers that align with these goals. See #6.

8. When your teacher tries to start class, please be respectful and stop talking. This is everyone's time for peace and presence.




9. Resist the urge to compare. Everyone is on their own unique journey and different place in their practice. That's the fun part!

10. Don't push yourself beyond what your body is capable of. A true 'advanced' practitioner is simply the yogi that honors their body and is in touch with their specific needs.

11. You don't have to look, act, or subscribe to a certain type of lifestyle to practice yoga. Yoga is for everybody.

12. Know where yoga comes from and what it means. Honoring the lineage is an important part of your practice as a modern yogi.

13. Posting yoga photos on social media isn't a bad thing. Just don't let it become how you define your yoga practice.

14. Your yoga teacher is human. So what if they forgot side two? They make mistakes just like the rest of us.

15. Remember that different forms of yoga appeal to different people. One yogi's joy in SUP Yoga is the same as another yogi's reverence for Ashtanga.

16. Never stop learning and growing in your practice. Continue your immersion in the practice. You never know where it will take you next!



17. Be mindful of those around you in class. Unless the room is jam-packed, try not to place your mat directly behind or directly in front of another person's mat.

18. While there will always be exceptions (life happens!), always try to get to class early so you can settle in and get present, and try not to leave early either so you're not distracting anyone else's practice.

19. Try to cultivate a regular meditation practice. The beautiful thing about yoga is that it's more than asana.

20. Make your practice a priority. It's an amazing act of self-care and your mind and body will thank you for it.

21. Practice self-love with mantras like "I am enough." Say "no" to things that don't serve you. Say "yes" to things that make you shine from within.

22. Try yoga classes that aren't within your typical "style." Vinyasa junkie? Try Ashtanga. Power yoga more your jam? Give Yin a try.

23. Get to know your teachers. Support is key and that support system largely revolves around your yoga teachers. Introduce yourself to your teacher before your next class!

24. Get comfortable with the uncomfortable. When you get uncomfortable, breathe and remember that everything is temporary. It'll make you more open and capable of dealing with challenges off the mat.

25. Keep going. Take it slow, and keep showing up. In your yoga practice, consistency is key. The more you show up, the more you will gain.

26. LIVE your namaste.


If You Practice Yoga, Then Apply These Rules to Your Life
If you're a yogi then you have experienced first hand how incredibly transformative yoga can be. This is why as yogis, we must set the example to inspire others to also live a yoga lifestyle that's centered on compassion, open mindedness, and love.
Live your yoga on and off your mat, and together we can raise the vibration! Namaste.

This article has been read 30K+ times. Bada bing!