Create Your Own Yoga Garden Sanctuary In 4 Fun Steps
If your home is your castle, then your garden should be your sanctuary – especially if you practice yoga. A sanctuary yoga garden is the perfect place to do a few Cat-Cows and feel your stress levels start to drop. Plus, creating your own sanctuary yoga garden is surprisingly easy.
The demand for meditative or sanctuary gardens is rising. It's no surprise, given how stressful the world can be – and how many people are looking for at-home ways to relax.
Do You Practice Outdoor Yoga? 6 Compelling Reasons Why You Should


4 Steps to Create a Sanctuary Yoga Garden:
Follow these steps to create the perfect outdoor zen place for an asana or two. Feel free to add your own flare to these suggestions to customize your sanctuary and make it your own. 🙂
Don't have any outdoor space? No problem! Here's How to Design Your Own Indoor Home Yoga Space

1. Select Your Sanctuary
Space doesn't have to be a limiting factor for your outdoor zen space. Even a small yard or a patio is enough space to create a sanctuary, with the use of privacy curtains and container or vertical gardens (which we'll discuss below).
If you have your eye on a space you think might be on the small side, or you have other questions about how suitable it is for a sanctuary garden, go ahead and lay out your mat and try some poses.
This will help you visualize how to design your yoga space – where to plant and if you need shelter from the elements in that spot.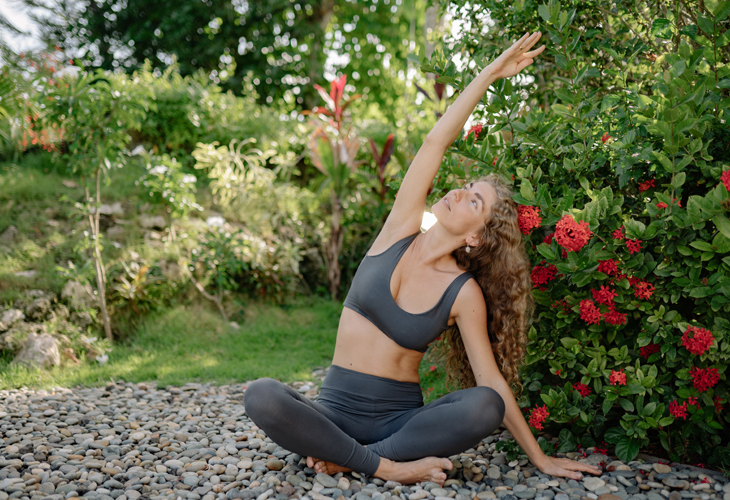 2. Pick Privacy
Privacy from the world and prying eyes is a big factor here. If you're able to find a space that offers privacy, perfect! If not, that's ok – here are some ideas to help make the yoga sanctuary space you choose more private. Fast-growing privacy hedges like the English laurel or the American arborvitae provide privacy and shade within a season or two. They have the added benefit of dampening noise.
If your space isn't conducive to planting, or you can't wait that long, a lattice or a fence is a quick fix. Plant some climbing vines, like English ivy or climbing roses, to green things up and add a sense of serenity.
Also consider privacy curtains for your sanctuary. Choose outdoor fabrics that will stand up to the weather, rain, shine or otherwise. Stick to a color palette that aligns with your natural surroundings.
If you live in an area rife with limestone and oak trees, a palette of cream and green creates visual harmony. In a coastal area, blues and grays may do the trick.


3. Define Your Decor and Add Adornments
Sanctuaries are inherently peaceful – especially your sanctuary garden is in harmony with the environment. Part of what distinguishes your yoga garden from a regular garden is in how you adorn it.
Choose plants and elements that are at home in your local ecology for your yoga garden. Native plants like mountain laurel and locally sourced elements will help your sanctuary garden sustain itself. They'll also make you feel at one with your surroundings.

You can also consider adding a few crystals, a wind chime, or statue to increase the peace factor.

For example, you can build a pergola made of locally sourced wood or buy a pergola kit online or at your home improvement store.
Surround it with native plants that won't need much maintenance or create stress. That can mean colorful hummingbird sage and beardtongue in San Diego; garden phlox and pale purple coneflower in Chicago; and choke cherry in Denver.
The experts at your local garden store can get you started on the native, low-maintenance plants that will help you create a beautiful sanctuary. You can also consider adding a few crystals, a wind chime, or statue to increase the peace factor.
Get Back to Your Roots – 5 Ways to Use Nature to Stay Grounded
You want your sanctuary to please your senses, so an aromatic garden is essential. Carrion flowers may look pretty, but they emit a foul odor and can ruin your Anusara. Choose aromatic plants and flowers like lavender, gardenias or jasmine – as long as they're native to your area.
A flowing fountain can bring the aroma of a spring rain to your sanctuary yoga garden and block out distracting noises from the neighborhood.
Ready to flow? Here's a 15-Minute Outdoor Yoga Flow (Free Class)



It's Time to Practice in Your Sanctuary Yoga Garden
You should design your sanctuary garden for me-time. Gardening is a proven way to lower your level of cortisol, the stress hormone, and so is yoga.
Since it's your sanctuary and your mind and body, you can put your own personal preferences into these general guidelines to create a sanctuary yoga garden. You'll be relaxing into a child's pose before you know it.
Have you ever practiced in a sanctuary yoga garden? Are you inspired to create your own sacred place of zen? Please share with us in the comments below – we love hearing from you!
This article has been read 1K+ times. Feelin' the love!