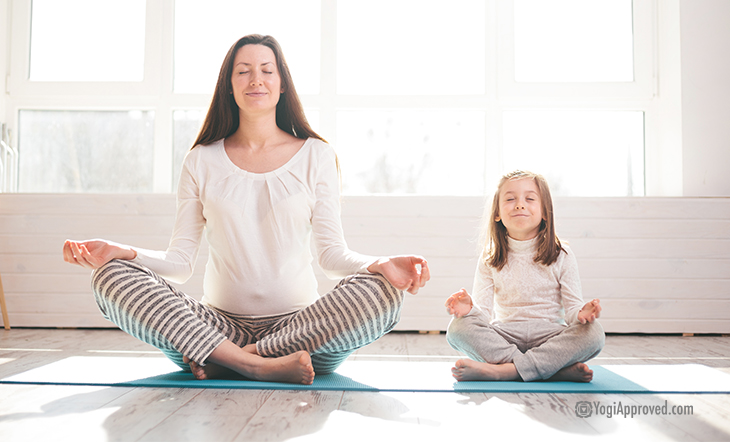 This Is the Secret to Raising Grounded, Healthy Kids (From a Psychologist)
I can honestly say that teaching yoga to kids has been one of the most rewarding things I have ever done. As a kids yoga instructor and psychologist, I often get asked why yoga is important for kids, how to correctly teach your kids yoga, and what the benefits of a child's practice mean in "real life."
Read on, my friends, read on.
Teaching your kids yoga is relatively easy and should be treated as a fun activity, not something added to the long to-do list.
One thing to keep in mind when you teach your kids yoga: they are still growing. This means that a young child should not hold postures for long periods of time, as this can be harmful to their muscles.
A child's yoga practice should be much more free-flowing than an adult's. It's okay if your child isn't practicing a yoga pose properly. As long as they are not straining or hurting themselves, they are okay.
Want more information on why this is harmful to kids? Check out 2 Types of Yoga that are Unsafe for Children!

How to Teach Your Kids Yoga in 5 Steps
Yoga can help your kids manage their emotions, understand themselves, and live happy, healthy lifestyles. Let's get started!

1. Practice Yourself
If you have your own yoga practice, ask your kids to join you! Kids are also natural followers – what you do, they do. They will simply follow what you are doing on your mat! Plus, modeling positive behaviors will help set the tone for a healthy lifestyle.

2. Start Small, and Have Fun
There is no need to start with an hour-long practice. If your kids only want to practice with you for five minutes, that's five minutes of amazing yoga time they get to spend with you!

Have fun with your practice! Chances are that your kids will have fun practicing yoga anyway but, if you need to, create yoga games, songs, and stories for your kids to practice as well! There are also tons of great (and free!) yoga videos for kids!

If you aren't sure where to start, check out these 18 free kids yoga YouTube channels!

3. Practice at Different Times of the Day
Maybe you practice first thing in the morning because your kids are still in bed and it's the only time you have to yourself. Don't drag your kids out of bed so that they can squeeze in a morning yoga practice.

Try practicing at different times of the day to see which times your kids respond to best. There is no right or wrong time to practice yoga, but there is likely a time of day in which your kids will be more willing to practice. That is the time when they will reap the most benefits of practicing!

4. Use What You've Got
Most people do not have a home yoga studio, and that's alright. Contrary to popular belief, you don't need a lot of space to practice yoga. You can practice yoga postures at your desk, with a chair, or on your bed.

Even a simple practice to stretch your hands, wrists, and eyes (perhaps during homework time?) is perfect and will have your kids feeling refreshed!

5. Be Encouraging
Encouragement is important for everything. It is important that your kids know you will guide them through their yoga practice. Someone has to be there to remind them that they are practicing perfectly, that it is okay if one day they can do Crow Pose and the next day it is difficult, and that it is okay to have rest days.

Things to Consider When You Teach Your Kids Yoga
Keep in mind that yoga is about more than the physical postures. It is about being mindful, learning about yourself, and connecting mind and body. If your kids don't want a physical yoga practice today, that's ok!

Ask them to color mandala pages, read a mindful book, listen to mindful music or a guided imagery script, practice a breathing exercise, or just sit quietly to collect their thoughts and feelings. These things are yoga too!

No matter how your kids learn yoga, remember that you are giving them the tools they need to effectively and appropriately manage their emotions, better understand themselves, and have happy, healthy lifestyles.

Isn't that what we want for our kids?

This article has been read 1K+ times. Feelin' the love!