Tips for Teaching Yoga to Professional Athletes: An Interview with Dana Kraft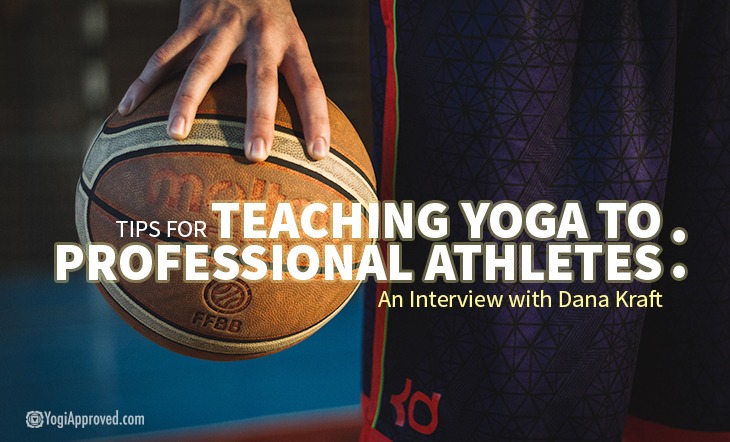 Dana Kraft is the yoga teacher for the Golden State Warriors basketball team. Recently, I spoke with Dana about the business of teaching yoga to professional athletes.

Her experience offers insight in not only how she got the job, but also offers tips on how to find, interview, and work within unique opportunities for teaching yoga.



Lynann: How did you get the interview to teach yoga to the Golden State Warriors?

Dana: I was living between New York and San Francisco and because of that I made sure my website and SEO said that I was available in both cities.

One day, Darren Erman, one of the assistant coaches (at the time), contacted me because they were looking for a new yoga instructor and I came up in a search for yoga instructors in San Francisco. He remembered me from graduate school, and because he knew me and trusted me, he contacted me and we went from there.

TAKE-AWAY POINT: This highlights what all teachers should do – get a good website that represents who you are as a teacher and what you teach. When someone is seeking more information on a teacher, the first place they go is online to seek out more information. If your site doesn't look professional, you don't look professional.

Lynann: Tell us the story of your interviewing process for the Golden State Warriors. How did you prepare?

Dana: After I was contacted, I submitted a cover letter and a resume, and I also decided to research their roster. I put together an Excel spreadsheet of their team with a list of their player's individual stats, such as age, height, weight, position played, and most importantly, past and present injuries.

With that information, I submitted a workbook on how I would work with the players individually and in a group. The assistant coach asked me to send my materials to the strength and conditioning coach (the strength and conditioning coaches are who oversee the vendors and contractors such as yoga instructors, chiropractors, massage therapists, etc.).

Once I was approved, I went in for an audition and was observed while teaching one of their players.

TAKE-AWAY POINT: When Dana first told me this, I was so impressed by the time spent researching and creating an individualized program for each player. That's focus and dedication. Auditions are a common request for most yoga positions. Good interviewing and presentations skills are essential as a yoga teacher in addition to experience and teaching skills.

Lynann: What suggestions would you give to someone interested in working with professional athletes? How could they approach the team?

Dana: Know the team you want to work for. Research who you need to get in touch with. I used to be an actor many years ago, and one of the things my teachers, agents, and casting directors drilled into my head was when you sent a headshot, don't just do it blindly – otherwise no one will look at it.

I believe it is the same with teaching yoga to professional athletes. Look at which coach is in charge of your department. See if you can find an email for them, and send them your information, along with a professional cover letter. Then see where it leads.

TAKE AWAY POINT: Don't overlook professionalism and preparation. Many yoga teachers present themselves to potential employers in such a different way than they would in any other employment opportunity. Just because it is yoga doesn't mean you don't need to have professional outreach and interviewing skills.

Lynann: Do you consider teaching yoga to professional athletes a large part of your yoga business?

Dana: I don't consider this to be a large part of my business, or a small part. But I consider it to be a valuable part of my business, because it has led to other wonderful clients and experiences. I have to look at working with the Golden State Warriors as any other client. Sometimes I work with them consistently and other times not so much.

TAKE AWAY POINT: A job could have benefits in addition to monetary benefits. I advise teachers to look at the whole picture – see the tangible and intangible benefits of the job and how it can advance your yoga business

Lynann: Why did you pursue this particular group of people to teach?

Dana: When I was getting my 500 hour certification, I studied under a mentor who was a triathlete because I wanted a heavy background in anatomy. I didn't necessarily pursue teaching athletes, but when the opportunity came to me, it was a good fit because of the training I had.

TAKE AWAY POINT: Putting in the time and effort, and listening to your inner wisdom is important in business. We can't plan for everything and sometime we can't even plan good enough, as there are always new and unforeseen opportunities that pop up. Our job is to get fear out of the way and pursue what is presented to us when it arises.

Lynann: What makes you particularly qualified to teach this group?

Dana: Dedication and the desire to learn more from people who know more than me. For example, when I got the job, I contacted Kent Katich who teaches yoga to the Clippers and asked him so many questions of what I should expect, and asked if I could mentor under him so I could be more prepared.

Also, I my education. I have a Masters in Education and strong anatomy background. I strongly believe that my background in education has helped me with this job more than anything. I have been able to differentiate between learning styles and come up with quick yoga lessons for players who are injured and keep it interesting and fun.

TAKE AWAY POINT: Utilize other skills besides just your yoga knowledge. What other tools or skills do you have in your tool box? Don't be afraid to learn more. Be humble and ask others to share their knowledge with you. Be willing to be mentored and know you are always learning.

Lynann: Do you also do privates with the players?

Dana: Yes, in fact I taught more privates and semi-privates than group classes with the players. I personally felt it was more beneficial, but group classes for teams are great too. I work with male athletes and they are super tight (inflexible).



Also, they are not really comfortable doing some poses in front of their buddies – it is out of their comfort zone. Plus many have individual needs due to their injuries and also their athletic needs. Thus, many request privates.

TAKE AWAY POINT: Whether you work with athletes or not, Dana brings up some valid points as to why some people benefit more and may actually prefer 1-on-1 classes. She mentions personalized experiences fit to their bodies and also giving the individual a comfortable experience where they feel less judged and watched by others. Don't underestimate the power of offering 1-on-1 sessions with your clientele.

Lynann: What does a teacher need to expect in teaching athletes (for example, how flexible you need to be to work with their training schedule)?

Dana: Such a good question! Have NO expectations! Be very flexible with your schedule. If this is something you want to do, flexibility is key. The schedule shifts and you will need to be patient. If you are scheduled for weeks in advance, you might find out the night before that it's been canceled due to a change in the practice schedule or injury of players, etc.

Also, it's important to not expect a peaceful environment to teach in. From my experience I have taught on the court and in the gym, and there is so much going on around me and the players that you have to create a calming experience within the chaos around you. You might get there at 11am and not start until 1pm, so again it's patience and flexibility!


In recap, here are some great business points for yoga instructors to take away:
Have a website that clearly defines you and your wonderful teachings.
Prepare and research to be sure you know about the team/student base before you even start a conversation with the hiring manager.
Prepare and be professional in presenting yourself for the interview.
Remember a job could have benefits in addition to monetary benefits. Look at the whole picture – see the tangible and intangible benefits of the job and how it can advance your yoga business.
Review your past experience in other things besides yoga and see how that might support you as a teacher to this group of individuals.
Seize any opportunities that come up with gusto. Face your fears.

Thanks again to Dana for sharing her experience. Regardless of whether you are interested in teaching professional athletes or not, hopefully you took away some valuable points that can be applied to your own yoga business.

This article has been read 1K+ times. Feelin' the love!